Back to overview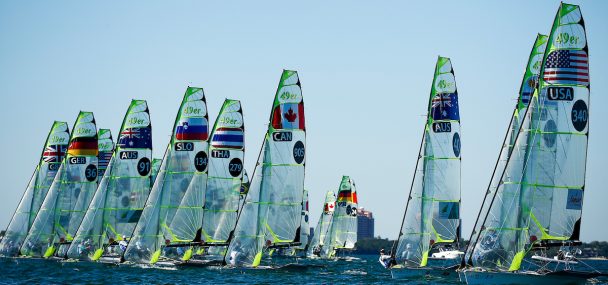 Sailors put training into practice at Hempel World Cup Series Miami
After nearly a month of training and competition on Biscayne Bay, many of the top sailors competing in the 2019 Hempel World Cup Series Miami have seen just about every wind condition Miami has to offer.

But that doesn't make it any easier to race when the breeze is out of the west, a direction notorious for lower velocity and little consistency when it comes to the wind direction.

"The wind was constantly shifting to the right [side of the course]," says 49er skipper Sime Fantela (CRO), "but the pressure was staying left, so it was not an easy decision where to sail. The ones who managed to tack when they wanted and have their line, they were winning."

Fantela speaks from first-hand experience. With a 3-13-2, Fantela, who sails with his younger brother Mihovil as a crew, emerged relatively unscathed from the opening day of the regatta and will carry a three-point lead over Diego Botín le Chever and Iago López Marra (ESP) in second and a seven-point advantage over James Peters and Fynn Sterritt (GBR) in third.

Of the three races today, Sime Fantela was most pleased with the second one. The short course format used by the 49er class made passing a challenge.

"The start was not that great, and we managed to come back," he says. "We rounded [the first mark] I think in 23rd and managed to finish around 12 to 15. It's quite tough with 40 boats on the start and the racecourse was a short course so not so many clear lanes. You have to dig your way through."

Like the Fantela brothers, the team of Botín le Chever and López Marra also struggled in the second race, finishing 16th. But a win in the first race and a fourth in the final one more than balanced that one hiccup.

"Try to make a good start and then see what's going on and try to catch the best shift," said López Marra when asked about the key to a strong race today.  "The seabreeze and the gradient wind [were fighting one another] and that's why it was so shifty."

As Spain was unable to qualify for a country berth in the 49er class at last summer's Hempel Sailing World Championships in Aarhus, Denmark, the top priority for Botín le Chever and López Marra is to earn that berth this year at the world championships in New Zealand at the end of the year.

That's one box that has been ticked by Sime and Mihovil Fantela. They are the defending world champions after a breakout performance in Aarhus and have punched their ticket to Tokyo. However, as they are relatively new to the class—Sime won a gold medal in the 470 in Rio 2016 while Mihovil sailed in the RS:X class until 2016—they are not letting that success go to their heads.

"We still have the same goal, the same focus, the same will to train and improve," said Sime Fantela. "We missed some strong wind training [last year] so we're trying to look this season for the strong wind places to go and train. Lots of training, lots of days out of home and looking forward to Tokyo."
The 42-boat strong 49er fleet is exceptionally large for a World Cup. After the last minute announcement of the 49er inclusion in the Pan Am Games, late additions to Miami came from Canada, Chile, and Mexico, along with Argentina, Uruguay, Brazil and the USA who were already racing in the Americas. 15 other nations are represented for a total of 22 nations from 42 boats.

The 30-boat 49erFX fleet followed the 49ers later on in the afternoon and in a shifting and variable breeze, just one race could be completed.

Sophie Weguelin and Sophie Ainsworth (GBR) found some form and led the race from the top mark through to the finish. Alex Maloney and Molly Meech (NZL) and Germany's defending champions Victoria Jurczok and Anika Lorenz (GER) followed.
Brazil's Samuel Albrecht and Gabriela Nicolino de Sa shone in the Nacra 17, snapping up two out of three victories. The pair thrived in the 7-9 knot breeze on the Echo racing area and discard the seventh they picked up in race two.

2018 Miami gold medallists Jason Waterhouse and Lisa Darmanin (AUS) took the day's other race win and are tied with Spain's Iker Martinez and Olga Maslivets (ESP) for second on five points.