Back to overview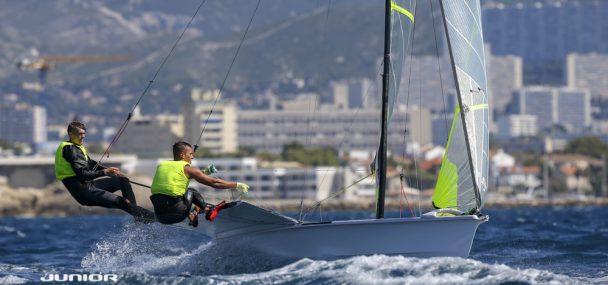 Irish Sailing Punching Above Its Weight
Irish Sailing has a small sailing team which is punching above it's weight these days. In Olympic sailing, among the small sailing nations, there are two types of initial approaches: find and support singular talents and back them as much as possible and then those who look to establish a pathway to find repeatable success but with a focus on just a few events. Irish Sailing has done just that based on the past six years of development results.
Like most mid-tiered nations, Ireland only competes in a few of the Olympic Sailing events, mostly funneling their emerging talent into their academy structure and development Classes in lasers, laser radials and a mix of other youth boats.
The team got onto a performance roll with Annalise Murphy coming through their academy program and rising to the top tier of Laser Radial sailing. Since emerging from the youth squads some 8 years ago Annalise has been at the elite level of the Radial Class. She dominated the first half of the 2012 Olympic event in Weymouth before the pressure piled on, ultimately finishing in a tough 4th place. With fierce determination and a supportive structure Annalise and the ISA worked together through the ups and downs, with the same coach, all the way to an Olympic silver medal in Rio.
No doubt International 49er Class President, Marcus Spillane, himself an Irishman, is very supportive but for a few years now the ISA have focused their Olympic program on just the Laser, Laser Radial, 49er, and 49erFX. The success of Annalise and the positive environment of the team was contagious, and other Irish sailors began to put in better performances as well. So far this story is typical of a mid tier nation… but the twist here, and where the ISA is outperforming, is in their pathway and development efforts.
Falling in Annalise's footsteps Irish sailors were first and second at the Laser Radial Junior Worlds in 2017. The Laser Radial Junior Worlds are an Under 21 event, and with the radial being as popular as it is, placing two athletes in the top 10 would be quite a feat for any nation, let alone having a small nation place first and second!
The ISA is not only investing in singlehanded Laser Radial sailing, but it also focused its doublehanded sailing on the Skiffs. For the 2016 Games they supported Ryan Seaton and Matt McGovern in the 49er along with Andrea Brewster and Saskia Tidey in the 49erFX.  Both teams qualified, with Ryan and Matt having some exceptional results at times. Notably, after Rio, Saskia jumped to the British Sailing Team after the retirement of Andrea and is already one of the leading 49erFX teams. Saskia is an Irish academy squad alumni and while I am sure the ISA is disappointed that she is no longer in their setup they can also point to their involvement in her success.
These successes at international level proved the importance of their academy setup and that squad success was possible. A further succession plan for this elite knowledge came together after Rio. Matt and Ryan split from each other, but each combined with a sailor from the development squad, ultimately forming a new squad of 5 49er teams, two of which had significant experience already. Under the experienced coaching of Tytus Konorzewski, the squad members all moved forward at a rapid rate. At the same time, Annalise signed up for the Volvo, allowing the ISA to focus deeper and more extensively into their next generation of sailors.
This sort of intimate and quick learning, with coaching leadership, senior team mentorship and inspiration is quickly leading to some real success.  Irish 49er Development Squad sailors, Robert Dickson and Seán Waddilove have just won the 2018 Junior World Championship here in Marseille. They credit the Irish development squad grouping, and mentorship from their Olympic leaders for quick development in the 49er. There is no substitute for being taught and coached by people who intimately know what makes the difference.
The overarching theme emerging from this is example, and applicable to other small and mid tier nations, and large sailing nations as well is to latch onto top talent, but not be 100% focused just on the one athlete or team. The investment made in creating an Olympic contender must be leveraged to bring the next generation of Youth and Junior talent into the top levels of these age categories.
Team Manager James O'Callaghan points out that the next set of problems to solve for his management team are mainly financial. He knows the academy structure works but success has also attracted more sailors into the program. "When we began the program, there were only a small few sailors interested in following the Olympic pathway. Now how do we manage the growing next generation group of talented and keen sailors all looking to have Olympic careers. Now, there are far more potential stars, but still the same budgets."
No doubt this management team will work though the challenges of limited resources and to continue to develop future generations of Irish Sailing talent.
Here is a video summary of the 2018 49er Junior Worlds, won by the Irish!
Here is the link to all photos, results, and articles from the regatta (49er) (Nacra 17)