Back to overview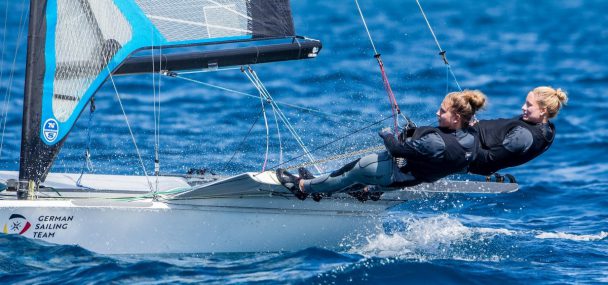 Young Olympic Talent Emerging, Earning Their Time in the Sun
Day 3
A perfect day of three wins in the 49er FX fleet sees Germany's Victoria Jurczok and Anika Lorenz sitting 30 points clear at the head of the Women's Skiff class after nine races at Mallorca's Trofeo Princesa Sofía IBEROSTAR
Making the difference so far is the Germans' superior strength and experience, as one of the crews in Palma which have carried on almost seamlessly from Rio where they finished ninth. After a winter off sailing they are straight into the new Tokyo 2020 quadrennial after a February training camp here.
Hungry to make their mark at the 49er FX European Championships when they come to their home water of Kiel in June, the duo who have sailed together since 2011 have been a class apart so far at the European season opener.
"Conditions were good and stable outside and we were fast and so we had three good races. We have good technique and have been sailing the boat for longer than most of the other girls here. It is nice to be leading, on the one hand it brings more pressure but on the other it gives you confidence to know you are sailing well. We sailed together since 2011 and have known each other for more than 10 years." Crew Anika Lorenz comments, citing input from new British coach Dave Evans as a positive asset.
"We have never even medalled here before. We often make it to the top six and the medal race and so on but maybe this can be the year we win in Palma. We had a long break after the Olympics and did not sail through the winter, so we are back fresh. We started training in February here with our German team mates. After Hyeres we will go back to Kiel to train for the Europeans which is great for us to be able to stay home. It will be great to be home, to race from home, to have friends and family about and all the other girls to come and sail and train with us at home."
Great Britain's James Peters and Fynn Sterritt aggregated 12 points, going 3,6,3, over the first three races for the 25 strong 49er Gold fleet to take the class lead, 11pts clear of the Spain's Diego Botin and Iago Lopez and 17 points clear of Argentina's Lange brothers, Yago and Klaus.
That the young Brits are in good shape after their excellent training with the strong British 49er contingent in Cadiz is confirmed in the knowledge that the Spanish and Argentine partners both finished top 10 at the Rio Olympic games.
Crew Sterritt commented:
"We had a consistent day. It was not really classic Palma until later in our day so it was quite tricky to start with but we are happy to be at the front of the fleet. We are really happy with the way we are sailing together. We have made a jump since last year and we said that we wanted to make an impact early on in the campaign and so have been working hard to realise that, working a bit more than others. Down in training we were going well against the other British teams but really it is hard to know how that translates to the race course because all the time it is Brit v Brit, but we felt we were going well. Normally we have not been so comfortable here and it has not been so good, but it feels different this time. It is lovely on the water, such a great place to go racing. You cycle along the front here in the morning and then go racing. It is great. There are not many better venues."
For those sailing fans fascinated with the Robert Scheidt transition to the skiff, he's had a fantastic regatta so far. Very consistent tier 2 sailing has Robert (and Gabriel) into the gold fleet and a bit behind mid pack, but with all middle of the pack results. This shows that he's got some top level skills but of course at these early months still missing some top level pieces while doing many things well – a great sign of things to come.
Day 2
Spain's 49er duo who finished ninth in Rio 2016, Diego Botin and Iago Lopez Marra continue to lead the Men's Skiff class winning two of their qualifying fleet races, and so lie five points ahead of the GBR duo James Peters and Fynn Sterritt.
Botin commented: "It's been a really solid day for us even it is was a bit complicated. Our goal is to be on top at the end of the championship. We've only sailed two days and we haven't yet used the discard which is so important. We have to try to keep on sailing like today. And this being one of my favourite events helps. I love the conditions, the place and all the facilities we have! I love being here!"

 The German pair Victoria Jurczok and Anika Lorenz have a ten points cushion at the top of the 49er FX fleet.  Fourth on these waters one year ago they move into the Tokyo quadrennial after their ninth in Rio. Norway's Helene Naess and Marie Ronningen are second. They could not quite match the German because they missed the key move in the first race before the breeze built. Ronningen recalls:
"The first race we did not have the proper sea breeze built and so that race was just all about getting into the shore. The sea breeze came in for the second race and I think we were the only ones who saw that coming and we went left and went from fifth to first. In the last race it was then all about getting to the left, to the shore and getting the shore effect, standard Palma sea breeze. It is always good to be in Palma. With six races done we have had four good races and two not so good races. And so we are happy. The fleet here is interesting. There are a lot of new teams, it is interesting to see people switching in and out from the Nacra and so many young girls coming into the class and the people who have been to the Olympics."  
Day 1
For Sailing World Cup Miami 49er class winners Dylan Fletcher and 2012 Olympic 470 silver medallist Stuart Bithell, there is the excitement of putting the building blocks together as a new partnership which clearly had huge potential. Smart starting and hooking into the crucial first windshift was key to their pair of solid second places which put them at the top of the fleet after the first two races. A seventh in the third leaves them third, behind their compatriots James Peters and Fynn Sterrit who count a 1,3. All three top boats have the same four points tally.
Bithell is a big fan of Palma, happy to be back at the regatta after a two year absence: " We are happy as a new team in the 49er. For us both it is different and really exciting. It is going really well at the minute after a really good winter of training. This week is a good week to see what we have learned and to learn more which we will hopefully take on to Hyeres. 
Our objective this week? To win. We are looking to win but in fact we are not looking too much at the outcome. I know it's boring to be saying that. But it is. There is a good fleet here with plenty of good guys, plenty of numbers."
Assessing their first two races, achieved from the three which were raced, he finishes:
"It was really good. It was windier than we expected but really shifty coming off the land. We had a couple of good starts on the lifted tack and it was all good. It is lovely for me to be back here in Palma having had a couple of years away, perfect sailing conditions to start the European season."  
The 49er class is partnered with Spinnaker Watches as our official timekeeping partner.