Back to overview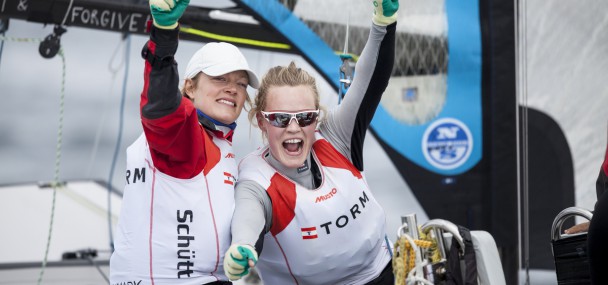 New Faces on Podium in Palma
Six new faces stood on the 49er and 49erFX podiums in Palma after some wonderful performances this week.  In the 49erFX, the Schutt sisters won the event in convincing fashion stretching their lead to thirty points by the end.  This is the first time onto the podium for the duo and adds a new name to the list of contenders in the already open 49erFX fleet.  The Schutt sisters started off the year with a disappointing Miami World Cup but they followed that up with a 4th place finish at the North American Championship in Clearwater just a week later, though that was with an incomplete field.  By winning in Palma they are showing their squad and the fleet that they are a a force to be reckoned with and their performance couldn't come at a better time than now with everyone gearing up for Olympic qualification and selection.
Another new entrant to the podium group of 49erFX sailors is Oliva Price and Eliza Solly (AUS) who claimed the bronze medal.  This is also Olivia's first time on the podium of a fully attended 49erFX regatta.  The 2012 Olympic Silver medallist in Match racing is in great form and has benefited from a full Australian summers worth of sailing.  Rounding out the podium was Danish contenders Ida Nielsen and Marie Olsen.
In another storyline this week the Dutch Olympic selection trials went right down to the wire.  The two top teams of Annemiek Bekkering with Annette Duetz had a two regatta trials against countrywomen Nina Kiejzer and Clair Blom.  Nina and Clair had an 8 position lead from Miami, and finished 12th overall at this event.  That meant that Annemiek/Annette had to place 4th or higher in Palma to take the Rio spot.  It went down to the medal race, where they had a poor finish at 18th to get passed by Brazilians Grael/Kunze by only two points.
It is an improbably selection for Kiejzer/Blom who only joined forces in September.  They were 100% committed, however, believing they could do it and hiring longtime 49er crew Francisco Andrade.  The dutch federation will have to confirm the selection but Kiejzer and Blom announced via facebook that they had won the spot.  Below is a picture of Bekkering/Duetz who must be devastated by the events, having otherwise been considered podium contenders in Rio by the 49erFX fleet.  Here they are pictured in the medal race, chasing for an extra place.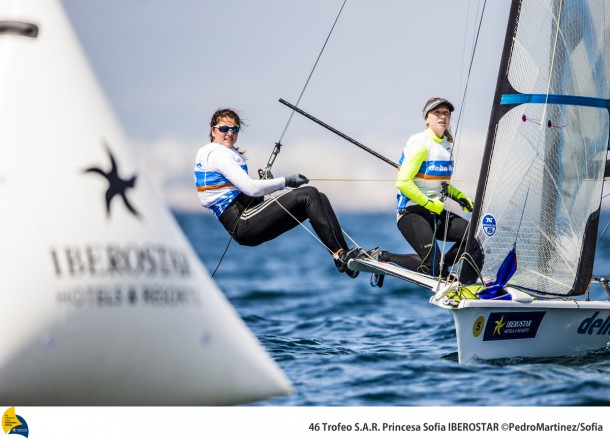 In the 49er fleet it was another set of new faces who claimed the Bronze medal with Dante Bianchi and Thomas Low-Beer winning their first 49er medals.  This popular duo would not previously have been in the conversation for podium potential, but with slighly more caotic winds in Palma this week suiting their styles emanating from Rio, they will be pleased with their performance.  Dante and Thomas were not even ranked in the top 30 meaning they needed a strong performance in Palma to even qualify for a spot at the upcoming World Cup in Hyeres.
What all three of these performances have in common is that they show the depth of competition in skiff sailing right now.  All of these teams placed in the teens or 20's at the Miami World Cup and against almost the exact same group of competitors managed to pull of podium finishes this week.  Clearly, consistently high finishing positions is a huge challenge with so many teams capable of podium racing.
Consistent performances continue, despite the odds, for 49er winners Peter Burling and Blair Tuke.  Continuing their mastery of the 49er and extending their unbeaten streak to 17  victories in a row, they were somewhat closer to the field than at other events.  Eventual silver medalists in Palma, Erik Heil and Thomas Ploessel had an outside chance at claiming the victory in the medal race and the two teams match raced for the entire medal race, ultimately both finishing mid pack and without effect on the overall result.
For Erik and Thomas the podium finish is their first since the European Championship in Helsinki last summer.  They are one of the teams aiming for a podium in Rio and this will help their confidence going into a very full year of championship sailing.
With Palma over the view shifts to Hyeres where it will be the first full event of the newly formatted Sailing World Cup.  All fleets are capped at 40 boats with just a single fleet so championship racing from the start.  49er and 49erFX fleets don't typically race in 40 boat fleets, with World Championship gold fleets capped at 25 boats, so it will be a busy race course with the top 40 boats all competing for the best wind and water.