Back to overview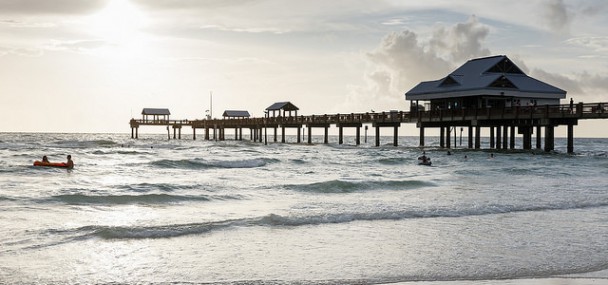 Clearwater North Americans Sailing Event Happening off Clearwater Beach Next Week
Clearwater, FL. February 2, 2015 – The participating classes of Clearwater North Americans: 49er, 49erFX, & Nacra 17 will begin on February 5th, 2015. Preparations are in full swing for more than 140 competitors from 19 different countries and 5 continents have already registered!
The world's best skiff sailors are vying for the North American title. This is a warmup to help serve them well at the Clearwater 2016 World Championship on February 7 – 14, 2016. This will be a truly international affair with teams from 5 continents competing.
Looking to continue their role in the 49er will be recent ISAF Sailing World Cup Final Champions Tomasz Januszevski and Jacob Nowak from Poland. This duo has been climbing the rankings for years and just came off their first major victory.
Also in the running will be Germany's Erik Heil and Thomas Ploessel. They won the World Cup of Sailing in Palma in 2014, but then stumbled a bit later in the season when Thomas was injured. This will be their first time racing since returning from injury and they would like to return to the top of the podium.
Local fans can cheer for Brad Funk and Trevor Burd. This pair only linked up in 2013, but already won a Bronze medal at last years World Cup of Sailing Miami; since then they were the top team from the America's at the 2014 World Championship. There is a tough fight coming together for the lone Olympic berth, likely to be decided at this event in one years time, so team Funky-Burd will be looking for a good showing. Locals will also be cheering on Robbie Daniels of Red Gear Racing, sailing a Nacra 17.
In the women's 49erFX there is a strong Danish contingent looking to assert their excellence. Leading the group are two time European Champions Ida Nielsen and Marie Olsen. This team is chased hard by their two Danish team mates, each of which could also feature onto the podium.
Griselda Khng and Sara Tan from Singapore are also likely to feature in the proceedings. These two broke onto the skiff sailing scene as light air specialists but have recently improved their heavy air skills and now aim to be contenders in all conditions.
Strong American and Canadian squads are likely to feature into the top 10 with most teams having spent December training in Clearwater as a lead up to this event.
The City of Clearwater with its partners Tampa Bay Charities, Clearwater Community Sailing Center, St. Petersburg/Clearwater Sports Commission and the Clearwater Yacht Club are pleased to host such a spectacular event at Pier 60 on Clearwater Beach. The location best known for its pristine white sand beaches, warm sunshine and abundance of southern hospitality is welcoming 3 more of the 10 Olympic sailing classes to the area.
The Gulf of Mexico makes for ideal sailing conditions and great hospitality by the city's residents and beach community. "I'm proud to be a part of this international sporting event. Hosting it in Clearwater is sure to be a fantastic experience for the participants and spectators," said race co-organizer Frank Chivas.
The event's Principal Race Officer will be R. Fairlie Brinkley, Dunedin, FL, US Sailing Association Regional Race Officer.
Chief Judge will be Douglas Sloan of Santa Rosa, CA. Maureen Cacioppo, Clearwater, FL is the Clearwater Community Sailing Center Director.