Back to overview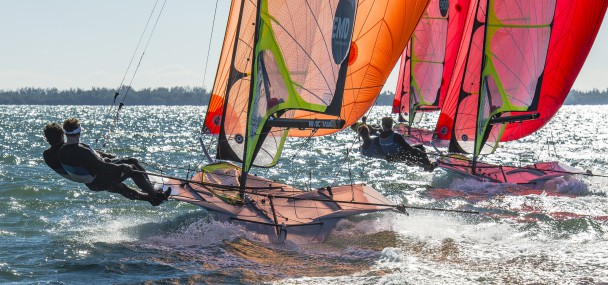 Super Shifty Racing Not Unlike Rio!
49erFX
Alex Maloney and Molly Meech (NZL) hold a mammoth 56 point lead in the 49erFX. It's still mathematically possible for them to lose their lead – but it's hard to bet against the 2013 World Champions losing such an advantage.
Below the breakaway Kiwis, there's a real ding dong battle forming for the remaining podium positions. Nine points separate second to sixth. Charlotte Dobson and Sophie Ainsworth (GBR) sit second whilst Giulia Conti and Francesca Clapcich (ITA) occupy third.
The Italians finished runners up at the 2014 edition and are battling for a medal once again. Conti and Clapcich were first ashore after racing – helped by being the first across the finish line in the final race of the day. A fourth and a seventh preceded their bullet which won them the day and Conti was in a buoyant mood after racing, "Miami is nice and warm, it's good and it was to escape a European winter," she joked.
"We had a very good day with a fourth, a seventh and that first. That bullet was a good way to end the day. We're enjoying the sun and Miami is always very good racing."
Three further races will be decide the Medal Race places, in which a real dogfight will be on the cards if the points remain similar at this stage on Friday.
49er
It's a good old fashion game of snakes and ladders in the 49er with a new leader at the end of the fourth day.
Nico Delle Karth and Nikolaus Resch (AUT) were the only team to finish in the top ten three times in a row. A 7-8-2 has enabled them to advance to the leading position.
Australia's Joel Turner and Iain Jensen are just one point behind the Austrians, in contention, waiting patiently to pounce. Spanish brothers Carlos and Anton Paz are in third, 14 points off the top.  Also creeping up the standings are Jonas Warrer and Anders Thomsen they have won 3 of the last 6 races and look to be on a charge for the medals.
This regatta is far from over.  Top teams are averaging 7-9 points per race, and with 3 races remaining plus a medal race that means there are six team with a legitimate shot to win the title as we head to the summit of this event.