Back to overview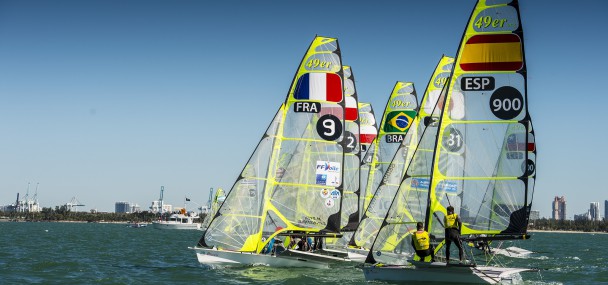 49er Qualifying and 49erFX Fleet Gets Racing
Day 2
49erFX
New Zealand's Alex Maloney and Molly Meech were left somewhat disappointed as they returned ashore after four 49erFX races with a handy advantage at the top of the leader board.
For many a 2-2-5-9 scoreline would be a day of work well done. But for the Maloney, the ninth, which they discard, left her visibly frustrated, "We had a good downwind, gybing in pressure," explained Maloney, "but I probably took it a little bit too far and gybed a bit too many times near the finish and we lost a few boats.
"It was a tricky out there, a head out of the boat type of day. We'll learn from the mistakes we made today. Hopefully we'll improve on that but all in all it was a pretty consistent day."
The day prior the Kiwis were one of eight boats to complete the single 49erFX race in the big Miami breeze. With their nearest rivals counting hefty scores, the Kiwis are the only team with single digit scores and subsequently lead Martine Grael and Kahena Kunze (BRA) by 17 points.
That in mind, they're still striving for me, "Tomorrow we are going to improve our starts by getting a good lane. If we do that, our results will improve," concluded Maloney.
The day's victories were spread four ways. Third placed Leonie Meyer and Elena Christine Stoffers (GER) claimed the opening win with Charlotte Dobson and Sophie Ainsworth (GBR), Jena Hansen and Katja Salskov-Iversen (DEN) and Ida Marie Nielsen and Marie Thusgaard Olsen (DEN) all claiming bullets.
49er
Diego Botin and Iago Lopez (ESP) are sailing at an amazingly high level.  They have won half the races they've entered so far and tack on two second places as well.  The leaders in the class will be reviewing who's in contention for the big prizes this quad if they can continue this type of sailing.  Their score of seven points leaves them 14 clear of David Gilmour and Rhys Mara (AUS).
With six races down, 49er qualification is done and dusted. The top 29 teams now advance to gold fleet racing where the competition and fight for points will heat up.
Botin and Lopez's advantage is a healthy one but when he got into the tope levels in 2014 editions of World Cup Mallorca and Hyères, Botin struggledin gold fleet racing. Only time will tell if this young speedster can overcome what held him back in previous tries.
At the cut of mark Julien d'Ortoli and Noe Delpech (FRA), Yago Lange and Nicolas Aragones (ARG) and Canada's Michael Brodeur and Daniel Inkpen all sneaked in to the gold fleet by a narrow two points.
Results, photos, and links here