Back to overview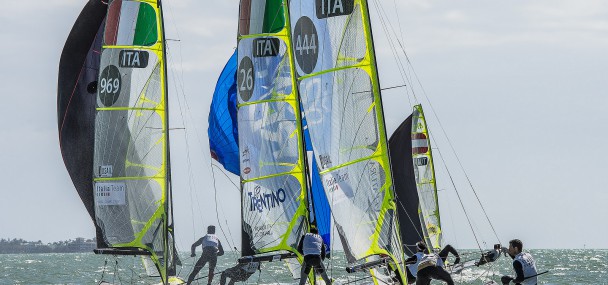 Blustery First Day Rocks Skiff Fleets On Day 1
Day 1 – Miami World Cup
49er
Spain's Diego Botin and Iago Lopez got off to a flying start in the 49er, controlling the proceedings in the blue fleet. Right from the off they put in a composed performance in a competitive pack to take the opening race bullet.
They remained at the front for the next bout, coming through in second behind John Pink and Stuart Bithell (GBR) before they rounded off a superb day by taking the final race victory
Being at the top of the 49er leader board, after the opening day, is not uncommon ground for Botin. The young Spaniard had an outstanding start at the 2014 editions of World Cup Mallorca and Hyères. However, he was unable to convert that into consistent results over a gruelling six day ISAF Sailing World Cup regatta.  That was with old crew Pablo Turrado, but with a crew change over the winter Diego is looking to secure contender status in 2015.
For now, Botin and Lopez lead, but with five days and 13 races remaining, time will tell if Botin can continue his form.
Results were mixed in the yellow fleet with no team taking the bull by the horns. Federico and Arturo Alonso (ESP) sit second after they recorded a discarded 20th and a second and a third. David Gilmour and Rhys Mara (AUS) occupy the final podium sport at the early stages.
49erFX
The Women's Skiff competitors on the 49erFX also found the Miami breeze extremely tough to handle.
Of the 40 teams, just eight of them successfully worked their way around the course to complete the single race of the day.  A few more managed to get through the finish live but only after the 10 minute time cap had expired.
Alex Maloney and Molly Meech (NZL) are two of the most experienced 49erFX competitors around, with well over two years of boat experience behind them. With a range of knowledge behind them they comprehensively claimed the day's race win by more than a minute.
Nina Keijzer and Claire Blom (NED) came through in second with ISAF Sailing World Cup Melbourne winners Tess Lloyd and Caitlin Elks (AUS) in third.