Back to overview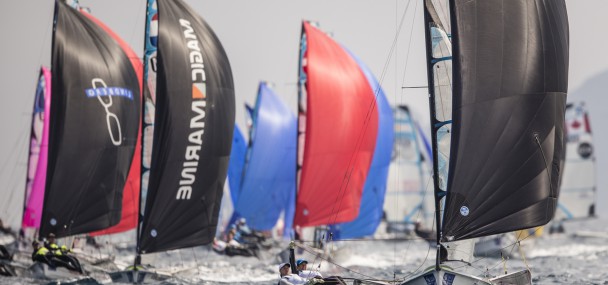 Big Moves Shift Fleet to Set Up Final Day Live Broadcast
With big fleets and lots of racing on day 4 there was much shifting in the standings of both the 49er and 49erFX fleets.  The Final Day race will be live broadcast on youtube and you can watch the action from the 49er Hyeres page  Racing starts at 11 am local time.
Setting Up a Great 49erFX Final
The 49erFX race will be a close one and a rematch of the 2014 World Championship (skip to 1:24) with Brazil's Martine Grael with Kahena Kunze only 1 point ahead of Denmark's Ida Nielsen and Marie Olsen for the lead.  In a further parallel to the Santander Worlds, in third place is Italy's Giulia Conti and Francesca Clapchich, but this time they are in striking distance of the gold, only 7 points back.  This should be the best final race of the day, and ISAF have saved it for last as the girls will be up at 16:15 local time.
The Italian had been farther down the standings but put together a tremendous effort to close out the regatta with a 7, 1, 1 after starting the day with a 17th.  All three of these teams could easily take the championship at this point.  Also moving up nicely on the day were Australia's Olivia Price and Eliza Solly and Norways Helene Naess and Marie Ronningen, who happen to have the best blog in the sailing scene.
49er Domination
The 49er fleet is a bit of a different story.  Peter Burling and Blair Tuke have locked up the regatta and won by the largest margin of any team in Hyeres.  This is the 18th 49er regatta they have won in a row, still going undefeated since their Silver in London.  The fleet seems no closer to closing the gap at this point.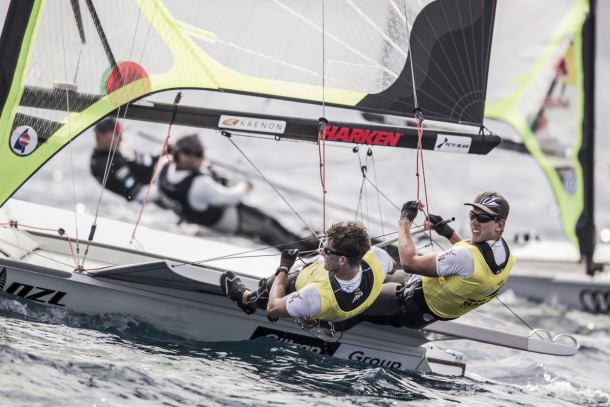 The kiwis are 45 points ahead of second place Nathan Outteridge and Iain Jensen, who are themselves 40 points ahead of third.  To say that Gold and Silver are locked up is an understatement.  Outteridge and Goobs sailed a solid regatta, and reassert themselves into contenders after slow playing much of the past two years since London.  With 16 month till Rio, they will be working like crazy to close the gap and regain top billing.
As the regatta is out of contention, ISAF will not be live broadcasting the final 49er race and viewers will have to be content to watch via live tracking.  Don'f forget to try and access early as Java requires tons of updates to use the system.  They start at 11:00.
Their huge leads were in fact aided by the fact that Jonas Warrer and Ander Thomsen (DEN) dropped out of the racing today as Jonas had already committed to helm the local boat at the Extreme 40 event this weekend.  They had been second overall, but dropped down to 11th after  a hard charge be the fleet on the final day.
The Fight to Make the Final
The 49er fleet started the day with a huge number of points up for grabs and a large pool of teams who could still qualify for the Final.  As predicted, roughly 178 points would be required and teams could have an exceptional day and move up loads.  Having just such an exceptional day was Jorge Lima with Jose Costa (POR) who scored only 27 points, just slightly worse than two standard deviations better than the fleet (24) moving them up from 22nd overall to 9th.  In the end, the 178 point goal needed to be a little lower with the Danes dropping out, so teams scored a fewer points than they would have and there was an extra place  in the final up for grabs.  Also moving up nicely were Yukio Makino and Kenji Takahashi (JPN) who moved from 15th to ninth to make their first medal race of this quadrennial.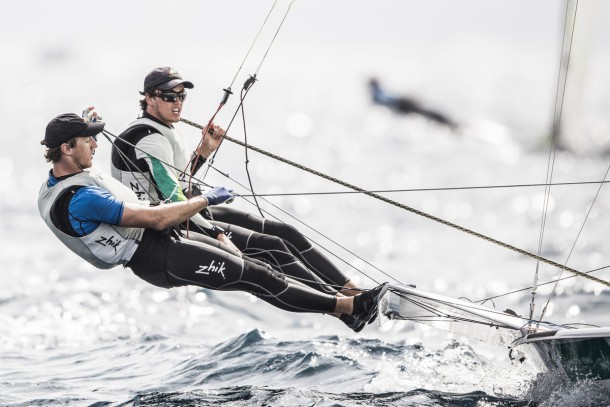 Podium in Reach
There is a good fight for the bronze medal for 49er.  Out in front is David Gilmour with Rhy Mara.  They have been competitive at every 49er event they've attended in the past two years and moved up steadily in this regatta after a tough first day.  If David and Rhys manage to secure the Bronze that will be Australias 5th World Cup 49er medal of the season with only 9 medals having been one.  Of course, Sail Melbourne doesn't really count as it's more of an Aussie nationals these days, but Australia was 1, 2, and 4th.  Interestingly, it was David and Rhys who controversially missed out on the bronze due to a starting line incident and technicality that the class is working with ISAF to clean up in the future.  Then in Miami, Joe Turner won the Silver medal with Iain Jensen.  Now here in Hyeres, Outteridge and Jensen have secured the Silver with this further chance at an Aussie Bronze.
The only team that can take it from them are Germans Erik Heil and Thomas Ploessel.  HP Sailing, as they're known, have been charging up the leaderboard after a poor first day, but then faltered on the final two races of the series posting 29th and 22nd.  Those 51 points pushed them from third looking up to fourth, and they'll have quite a bit to do to put so many boats in between themselves and David Gilmour.  Gilmour is a match racing rock star and it is likely these two will hook up in the pre start and even more interesting to see if the Germans will be able to handle what a match racing star can bring at them!
Photo Credit – Sailing Energy