Back to overview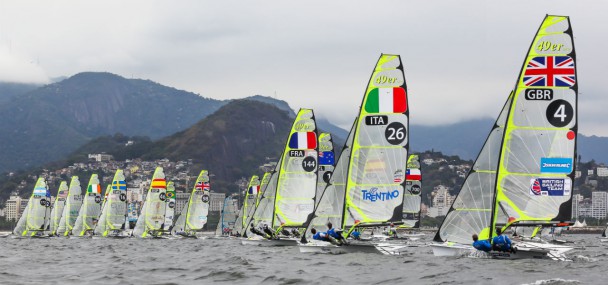 Second Day of the South Americans in Rio
Rio de Janeiro – The 49er and 49erFX South American Championship came to its second day with three more races concluded on this cloudy Thursday on Guanabara Bay. The fleet of 18 women and 25 men boats sailed on fickle south winds on the "Escola Naval" (the navy academy) racecourse, one of the courses that will be used on the next Olympic games on Rio 2016.
On the men's fleet the top spots are held by the Danish duo of Jonas Warrer and Anders Thomsen in first place with 29 points (1 discard), followed by the Britons Dave Evans and Ed Powys with 30pts and the French Dyen Mann and Christidis Stephane with 31pts. The same 31 points is the score of the Britishs Dylan Fletcher and Alain Sign on fourth overall and with 35pts the first south Americans appear: Yago and Klaus Lange, the next generation of the famous Argentinean sailing family.
Another new generation of a well known sailing name is currently on the second south American place and 7th overall, Marco Grael, the older brother of Martine and son of Torben Grael. Alongside his crew Gabriel Borges, Marco won the first race of the championship yesterday and their best race today was a seventh. But who really excelled was the kiwi double Peter Burling and Blair Tuke. The guys that came in a hurry from Palma, after the prize giving ceremony of the ISAF Rolex Sailor of the Year awards where they were nominated, missed the races yesterday but simply won the first two races of the day and got a second on the third to debut in 17th overall counting two DNCs.
FX – The 49erFX Fleet had also three races on the same area as the men and what have not changed since the beginning of the championship is the incredible performance of Anemiek Bekkering and Rick Peacock from the Nederland. Today the girls got a seventh on the second race, already discarded, and with five victories on the other five races competed they lead the scoreboard with 5 points. On second place with 16pts are the New Zealanders Alex Maloney and Melly Meech followed by the british duo Charlotte Dodson and Sophie Ainsworth with 22 points.
Today the new Isaf Sailors of the Year, and locals on Guanabara Bay, Martine Grael and Kahena Kunze made their entrance on the championship. Right after the prize giving ceremony on Palma, Spain, they took a flight to be here sailing with almost no time at all for great celebrations.
Tomorrow there will be three more races and on Saturday we will have the final day of the 2014 South American 49er and 49erFX Championship here in Rio de Janeiro.