Back to overview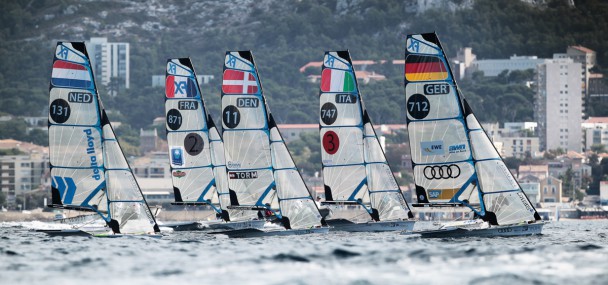 49erFX Sailors Competing In Higher Gear
The twin regattas of the 2014 North American's and Sailing World Cup of Miami kick off Saturday the 18th of January with one of the strongest fields in the short history of the 49erFX.  More than 2/3 of the world's top sailors have made the trek to Florida searching for high quality racing.  The 4 year sprint to master the 49erFX before Rio is shortened further by the qualification schedule that has 50% of the Olympic berths decided only 9 months from now in Santander.  The forecast is great for the first event, with intense practice days keeping everyone on their toes…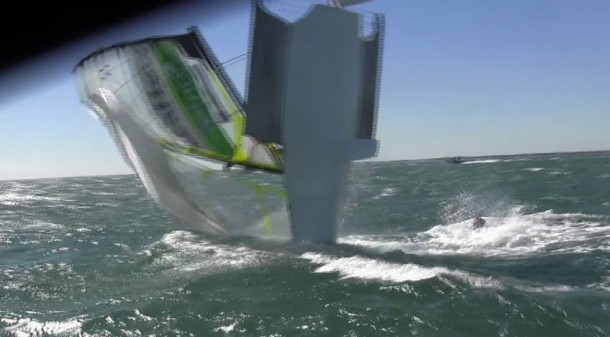 The pressure is on to learn how to sail, to campaign, to race, and to communicate at an elite level all at once. While some teams are partnerships from youth sailing days, most of the 49erFX teams are newly formed since the announcement in 2012 that the women's skiff would be part of the Rio Olympics.  We are starting to see more females racing the 49erFX than any other dinghy, with the 33 teams made up of 66 sailors, 10 more than the typically dominant laser radial fleet.  A lot of top talent has been drawn to this exciting form of sailing, and the competition is wide open.
Some of these teams have sailed the 29er in youth, and thus have a leg up with regard to apparent wind sailing, but there is no dominant route to the top in the 49erFX.  Top level competitors have come from all over, singlehanded, double handed, keel boats, match racing, and all the youth classes.The only common marker between these teams so far is the bond formed by skiff sailing team mates, a strong bond hardened by joint experiences where each relied fully on the other to sail safely through severe challenges.  The crew/skipper linkage in the 49er is a novel one within the sphere of sailing, where skippers are normally treated with the reverence of NFL quarterbacks, there simply is no escaping the linkage between both crew in a skiff.
While many boats delegate main sail trimming to people other than the skipper, is the delicate and constant balance of a skiff that keeps the crew so involved in upwind mode and speed work that is atypical of this role.  The skipper, quite simply, runs out of options very quickly without an adjustment by the crew, and of course, vice-versa. We saw this play out in the America's Cup, when both 49er helms, Draper and Outteridge, opted for 49er crews as their wing trimmers and both Xabi Fernandez and Iain (Goobs) Jensen were vaulted to pole positions on these crews.  To be fair to Xabi, he'd put in his time with plenty of large team campaigning, but Iain cut the queue typical in pro sailing based on his years of upwind engagement and learned understanding of what a skipper needs.
Back to the deep pool of talent currently in North America for the 49erFX regattas.  We are about to see a year where we will find out what teams have the continued learning capacity to outpace the competition.  As typical in a new boat, 2013's racing was often dominated by a few teams with head starts for various reasons.  World Champions Alex Maloney and Molly Meech of New Zealand were testers of some of the original FX rigging, giving them a few more months of exposure than most.  Ida Hansen and Marie Olsen of Denmark, winners of most events in 2013, joined the Danish 49er squad sailing a full rig 49er for a year before the announcement of the Olympic 49erFX.  2014 will see these head starts mean less as factors like teamwork, tenacity, dedication, and talent take over.The racing in Miami is by no means the final say on how things will play out up to Rio, but it is the first meaningful racing in 4 months since teams were able to go off and train already having a handle on the boat and it could be a great indicator of things to come.
Stay tuned to 49er.org for racing updates from the 2014 North American Championships.  The last continental championships, the South American's played out wonderfully, and while there won't be cricket on the beach here in Miami, there will be plenty of smiling faces.