Back to overview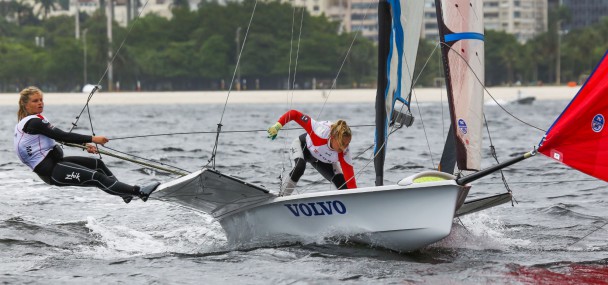 New Zealand stars shine in the Intergalactics on 49er, Jana and Katja, of Denmark, were the brightest of the universe in 49erFX
The 2nd Intergalactic Championship of 49er and 49erFX, which gathered the cream of the world's fastest and radical Olympic monotype, ended with a different race. The third and final race of Friday counted double points and brought the crews inverted: the skippers on the bow and bowmen at the helm.
Thus, the only Brazilian duo in 49erFX, the best sailors of the year and leaders of the ISAF world rankings, Martine Grael and Kahena Kunze showed that quality is independent of position. "It was cool to swap places. We knew we would do this race and I trained. In the end, it was important to secure the third place, because we were tied with the English in number of points and the win made the difference, "said the commander today and normally crew, Kahena Kunze.
The Danish Jena Mai Hansen and Katja Salskou-Iversen, with 52 points, sacred themselves champions and took a further step in the internal fight with his compatriots for representing his country at Rio 2016. The runners-up, just one point behind, were the friends, but eternal rivals of Brazilian duet, Alexandra Maloney and Melly Meech, from New Zealand, world champions in 2013 and top class sailors in the country, which is one of the developing countries of this type of boat: the skiffs. Martine and Kahena (3rd) and the fourths, Charlotte Dodson and Sophie Ainsworth (GBR), had the same 63 points.
Men's fleet – Among men, another duo that was nominated for best sailors in the year 2014, but did not take, losing to America's Cup legend James Spithill, indicated they do know very well the functions of each other in the boat. Besides winning the last race, where there was an exchange of positions, they still won the second race of the day (with Burling at the helm as usual) and took second place in the first race on Friday.
So, with only 19 points lost, were again first on the regular podium position they occupied in all events they were since the silver medal in London in 2012. This time with an overwhelming advantage of 40 points over runners-up: John Pink and Hollingworth Bithell, of Great Britain (59pts). And to spice up the internal fight for the English place in the waters of Guanabara in 2016, other British duo, Dylan Fletcher and Alain Sign were third with 79 points.
Among host Brazilians (and continental sailors), Dante Bianchi and Thomas Low-Beer finished in ninth place overall and Marco Grael and Gabriel Borges, who won the 8th race of the championship, were 14th overall. The South Americans Champions Yago and Klaus Lange were 16th in the fleet.
Men's (49er) results: http://bit.ly/49erM_InGalac
Women's (49erFX) results: http://bit.ly/49erFX_InGalac
Murillo Novaes
Photos: Fred Hoffmann