Back to overview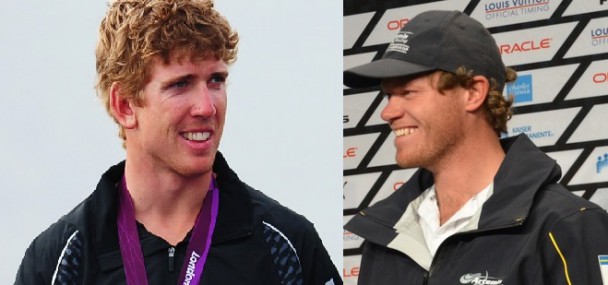 Best on Best Facing Off in Hyeres
It is rare in sailing for the best to consistently race each other as sailing has so many classes and styles.  It's far more common for promoters of every class to talk up their own champion, without any way of ever proving definitively who's better.  The ISAF World Cup of Sailing – Hyeres is one of those times we'll get to see best on best as Nathan Outteridge and Iain Jensen (AUS) will face Peter Burling and Blair Tuke (NZL) in the 49er class.
Nathan Outteridge, no longer a rising star, is in the top echelon of worldwide sailors.  Gold at the 2012 Olympics and 3 World Championships in the 49er landed him a helming job at Team Korea on the AC45 circuit, and that catapulted him into one of four helmsman positions at the 2013 America's Cup.  Both Outteridge and Jensen will also continue on with Team Artemis through to the 2017 America's Cup.  Unbelievably, Outteridge has also been competing at the highest level of the Moth class as well, winning that world championship in 2011.  He has seen success in every high performance boat out there, leading a trend for Olympic class sailors to broaden their racing and training habits.
Following in Nathan's footsteps is Peter Burling of New Zealand.  Peter and his crew, Blair Tuke, were newbies in the 49er class in 2009.  They linked up as training partners to Outteridge and Jensen through 2012, and took home the silver medal in London.  Peter was selected to helm the 2013 Youth America's Cup entry from New Zealand and handily won that regatta being one of the few teams who were able to find success in races from all sorts of starting positions.  Interestingly, Outteridge was commentating the racing, getting a chance to observe his budding rival.  America's Cup teams took notice and both Burling and Tuke have been hired by Team New Zealand for the 2017 America's Cup.
Burling was able to do much more actual sailing than Outteridge in 2013 as Outteridge had to focus on the America's Cup, bulking up and spending his time on activities like boat, system, and team building with Artemis.  Meanwhile, Burling spent time in his moth, his A-Class, and the 49er.
This is where it gets interesting for sailing fans, as we now get to watch two of the best sailors on earth battle each other in all the high performance classes.  The 2013 49er Seiko World Championship was the first time these two were face to face since the Olympics, with Burling handily winning the championship.  Outteridge had some obvious rust and was also physically larger than normal for him after bulking up for the AC, spending time doing the commentary, though he finished a very respectable 5th place.  The two went head to head only 1 month later at the moth worlds, with ex 49er sailor Bora Guiliari taking the win while Outteridge was second and Burling back in 10th.  Burling skipped Sail Melbourne 2014 in the 49er, which Nathan won, and then they raced each other again at the A-Class worlds in Auckland this Spring.  They were both beaten in the A-Cats by Glenn Ashby and Burling's crew, Blair Tuke, but Burling was ahead of Outteridge finishing 3rd versus 6th.
Now, for the first time since London, these two superstars will be racing 49er against each other, each with some practice under their belts.  Burling and Tuke won the most recent World Cup in Palma with 2 races to spare while Outteridge and Jensen were training back home with their Aussie 49er squad.  What is so great for sailing is that each of these two teams has already been dominant in the 49er and both of these teams are still in their primes.  There is no question of Outteridge and Jensen's dominance for the London Quad.  They didn't race every regatta, but when they raced they almost always won convincingly.  That said, in the three events Burling has lined up for in 2013/14 he and Tuke have been equally dominant and looking like the class of the field.  The last time we got match ups like this was Scheidt versus Ainslie, and then Ainslie moved to the Finn, prematurely cutting off that epic rivalry.  With any luck, we'll get the opposite in Outteridge versus Burling… where they will race each other in every boat possible rather than avoiding going head to head!
Hyeres is not the main event quite yet, both of these teams will have their eyes on the big events of the summer, and there are 81 other teams in the mix.  The Europeans in Helsinki in July and the Worlds in Santander this September will be titles each is looking to take home.  The rest of us get the enjoyment of sitting back and watching the world's best battle!