Magic Marine Morning Show with Beau Outteridge
A Daily talk show with news and interviews form the sailors.
 Keep up to date with the sailing action on social media –  
Follow the 49er Racing live twitter feeds and tracking
 Schedule of Events *subject to changes
Day 0 – Monday July 7, 15:00 – Practice Race
Day 1 -Tuesday July 8, 11:00 – 49er qualification followed by 49erFX qualification
Day 2 – Wednesday July 9, 11:00 49erFX qualification follow by 49er qualification
Day 3 – Thursday July 10, 11:00 49er qualification followed by 49erFX qualification
Day 4 – Friday July 11, 11:00 49erFX Semi Final followed by 49er Semi Final
Day 5 – Saturday July  12 11:00 49er Semi Final followed by 49erFX Semi Final
Day 6 – Sunday July 13 10:00 C Final,  11:00 B Final, 12:00 A Final
City Centre & Venue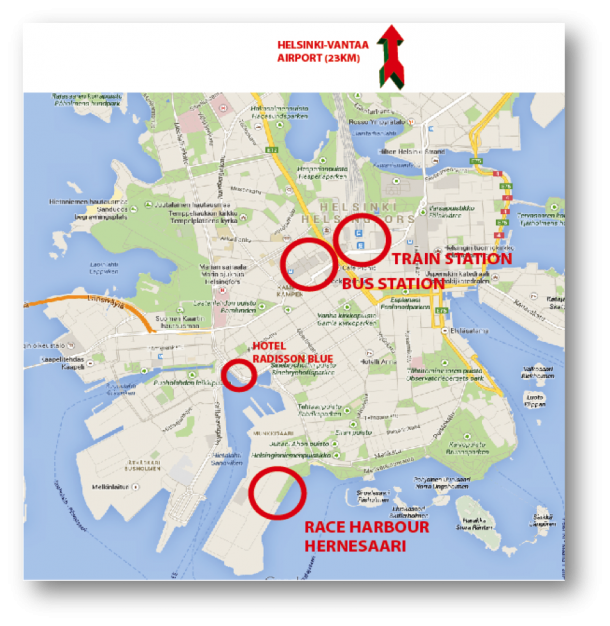 The Race Harbour Hernesaari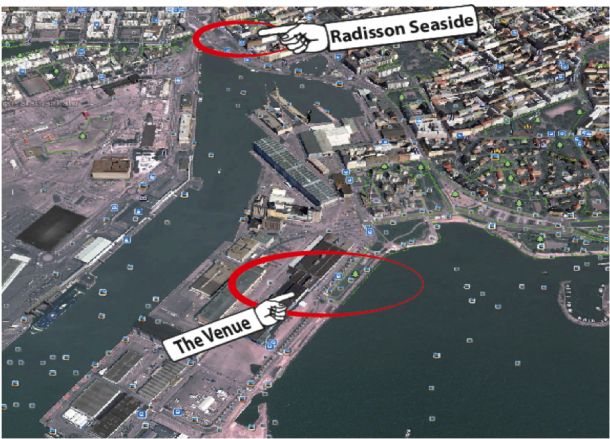 Adress to the Venue:
Hernesaarenranta 2
00150 Helsinki
The venue opens 5th July.
Shipping goods to Finland for the 49er & FX Europeans
You may want to ship goods to Finland for use in the Europeans event. As the championship venue will open only 5th July, our recommendation is that you ship to the Nyländska Jaktklubben Sailing Center:

Nyländska Jaktklubben
Vaskisalmenkuja 9
00200 Helsinki
attn Patrick Andersson
NJK office phone is +358 9 68698610, email 
kansliet@njk.fi
How to Get Here?
There are ferries from Germany, Sweden and Estonia. For ideas please check here.
Practical information about Helsinki and the Event – check here 
Venue Map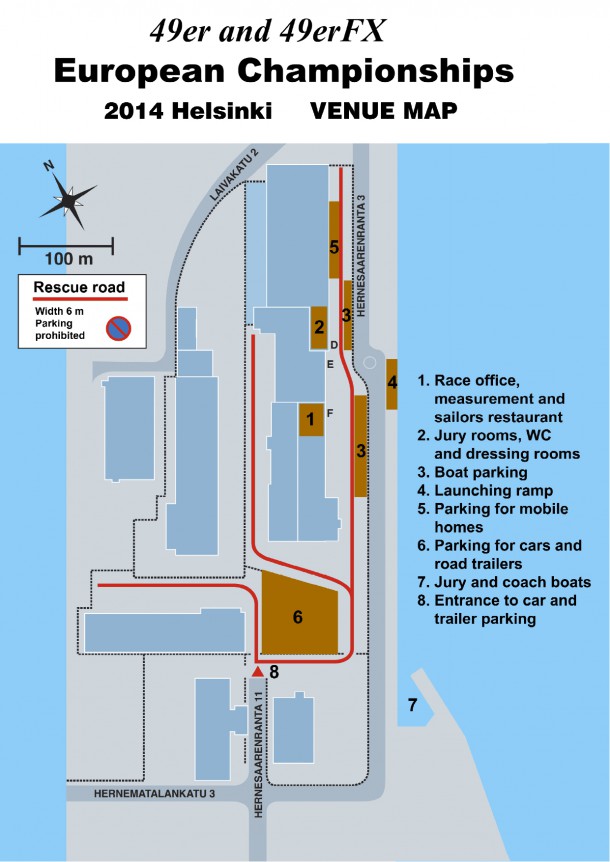 The map below shows the  course areas and the routes to take to get to the Course area C.  To the W-NW  of the W mark on Course area C  there is a rock that may be risky for a 49er. We will mark it with buoys before racing start.
Note that to get to Course area C boats have to cross a fairway used by Tallinn ferries and other large ships. Care must be taken when  crossing it and the organisers will supervise that area when needed.
When sailing to the area, you need to sail round the red mark buoy at the northern tip of Melkki island. The shallow area to the North of that mark extends to the NW of the mark as can be seen on a chart. You are also advised not to sail too close to the Lauttasaari island.
The courses will be laid so as to ensure that there is enough navigable water on all sides of the leeward marks and the starting line. It is useful, however, to study the area on the chart.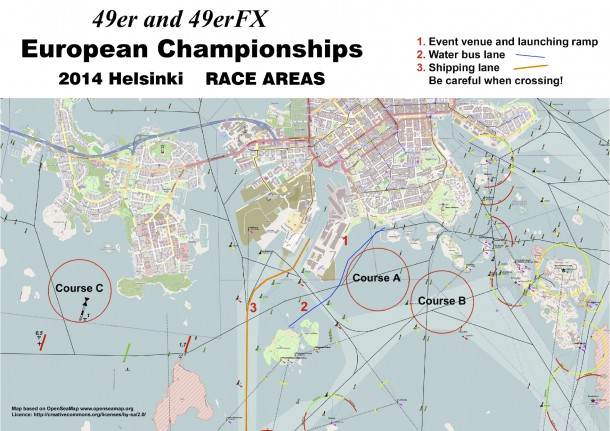 NJK – The Organizing Club
NJK – Nyländska Jaktklubben
Vaskisalmenkuja 9
00200 Helsinki
Email: kansliet(at)njk.fi. 
Event Project Manager: Patrick Andersson
Phone: +358 40 5404862
E-mail: pata(at)njk.fi
Officials Organizer: Lars Nyqvist
E-mail: lny(at)kolumbus.fi