Back to overview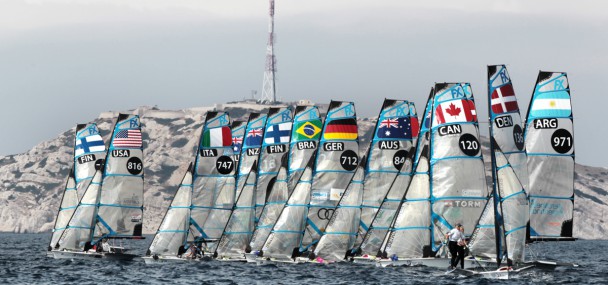 2014 Euros 49erFX Preview
2014 marks the second ever 49erFX European Championship.  The fleet is 50 boats strong this year and changing quickly.  Unlike in 2013, most of the teams are now truly racing instead of just sailing, as the level of boathandling, boat set up and skiff IQ has increased massively.  The skiff boathandling skills gave 29er converts a leg up initially, but now there are teams from all backgrounds being successful on the racecourse.  Additionally, there are few countries with massive squads like in 49er so there is a realistic possibility that many countries may win a medal.
The stand outs for 2014 have been Brazil's Martine Grael and Kahena Kunze.  They have been first or 2nd at every regatta they've raced in this year, including winning both of the European Grand Prix events.  Martine grew in the playgrounds of the America's Cup, Auckland and Valencia.  Her father is the Brazilian sailing legend Torben Grael so Martine got to see first hand what the top levels of sailing were from a young age.  She and Kahena grew up racing against each other in the 420 quite often and also teamed up as well.  From the outset of 49erFX racing these two have been pushing hard.  Being from South America, their travel schedule is relentless, except for the November events 49er is running in Rio each year.  This could be her chance to take the top step of a major 49erFX event.
The most consistent team since the start of 49erFX racing has been New Zealand's (red bull sponsored) Alex Maloney and Molly Meech.  They won the 2013 worlds, but have struggled a bit since then.  Their coach, Nathan Handley was reassigned within Yachting New Zealand so they have been using a number of coaches through the year.  They will be in contention, but without some of the swagger from 2013.
The initial standouts from 2012/13 were Ida Nielsen and Marie Olsen (DEN).  They won the first big 49erFX regattas by large margins.  Since then, the fleet has caught up and they have had less consistent results.  These two sailors won the 2014 Junior World Championship last week in Aarhus so are on a roll heading into this years Euros.
Maybe the best racers in the fleet is Sarah Steyaert and Julie Bossard (FRA).  They were the last of the top teams to step into the 49erFX and have struggled with boat handling at times.  Sarah is the 2007 Radial World Champion, and she is the best starter in the fleet, consistently getting her placement, timing and lanes right.  If they start well they have the speed to separate off the line they can manage their boathandling well enough to stack up consistent races.  They won both the Miami events this year, and then had to recover from an ankle injury for most of April.
Another team worth mentioning is Netherlands Annemiek Bekkering and Annette Deutz.  Annemiek was sailing with Clair Blom through 2013, but the federation orchestrated a switch this year.  Annemiek has been consistently been in the top 5 at big events, but we have not seen her win many medals yet.  They placed 2nd at the 2014 Junior Worlds and certainly have the potential to land on the podium.
Italy's Giulia Conti and Franchesca Clapcich are in a similar position to the Dutch girls.  They are consistently in the top 10 but have rarely been the medals.
The newest team to the top levels of 49erFX are Tamara Echegoyen and Berta Betanzos (ESP).  Tamara won the Gold medal in London in the Match racing, and she was not on the favorites list for that event heading in.  The same thing is happening now as she's been a little slow getting into the top positions in the skiff.  Helping at the front is 470 World Champions crew Berta Betanzos, and together these two have possibly the best sailing CV in the fleet.  That potential has been showing up on the water recently, as these two won Kieler Woche just 2 weeks ago, and can be serious contenders here.
Finally we have our squads.
Sailing Team Germany has 5 teams, of which 2 are usually more dominent.  In the lighter breeze, few can keep up with Vicky Jurczok and Anika Lorenz.  Stightly undersized, they have often dominated days but rarely have put together entire regattas.  On the flip side is Tina Lutz and Susan Beuke.  These two are great in the breeze, pretty good in the light stuff, but also have underperformed in general.  STG has invest heavily in a deep 49erFX team and have yet to claim their rewards.  A good showing at the Euros by either team will go a long way to ensuring the continuation of the German squad in their strict feedback based funding system.
The British Sailing team is 3 teams deep each with a shot at the title.  Charlotte Dobson and Sofie Ainsworth have attained podium finishes at a couple of events this year, while Frances Peters and Nicola Groves took home the Bronze at this event last year.
Lets not forget the local hopefuls.  Leading the Finnish contingent are Sinem Kurtbay & Silja Kanerva.  Silja won a Bronze medal in the match racing in London and is a great athlete.  She has teamed up with skiff sailor Sinem and together they have built a robust campaign and have the capability of sailing at the highest level.  Chasing them are Noora Ruskola and Camilla Cedercreutz.  These two are especially effective in light air an only recently were able to start full time sailing.
There will be live broadcasting of the gold fleet and finals via 49er.org, July 11-13 at 11:00 am local time.  Subscribe to our mailing list to get a notification.