Taking a further look at the 2018 Hempel Sailing World Championship results, it is clear that in most major championships for Olympic skiffs and cats, there is no longer a need for drop races. Drop races in this type of sailing decrease the chances of the best team winning the event, and add unnecessary complication to our communication and scoring systems.
Because these classes race in relatively small fleets, and because the classes are so competitive that top teams often (almost always) have finishes deep in the pack, there is no reason to complicate scoring by having a drop race. The total, highest impact of putting in the single drop race was 12 points, across the three fleets of 49er, 49erFX and Nacra 17. When everybody is dropping a high score, the impact on the results is minimal.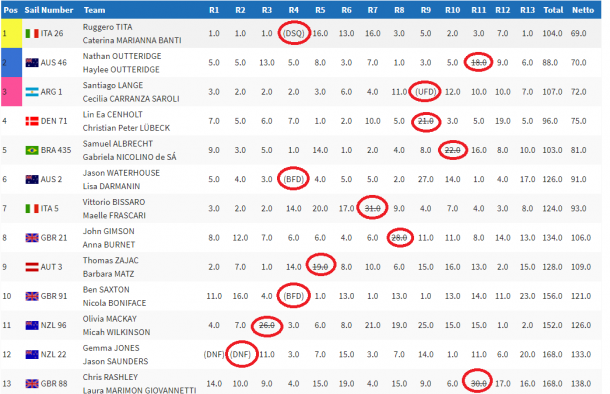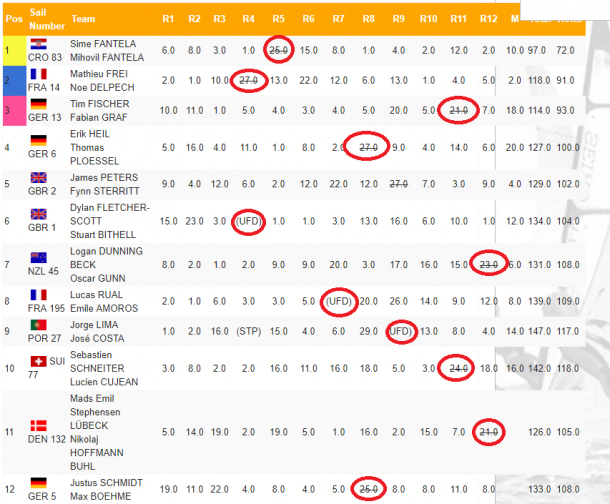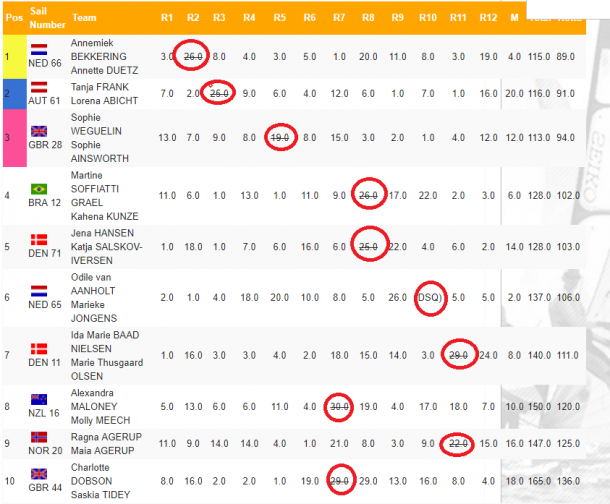 Drop races were brought in at a time when fleets could be very large. In a fleet of 80 boats, where a breakdown would score you 81 points, it would almost immediately rule that sailor out of contention for the championship. In the context of large fleets, a drop race still has a useful place in sailing.
The second side of the argument hinges on the competitiveness within a fleet. In long races, or races with dissimilar levels of competitiveness, the drop race can also be useful. If all the same teams finish in the top 10 for typical races, a single race with an OCS, DSQ, or DNF, can also have an outsides impact on the overall results, because the extra number of points from that race is so high compared to the expected result.
There are also examples of Wednesday night beer league series, where teams are expected to miss weeks here and there. Of course, in those situations, a drop race is a perfectly fine part of the series
In 49er, 49erFX, and Nacra 17 racing, none of these assumptions occur. Fleets are small, typically smaller than 35 boats per fleet. Races are short, leading to greater variability of results in any one race. Fleets are super competitive, meaning that that all teams will have poor races.
What is gained from removing the drop race is not just simplicity of scoring, but fairness itself. An extensive study done by SAP sailing revealed that the most impact driver of fairness in a regatta is the number of races competed in. Over a long enough series, the better sailor will win, which for this editorial will be a proxy for fairness. (I digress, but fairness in reality is simply that all teams face the same requirements and burdens without manipulation).
By including a drop race in our results, we essentially make our race series one race shorter than it would be. Since having more races increases fairness, having fewer races decreases fairness, and since the drop race has little impact anyways, we may as well opt for the simple solution that offers the fairer result.
The typical sailors feels differently. We hear it in post race interviews, race reports, and debriefs. "Well, we sailed our throw out today," is a phrase bandied around to decrease or minimize the impact from a poor race. "We had to start conservatively all week because we already had an OCS," is another common thought. In reality, all sailors should expect every race to count because in these fleets that is statistically the case.
If the sailing community feels that drop races should be kept in to minimize the impact of disqualification, pushing the start line, or breakdowns, we should really look hard at how we're administering the sport. DSQ's should be given little sympathy, since exoneration with a 360 turn is quick to accomplish, and certainly better for everyone than heading to the protest room. Start lines are hard enough to manage without adding extra pressure to the race officials by giving sailors one 'free' chance to really push the line. Breakdowns should be unacceptable in top level racing, and should they occur with any frequency, should be dealt with in supply chains and sailor maintenance, not in racing.
The 49er, 49erFX, and Nacra 17 have the 2018 (U23) Junior World Championships next week in Marseille, France. These future stars get a chance to race on the 2024 Olympic waters now, and no doubt many in the fleet will be looking forward six years from now hoping they'll be in Marseille again! Participation in this Junior regatta is larger than any previous iteration, with 54 49er, 37 49erFX, and 9 Nacra 17 (first ever Junior event for N17). As is tradition, this regatta will have 1 drop race for the series, and we'll have daily highlights on 49er.org and nacra17.org and our social channels.
[total-poll id=19260]
We welcome your thoughts on the topic, so find our discussion on fb.com/49ersailing and have your say.
The 2018 (U23) Junior World Championship in Marseille. Follow all the action via 49er.org – nacra17.org
There will be daily as live news and video published via fb and youtube, so ensure you're following
FB 49er – FB Nacra 17 – 49er Youtube – Nacra 17 Youtube
Thanks to Our Supporters