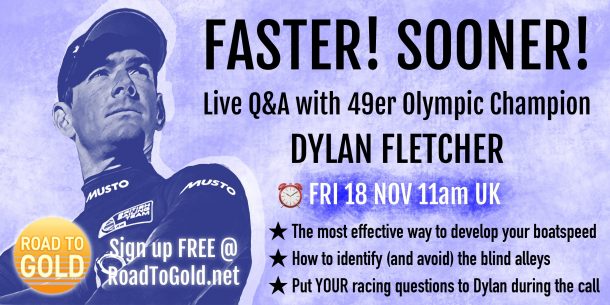 This Friday: Q&A Live Call with Olympic Champ Dylan Fletcher – Build your boatspeed around YOU
What's the quickest, most effective way to develop your Boat Speed? It's a tough question so it's worth asking someone who really does know about the shortcuts and roadblocks on the path to finding world-class speed.
This Friday, the Road To Gold Live Q&A on Zoom will feature Dylan Fletcher who, with Stu Bithell, won that last-gasp Olympic gold medal in the 49er at last year's Olympic Games.
Dylan is currently in Argentina about to see if he can win one of the most coveted World Championships of all, the International Moth Worlds. Obviously Dylan and Stu developed world-class boatspeed in the 49er, but Dylan has an additional challenge in the Moth. He's a lightweight compared with the 90kg-plus sailors like Tom Slingsby who have been dominated the foiling singlehander in recent years.
So when is it OK to go down a different development path? And how do you develop your Boatspeed for YOU?
We'll be asking Dylan questions like:
The fastest, most effective way to develop your boatspeed
How to identify (and avoid) the time-sucking blind alleys
What he learned about boatspeed in the data-driven world of SailGP
Any speed-related questions YOU have for him…
WHEN: Fri 18th Nov 11am UK 🇬🇧
Join us on Friday morning (1100 hours UTC) where we'll be talking all things speed-related with Dylan.
Join Zoom Meeting with Dylan Fletcher & Road To Gold