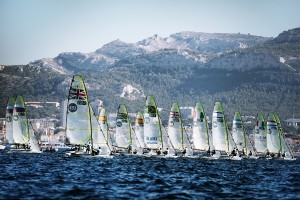 Day 1:  Seiko 49er & 49erFX World Championships, Marseille, France
It was a very light, tricky opening day to the Seiko 49er & 49erFX World Championships in Marseille, not the kind of day where anyone could have expected a particular team to dominate the racing. But with the 97-boat men's fleet split three ways for qualification, each flight was dominated by a double-bullet winner. Marcus Hansen and Josh Porebski led a Kiwi charge in Blue Fleet, the young New Zealanders winning both heats and getting the better of their Olympic silver medal winning team mates, Pete Burling and Blair Tuke, who still got off to a solid start with scores of 4,7.
Jonas Warrer won a light-airs Olympics in China back in 2008, and put those gold-medal skills to good use today with his 2012 bronze-medal-winning crew Peter Lang, winning both their heats in Yellow Fleet. Good starting and great speed downwind placed the Danes as winners of the Magic Marine Starting Competition (green jersey) and Seiko King of the Downwind (purple jersey).
European Champions Dylan Fletcher and Alain Sign were similarly dominant in Blue Fleet, the British team starting on or near the pin end of the start line on both occasions. "There was a bit of current pushing people up to the line sooner than they realised," said Sign, "and there were a lot of black flags. We had 6 or 7 recalls and there was a bit more space on the line for the start that got away. It was about getting a good start and holding your lane into the left-hand side of the course."
Fletcher and Sign have been working on their communication in the boat in recent weeks, but today discovered that listening to the onboard chatter of Oracle and the Kiwis competing in the America's Cup races on TV has had more of an influence than they realised. "I smiled to myself when Alain said 'Copy that' during the racing," said Fletcher, "and I found myself saying 'Gybing in 3-2-1'." But America's Cup style communication certainly seems to be working for them in the Olympic skiff.
Reigning Olympic and World Champions, Nathan Outteridge and Iain Jensen, only flew out of San Francisco last week after a summer of America's Cup sailing with Swedish challenger Artemis Racing. Marseille is the first time the Aussies have raced in the 49er since London 2012 more than a year ago. "We managed to get a few days' training on San Francisco Bay, but nothing in less than 18 knots, so not that useful for here," said Outteridge, who is hoping the breeze will rise to the occasion in Marseille. Some of the teams who have been training in Marseille have had to stay ashore when the infamous strong-wind Mistral has swept the Bay in recent weeks. No such Mistral problems today and, as things stand, it looks like the 49ers are in for a light airs week, which wouldn't be the Aussie teams' first choice of wind condition. Even so, Outteridge and Jensen still acquitted themselves well with a score line of 3,4 today, placing them 6th overall.
For qualifying, the 53-boat 49er FX fleet was divided into two groups, with the women heading out into the bay for two heats in the late afternoon. The Singapore team of Griselda Khng and Sara Tan turned a few heads today, their scores of 3,2 propelling them to the top of the leaderboard. "We are used to these light airs from home," said Tan, a former 470 crew. "Today we got to the line early and had good acceleration out of the starts." Khng may be new to skiff racing, but she was runner-up at the Optimist World Championship and was a podium finisher in major 420 championships. The Singapore girls were 2nd at the 49erFX Junior World Championships earlier in the season, and are now carrying their new-found skiff form nicely into the senior-level racing here in Marseille. Their speed off the line puts them as winners of the Magic Marine Starting Competition (green jersey).
There are nine nations in the top 10 and five continents in the top 15 after day one, with a number of European teams making a strong early showing behind Singapore. Fourth-place finishers at the European Championships, Danish team Jen Mai Hansen and Katia Salskov-Iversen hold 2nd overall, although their team mates – the reigning European Champions Ida Marie Baad Nielsen and Marie Thusgaard Olsen – are languishing in 26th place. Having finished on the podium of every major regatta they have competed in during the 2013 season, the Danes will be looking to stop the rot and get back to their winning ways before the serious end of the week. Former 470 star Giulia Conti with Laser Radial convert Francesca Clapcich are putting in a strong showing with two 3rds placing the Italians in 3rd overall. Great Britain's Frances Peters and Nicola Groves struggled to hold their lane next to the rapid Singaporeans, but went on to win their next heat. They are joint leaders of the Seiko Queen of the Downwind (purple jersey), along with Denmark's Lin Ea Cenholt and Line Just.
Qualifying continues tomorrow, with the soft breezes predicted to continue for some days to come.