A day of light wind saw a slightly disrupted race schedule on Day 2 of Ready Steady Tokyo – Sailing, the official test event of the Tokyo 2020 Olympic Sailing Competition.
But, after a short postponement, all fleets managed to get out onto the water and complete at least one race each, with four days remaining to sail the rest of the series. Compared to yesterday's strong breeze and big waves, conditions today were quite different and required sailors to adapt in order to maintain consistency.
One team which has done this very well is the pairing of Charlotte Dobson & Saskia Tidey (GBR) in the 49erFX fleet.Their lowest result out of five races so far is a fourth, with two second places today to add to yesterday's two wins. And the duo are unsurprisingly very satisfied with how they have managed the conditions so far.
"Today was lighter than yesterday with around 10 knots," explained Tidey. "We were on the Kamakura course today and we had quite a left-handed racetrack to start with; we luckily got into the second race before it switched around to sea breeze. "Yesterday was more about boat-handling and keeping the boat moving through the water."
On their impressive start to Ready Steady Tokyo, which sees them lead by six points after five races, Tidey added, "We're thrilled – it's the way anyone would hope to start a regatta. "We've got a long week ahead; we just have to keep our heads and keep going."
Behind them in second are Martine Grael & Kahena Kunze (BRA), with Helene Naess & Marie Rønningen (NOR) moving into the top three. Both teams picked up a race win and a fifth place today.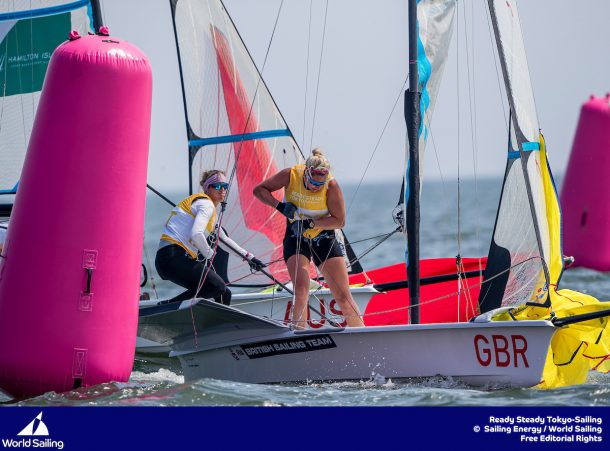 The 49er fleet also managed to sail two races despite heading out later, which has changed the look of the top three. Leading the way now are Lukasz Przybytek & Pawel Kolodzinski (POL) who, although they are yet to win a race so far, have notched some fairly consistent results.
Peter Burling & Blair Tuke (NZL) relinquish their opening-day lead after finishing 13th (discarded) and ninth today, with Benjamin Bildstein & David Hussl (AUT) entering the top three. Today's race wins went to Mathieu Frei & Noe Delpech (FRA) and Mads Emil Stephensen Lübeck & Nikolaj Hoffmann Buhl (DEN).]
"It was a tough one for us today," Tuke explained. "We made a few too many mistakes. We had two good starts but just made some unforced errors and couldn't quite piece it together. It's a bit disappointing but we will bounce back tonight and have a good debrief and be ready for tomorrow."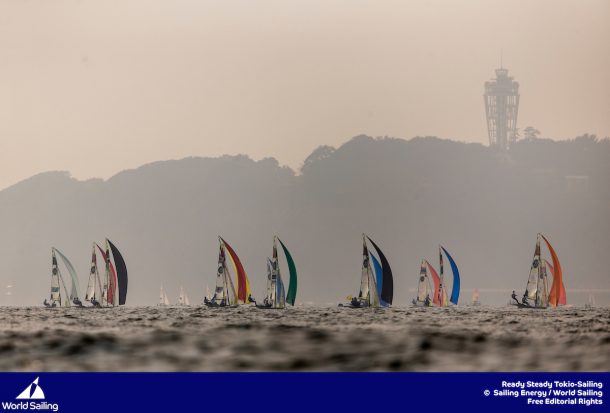 Burling added: "I think everyone has been battling away for these first couple of days. You make one mistake out there and you get put a long way back. It's just going to be who sails the best over the next two days.
"You can get a bit of anything [in Enoshima]. It's a venue that's shown you can get beautiful sailing, like at the 470 worlds last week or the first day of the event here, or you can get offshore or light sea breezes like this, or even pre-typhoon [winds]. There's a lot of different categories and you just have to be ready for anything."
Racing continues tomorrow, with all fleets departing at around 12:00 local time. All are scheduled to sail four races.