The 2019 Volvo Europeans, to be held in Weymouth from 13-19 May includes the 49er, 49erFX, and Nacra17. There are more potential winners than any 49er event in history. Returning to the waters which hosted the 2012 London Olympic Games sailing regatta, any one of twenty teams from around the world have the proven ability to take their place on the top step of the podium.
In past Olympic cycles, the 49er fleet has had stand out performances by a number of teams which ultimately resulted in Olympic medals and top professional skippering positions in the America's Cup and Volvo Ocean Race.
In the Rio 2016 cycle, New Zealand's Peter Burling and Blair Tuke dominated the class, winning four World Championships in a row on their way to Olympic Gold. Preceding Burling/Tuke, Australian's Nathan Outteridge and Iain Jensen were the form boat during the lead into the London 2012 games which also culminated in Olympic glory. Preceding that were the reigns of Chris Draper (GBR), Iker Martinez (ESP), and Chris Nicholson (AUS) all of whom went on to helm America's Cup or Volvo Ocean Race teams.
In 2018 and 2019, the 49er class has seen a plethora of event winners and no one team dominating. Whoever manages to emerge will truly be one of the best sailors today.

The most noticeable recent performance was by Great Britain's Dylan Fletcher and Stuart Bithell (GBR), who won the Trofeo Princesa Sofia regatta in Palma with a lead large enough to wrap up the event prior to a medal race being sailed. While Fletcher & Bithell have had large amounts of time away from the 49er this year due to their involvement with SailGP, this does not appear to have any effect on the British duo.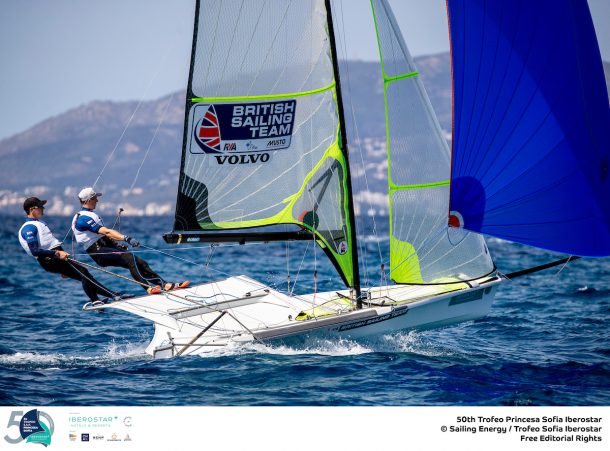 "Palma was an awesome regatta for us." Says Fletcher. "We have been pushing for a performance like that. Weymouth is our home and we know it very well, Stu [Bithell] won his Silver Medal [in the 470] here at London 2012. We are feeling good and excited to have everyone back in our home town. The 49er fleet is incredibly strong at the moment, so we are coming here to just put our best foot forward and we know that if we do that we will be hard to beat."
The rest of the British squad also have ambitions on home waters, none more so than James Peters and Fynn Sterritt. The duo have had a wildly up and down quad so far. They were flying high in the middle of last summer with a 5th at worlds and then winning the 2018 Test event, and critically, ahead of Dlyan and Stu in both cases. They did so after spending months on the sidelines as Sterritt recovered from an injury which kept them off the water until just before Worlds.
So riding high into 2019, they entered Palma, as a British test event qualifier and suffered from a dire performance that put them into silver fleet. A controversial OSC call was their final downfall, spelling the end of their chances at a good finish in Palma.
With Dylan and Stu winning Palma, their chances of getting to the Test Event this year took a serious tumble. The test event spot for the British squad can be critical, as it's been practice for any team medaling at the test event to be given the Olympic berth. So, staring into this championship, one of the top 49er teams could already be staring down the last moments of their Tokyo campaign.
Reigning Olympic champions Burling & Tuke (NZL) have only recently stepped back into the 49er after taking time away from the class to compete in the America's Cup and The Ocean Race. The 4x World Champions are already back in form with their two international events in 2019 resulting in a 3rd and 7th place. Their fellow New Zealand teammates of Isaac McHardie & William McKenzie, Josh Porebski & Trent Rippey, and Logan Dunning Beck & Oscar Gunn have all placed in the top ten in 2019, showing that the New Zealand squad will be a force to be reckoned with. Discussing the New Zealand Sailing Team's recent success, McHardie said "I would have to put it down to the squad of 49ers we have working together. Also now with the likes of Pete and Blair back there is a lot of experience in the squad. As the younger team, we are very lucky to be apart of this tight group."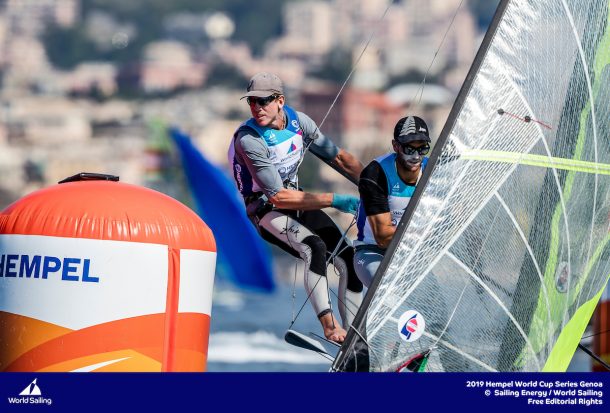 The German Sailing Team will once again be looking to put on a strong performance, with their cumulative results including a string of podium placings in 2018-2019 as well as an extensive range of top 10 finishes spread out amongst their pairings. With an Olympic bronze from Rio 2016, 4th at the 2018 World Sailing Championships and a win at the recent Miami World Cup Series, Erik Heil and Thomas Ploessel be in with a good chance of a podium. Jakob Meggendorfer & Andreas Spranger will be looking to bounce back from two poor results in Palma and Genoa, while Tim Fischer / Fabian Graf and Justus Schmidt / Max Boehme will once again be expected to finish inside the top ten.
As a country who has already qualified for Tokyo 2020, thanks to Fischer & Graf's bronze medal at the 2018 World Sailing Championships, the focus is now firmly on Olympic selection. All four of these teams will be looking to use the Euros to claim the test event spot and be in pole position for the Olympic berth.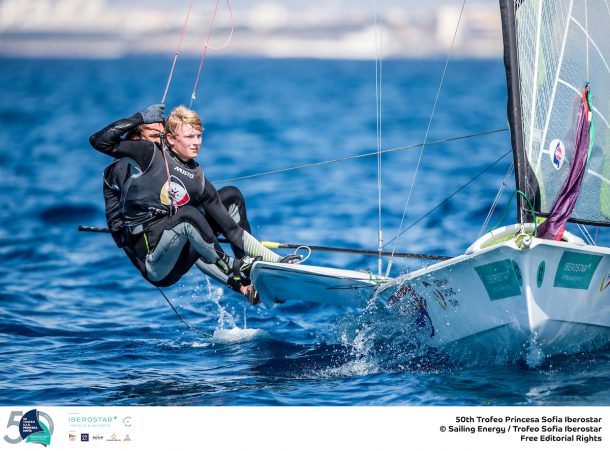 Among the teams capable of success at the 2019 Volvo Europeans are Spain's Diego Botin & Iago Lopez Marra, who won the 2018 Europeans in Poland and have finished in the top ten in all three events in 2019. With their focus firmly on the 49er and qualifying their nation for the Olympics, they will be looking to once again finish the regatta at the top of the leaderboard.

Reigning World Champions Sime and Mihovel Fantela from Croatia are the one significant team not in attendance. Congrats to Sime who had his first child last week, and we wish them well as they bond as a family.
On their home waters, Poland's Dominik Buksak & Szymon Wierzbicki placed second in the 2018 Europeans, with team mates and training partners Lukasz Przybytek & Pawel Kolodzinski leading into the medal race only to finish a disappointing 4th place. These two teams have spent most of the European season training together and the 2019 Volvo Europeans will be their first Olympic selection event for the two competitive Polish teams.

Austrians – Bildstein Hussl (6th Miami – 4th Palma) are a contender. The duo won the 'Warm Up' event for the Europeans here last week, and are looking to take their first major title. It's the same story for Team Tilt, Seb Schneiter and Lucean Cujean from Switzerland. These GC32 World Champions are already qualified for the games, and recently hired Jim Maloney, one of the top coaches to get them into a medal contending position.

Argentina's Yago and Klaus Lange are finding form at the right time, with their worst result so far this year being an 11th in Miami. Yago's racing has never been better, and he's been racing at the top of the game while becoming the spiritual leader of the #Sailors4theSea movement.
Perhaps the most improved squad of the quad is Team France. Frei and Delpesch were 2nd at the Worlds last year, and Rual with Amoros were eighth. Both teams have had very strong years, and could become the first French team to win a major championship since Frei and Rocherioux won the Europeans in 2012.
With a little over a year until the Tokyo 2020 Olympic Games are set to be contested on the waters of Enoshima Japan, the current 49er fleet is perhaps the most competitive 49er fleet in the class's history. Lacking a dominant team this Olympic cycle and with any number of up to twenty teams currently showing the form to win the regatta, picking a winner will be harder than ever before. Throw into the mix that multiple nations will be using this event as a major qualification event towards their Olympic team selection and it is clear that there is more than just a European title at stake.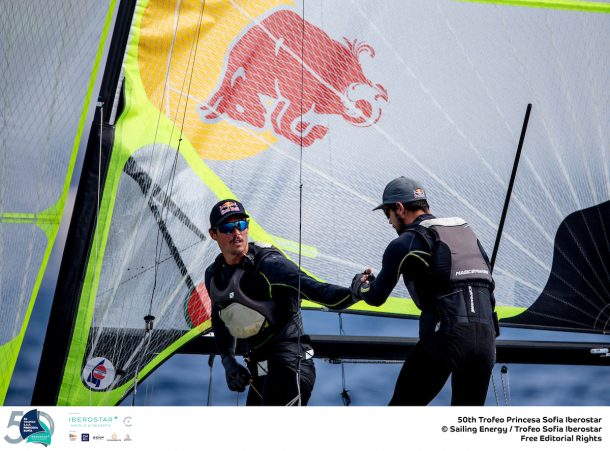 Olympic Qualification Update

The Olympic Qualification process for the Tokyo 2020 games began at the 2018 World Sailing Championships. Nine countries secured their nation a place at the Games; Croatia, France, Germany, Great Britain, New Zealand, Portugal, Switzerland, and Denmark, alongside the automatically qualified host nation of Japan.
A further four spots will be up for grabs at the 2019 World Championships in Auckland, with the remaining six spots being allocated at Continental Championships.
For a more in-depth look into the Olympic Qualification process for the 49er class, CLICK HERE.

Upcoming Qualification Events
2019 Pan Am Games – Lima, PER
2019 World Championships – Auckland, NZL
2020 World Championships – Geelong, AUS
2020 Asian Championships – Abu Dhabi, UAE
2020 Sailing World Cup – Genoa, ITA
Media information
Venue:
Weymouth and Portland National Sailing Academy, Osprey Quay, Portland, Dorset, DT5 1SA
Schedule:
Wednesday 8 May 1700 Beach Clean
Friday 10 May 0900 – 1800 Registration/Inspection
1030 Andrew Simpson Watersports Centre official opening
Saturday 11 May 0900 – 1800 Registration/Inspection
Sunday 12 May 0900 – 1100 Registration/Inspection
1255 Practice Races
1730 Competitors Briefing
1800 Opening Ceremony
Monday 13 May 1055 Qualifying Races
Tuesday 14 May 1055 Qualifying Races
Wednesday 15 May 1055 Qualifying Races
Thursday 16 May 1055 Qualifying or Fleet Races
Friday 17 May 1055 Fleet Races
Saturday 18 May 1055 Fleet Races
Sunday 19 May 0955 Fleet Races
1500 Medal Races
TBC Prize giving
Photography:
High resolution imagery will be available to download from the World Sailing Photoshelter site using the password WSimages. Images are free for editorial use and must be credited accordingly.
Live Broadcast:
1. 49er Sailing – Gold Fleet Day 1 – 2019 Volvo European Championship
URL https://youtu.be/b3fsnwNGyqQ
<iframe width="480″ height="290″ src="https://www.youtube.com/embed/b3fsnwNGyqQ" frameborder="0″ allow="accelerometer; autoplay; encrypted-media; gyroscope; picture-in-picture" allowfullscreen></iframe>
2. 49er Sailing – Gold Fleet Day 2 – 2019 Volvo European Championship
URL https://youtu.be/7pxYk7L_Q54
<iframe width="480″ height="290″ src="https://www.youtube.com/embed/7pxYk7L_Q54" frameborder="0″ allow="accelerometer; autoplay; encrypted-media; gyroscope; picture-in-picture" allowfullscreen></iframe>
3. 49er Sailing – Gold Fleet Day 3 – 2019 Volvo European Championship
URL https://youtu.be/OGd_TQC3qEY
<iframe width="480″ height="290″ src="https://www.youtube.com/embed/OGd_TQC3qEY" frameborder="0″ allow="accelerometer; autoplay; encrypted-media; gyroscope; picture-in-picture" allowfullscreen></iframe>
4. 49er Sailing – Gold Fleet Day 4 – 2019 Volvo European Championship
URL https://youtu.be/rxrV_BLsZ_k
<iframe width="480″ height="290″ src="https://www.youtube.com/embed/rxrV_BLsZ_k" frameborder="0″ allow="accelerometer; autoplay; encrypted-media; gyroscope; picture-in-picture" allowfullscreen></iframe>
5. 49er Sailing – Medal Races – 2019 Volvo European Championship
URL https://youtu.be/XBxlZofvxPc
<iframe width="480″ height="290″ src="https://www.youtube.com/embed/XBxlZofvxPc" frameborder="0″ allow="accelerometer; autoplay; encrypted-media; gyroscope; picture-in-picture" allowfullscreen></iframe>
Highlights, Interviews & VNR:
Between May 16 and 19, Icarus Sports will be producing:

A daily two-minute highlights video

VNR and interviews for news

Footage can be downloaded from the Icarus portal – https://portal.icarus-sports.com/
Please contact Will Carson to request interviews
Results:
Results will be posted race by race, as they happen
Social media:
Please follow the @49ersailing and @Nacra17sailing class social media channels on twitter, Instagram, and facebook for the latest info from the regatta. On youtube the channels are youtube.com/49ersailing and youtube.com/nacra17sailing