Technical Overview
Over four Olympic cycles (2000, 2004, 2008, 2012) where you can view the results here. The 49er evolved into a finely tuned boat that is nicely balanced in all conditions with a rig that is able to be adjusted for best performance in each windspeed and sea state.
The FX has the benefit of this evolution as well as new developments in skiff rig design to achieve a great set up very quickly.
Starting with the 49er hull, wings, and foils, the goal was all about designing a rig that would go straight into the existing 49er boats and provide the correct amount of power for the lighter crew target weight specified by World Sailing.
Using the North Sails suite of analysis software, John Clinton optimised the new sailplan using the Flow program. Clinton also designed the current carbon 49er rig and 18ft skiff rigs that have won a number of the recent World Championships.
The sailplan was designed to produce the correct amount of power for a 120kg crew so that they would be fully powered up at a similar windspeed as the men in the 49er, and start depowering at a the same windspeed.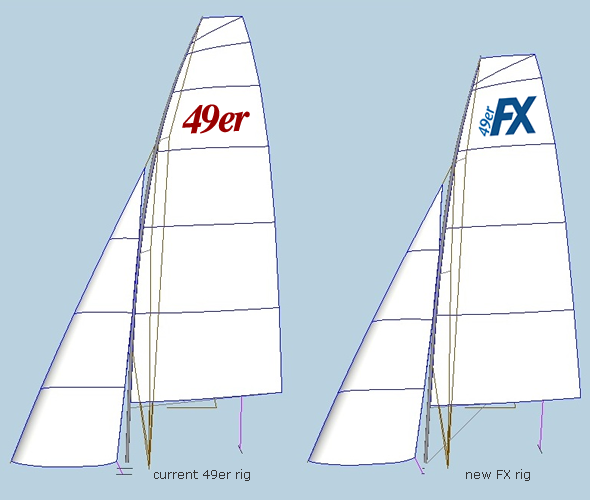 The size of the main and jib were adjusted to get the correct fore/aft aerodynamic centre of effort to retain the same balance as the 49er.
A more efficient main was introduced with a wider head as a result of recent 18ft skiff and America's Cup technology. To make this head work a stiffer mast is required. This was achieved by raising the hounds- again like the top 18ft skiff teams-and adding a little carbon to the middle section of the mast to ensure the mid leech stays under control throughout the wind range.
The main was designed with only 5 battens to reduce the rig weight while using rugged purpose designed skiff cloth to ensure the sails last well.
Since the 49er was first introduced, gennaker designs have evolved to become flatter for high speed skiffs and multihulls. The new FX gennaker was based on recent top skiff designs to produce a very efficient sail that allows the smaller rigged FX to compete equally with the 49er downwind in most conditions.
Upwind the new FX sailplan is also able to compete with the 49er in many conditions with the rig settings being adjusted through the range in the same fashion to the 49er to get optimum performance in all wind strengths.
The shorter, lower aspect ratio sailplan has lowered the centre of effort making the boat easier to sail- and easier to right from a capsize while enhancing the overall performance of the boat!
Specifications:
| | | |
| --- | --- | --- |
| Mast height |   | 7.5m |
| Mainsail Area |   | 13.8 sqm |
| Jib Area |   | 5.8 sqm |
| Gennaker Area |   | 25.1 sqm |