After Friday's (Day 3) final race the defending champion Swedes were disqualified by the jury in a protest with the Dutch. That put the Dutch into leadership position and critically took the otherwise doment Swedes drop race.
How quickly racing changes… in Saturday's (Day 4) first race, the Dutch got a black flag DSQ for a premature start.
Offerman and Ruyter (NED) explain what happened, "we were a little too early to start. It was chaotic, and this was really the day one should take it easy," they said.
After 12 races, the top three boats are now separated by only seven points with three races remaining on the schedule.
The Dutch lead did not keep for long, "No, but hopefully we'll take the lead back tomorrow. But the Swedish team is strong. Challenging them is fun, but we can only do our best to see who is best on the water," says the Dutch. "We have a fair chance."
Critically, in the final race of the day Swedish pair of Bobeck and Tengstrom scored a 16th place, which dragged them back into the chasing pair of teams.
"It is nice that we have such different conditions, with both large waves and flat water, and a few days of light wind while other days have been with windy. The ones who deal with all the different conditions best will ultimately win, and that is how it should be," the two Dutch girls says.
TRUNCATED RACE DAY IN THE 49er CLASS
On the junior World Cup's fourth competition day, the 49er class got tough conditions. The gold fleet sailed two races, while the third race was stopped in the middle of the starting procedure when the wind reached maximum speed and the wave height became irresponsibly high.
The silver field competed on a track even closer to the bad weather, and they only managed to complete one race before they had to stop racing.
These races are postponed to the championship's final day tomorrow, Sunday. Both fields will basically sail three more races.
The British James Grummett and Daniel Budden both won the two races in the gold field and are thus second-placed overall behind New Zealanders Isaac McHardie and William McKensie.
In the Nacra 17 the Italian pair continue to lead but the title is still within reach of the Danish chasers with three races remaining.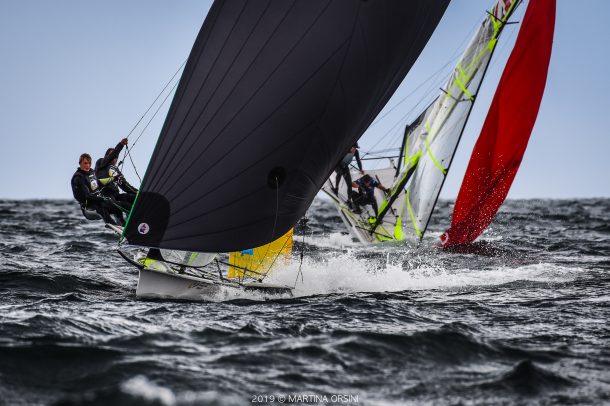 For all results, photos, and video check with the regatta page.