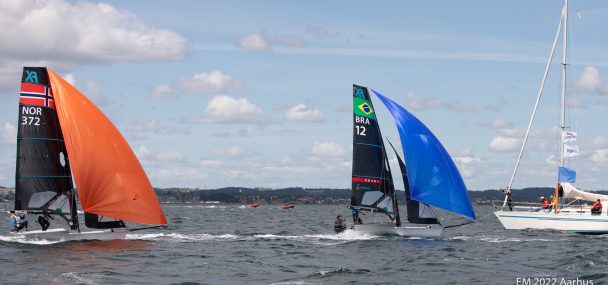 Tough Split for 49er and Grael/Kunze Approach Familiar Territory Near Top of FX
It almost seems inevitable. No matter what the beginning of a race or regatta looks like, Grael/Kunz (BRA) will find a way to the top. If history is any indication, it's going to be an exciting Gold Fleet to watch since the Brazilian pair have worked their way through the fleet to end today in second overall, posting a 9, 3, 1. The double Olympic gold medalists have an uncanny ability to find their way out of trouble, and make some memorable comebacks.
As both 49er FX and 49er fleets at the European Championships reveal dominant leaders, Bobeck/Netzler (SWE) and Lambriex/Werken (NED) respectively, it was the Gold Fleet split today (25th place cutoff) that had some teams focused on survival.
The 49er Italian team of Anessi Pe/Gamba won a tie breaker to edge out countrymen Crivelli/Visconti for the last Gold Fleet spot. The top of the fleet, however, seemed to stabilize on this final qualifying day with Lambriex/Werken (NED) letting Peters/Sterritt (GBR) move within one point and the Fantella brothers of Croatia still banging out top ten finishes to sit in third.
Locals Rask/ Precht Jensen had a 6, 1, 4 to keep Denmark's medal hopes alive.
A massive shift to the East disrupted the local weather pattern for the afternoon 49er fleets which saw flatter conditions but big gusts and lulls. First, a downwind leg in race two of the day saw a 90-degree shift and in the final race on course A, a building left breeze and another shift launched Moffat/Bonin (CAN) into an unassailable lead. Though they were already locked into the silver fleet in 35th position, the pair nailed their last jibe to the finish with huge smiles. "It was the easiest race of our lives," the said.
In the FX race to see who made it to Gold Fleet, Hofman/Bartelheimer (GER), 25th, were the last to be let in after today's provisional results with four teams within three points who just missed out.
Today in the FX fleet, the Brazilians weren't the only ones making a march towards the top. The clouds opened up and the annoying chop of yesterday diminished leaving a still-shifty 12-15-knot westerly that was just perfect for Steyaert/Picon (FRA) who posted two bullets before stumbling with a 15th in the third. race of the day. Now climbing to fifth, the new pair are showing they are contenders at the top of the fleet.
Though the Americans Roble/Shea have been holding strong all week, sitting in third, the French and current world champ Odile van Aanholt sailing with Tokyo silver medalist Annette Duetz have joined the party in the top five, the Dutch ending the day with a 1, 3 in their fleet.
This championship has been a coming out party for new teams after a break following last summer's Games. Multiple Olympian FX crew Saskia Clark has been putting together more single digit finishes with Freya Black and have easily made the Gold Fleet cut.
The Swedish leaders Bobeck/Netzler, another new team, are proving that "switching things up" on a national team could be just the right thing to do in finding perfect team chemistry. Bobeck's crew was sailing with Netzler's skipper in the previous Olympic quadrennium. Now together, they may be saying, "Where have you been!"
Tough Fleet
The FX fleet is now one of the deepest there has ever been in women's sailing. Four teams have gold medalists in their pairings, lead by Grael/Kunze as back to back champions. Additionally, Tamara Echegoyen (ESP), Charline Picon (FRA), and Jo Aleh (NZL) all hang gold around their necks, and would all love to find more. All of these teams sailed safely into the top 25, earning a chance for gold fleet racing.
Missing the Cut
There were a few big name casualties of the FX qualifying cut. Something had to give, with the Tokyo Olympians returning, new faces of serious pedigree, and new names from 2021 that moved into top positions there simply isn't room for everyone in the top 25. Olympians Naess/Ronningen (NOR), and Maenhaut/Geurts (BEL) along with returning to FX, Olympic silver medalist Olivia Price (AUS) all narrowly missed the cut.
The Gold Fleet start racing tomorrow in both 49er and 49er FX, and the forecast for the Bay of Aarhus looks spectacular as we begin streaming the racing live from Sailing Aarhus.