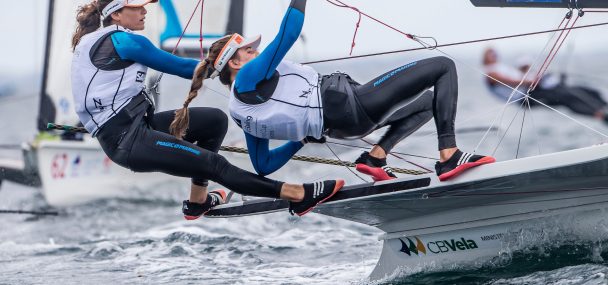 Social Explosion From Olympic Venue - Test Event Begins
Events held on Olympic waters are often strong indicators on what to expect at the Olympic Games. Following the London 2012 test event in 2011, 17 medalists went on to clinch an Olympic medal, while at the Aquece Rio 2015, Rio 2016's sailing test event, 16 medalists achieved an Olympic medal a year later.
As such many of the contenders have decended on Enoshima, the Olympic sailing venue adj ascent to Tokyo and sight of the 2020 Olympic Games for the 2018 Sailing World Series Enoshima. A Typhoon rolled through Japan a week ahead of the regatta, and what it left behind were fantastic and challenging sailing conditions! The top 49er sailors responded with a ton of fun sailing, and put it all onto social media. Check out some of these great posts.
https://www.facebook.com/BritishSailingTeam/videos/2130987397228105/
https://www.facebook.com/264514003589860/photos/a.360159550691971/2225784277462813/?type=3&theater
https://www.facebook.com/horsenstilol/photos/a.1509613112595328/2258621027694529/?type=3&theater
https://www.facebook.com/RobleSheaSailing/videos/235888827104196/
Japan byder op til dansDet er meget sjældent, at vi (to studerende piger midt i tyverne) oplever virkelig at være bange. Så bange at pulsen ryger helt op, så det er umuligt at styre åndedrættet og så benene ryster ukontrolleret. Til gengæld er det en af de følelser, vi (som 49erFX sejlerne) møder igen og igen. Grænsen for, hvad der er vildt, rykker sig med tiden, derfor går der længere og længere tid mellem denne følelse. Men 49erFX-jollen er så vild, at vi aldrig helt slipper af med den.Hver gang vi kommer til et nyt sted, er farvandet anderledes. Og man kan virkelig sige, at Enoshimas bølger er noget for sig selv. Vinden har været stærk og bølgerne gigantiske og kaotiske. Efter to dage med fuldt pressede grænser føles bølgerne dog mere overkommelige. Men hold op det har været vildt, sjovt og hjertebankende.//Ida og MarieLINDBERG VisBlue Kamstrup Sejlerlandsholdet

Posted by 49erFX Ida og Marie on Saturday, September 8, 2018
https://www.facebook.com/a.m.bekkering/videos/2012690415463533/
https://www.facebook.com/frankabicht61/photos/a.1833218520292716/2216880285259869/?type=3&theater
https://www.facebook.com/BildsteinHussl.Sailing/photos/a.1470231253191017/2193483484199120/?type=3&theater
https://www.facebook.com/CarstensenFriggeRacing/photos/a.794497423920900/1976037942433503/?type=3&theater
https://www.facebook.com/Out2WinRS/photos/a.1297778053631888/1848538945222460/?type=3&theater
https://www.facebook.com/Out2WinRS/photos/a.1297778053631888/1847930958616592/?type=3&theater
After day 1 of racing, some familiar names are at the top of the leaderboard.
Martine Grael and Kahena Kunze (BRA) continued their comeback in the 49erFX, following Grael's voyage around the world in the Volvo Ocean Race, by advancing to the top of the pack after three races.
Grael and Kunze sailed consistently at the front of the fleet, taking a first, second and a fifth, which they discard. Just one point behind them sit two familiar foes – Alex Maloney and Molly Meech (NZL). The Brazilians and Kiwis were split by just two seconds in a winner-takes-all race at Rio 2016; and if day one of racing in Enoshima was anything to go by, the margins might be even closer come Tokyo 2020.
Denmark's Ida Marie Baad Nielsen and Marie Thusgaard Olsen are in third.
After finishing sixth at their last two events, today 49er sailors Dylan Fletcher-Scott and Stu Bithell (GBR) found the kind of form which saw them finish on the podium at 12 of their previous events. A first, second and a fourth gives them the lead over Poland's Lukasz Przybytek and Pawel Kolodzinski and their British rivals James Peters and Fynn Sterritt.
Racing continues at 11:40 on Wednesday 12 September.
ENTRIES / RESULTS / SCHEDULE
Click here to view the entry list in full.
Results will be available when racing starts on Tuesday 11 September: – http://sailing.org/worldcup/results/index.php
To view the full schedule click here.
WATCH
Daily highlights and live streamed Medal Races on Saturday and Sunday will be available across the World Sailing Network. Click here to subscribe.
Set yourself a reminder for the Medal Races below:
Saturday Live
Sunday Live
SAP SAILING ANALYTICS
Live tracking, sailor analytics, live weather data and racing status will be available on the platform here – http://sapsailing.com/
THANKS TO OUR PARTNERS