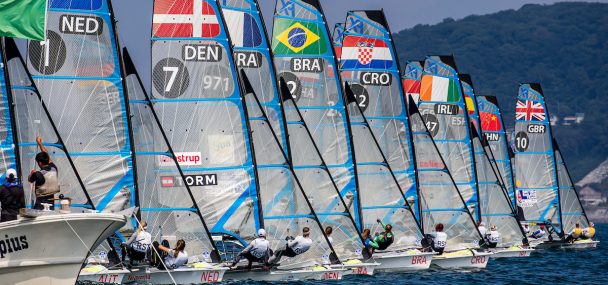 READY STEADY TOKYO - DAY FOUR UPDATE
49er
Peter Burling and Blair Tuke from New Zealand continued their winning ways today and extended their lead on the second-placed Polish team of Lukasz Pryzybytek and Pawel Kolodzinski. In the more consistent and predictable sea breeze pattern, the Rio 2016 Gold Medallists and America's Cup winners showed that they are the form boat heading into the latter part of the Tokyo 2020 Olympic cycle.

Great Britain's Dylan Fletcher and Stuart Bithell won the day with a 3-3-1 scoreline to move into third overall and within striking distance of Pryzybytek and Kolodzinski. Benjamin Bildstein and David Hussl (AUT) recorded two top-five results but couldn't shake a deep result in the second race of the day, relinquishing themselves to fourth.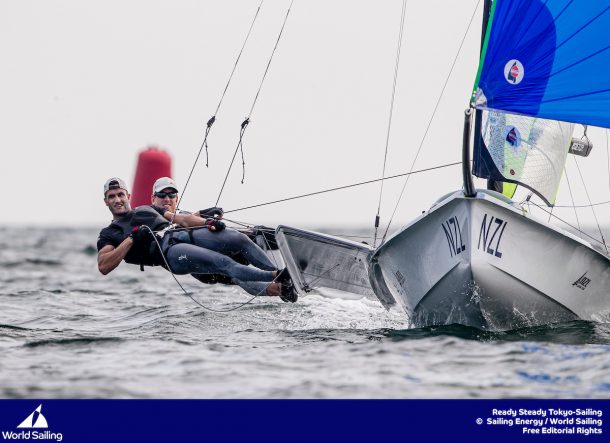 The German team of Justus Schmidt and Maximilian Boehme repeated their consistent day three results with a 6-5-6, enough to leapfrog the reigning World Champion's Sime and Mihovil Fantela of Croatia, who dropped to sixth overall and out of podium potential.
Heading into the double points medal race, Burling and Tuke can seal victory with a 7th. Pryzybytek and Kolodzinski will need to place in at least the top three to have any chance of overall victory, while the race for silver and bronze see's the top five all mathematically in with a chance.
49erFX
The 49erFX podium at Ready Steady Tokyo is anyone's game, with the top four boats all within 10 points of each other and capable of claiming victory.

Charlotte Dobson and Saskia Tidey (GBR) have known nothing but first place this week, leading from the first race of the regatta and continuing to hold their position throughout. Scoring their two worst placed finishes of the regatta today, they opened the door for Brazil's Martine Grael and Kahena Kunze to come within one point thanks to three results inside the top ten.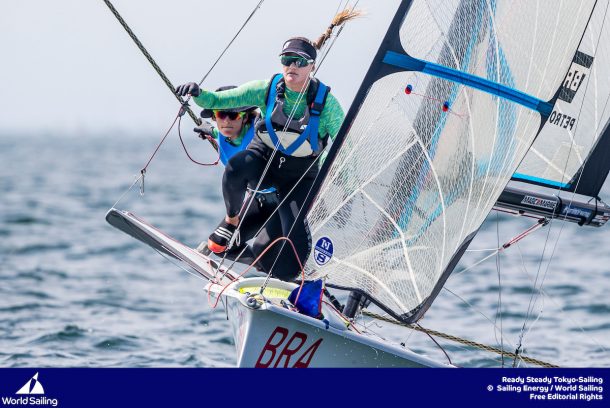 New Zealand's Alexander Maloney and Molly Meech also put in a good performance but a 14th in the final race of the day kept them six points arrears of Grael & Kunze. Helene Næss and Marie Rønningen (NOR) & Tamara Echegoyen and Paula Barcelo (ESP) kept their podium hopes alive with consistent top 8 finishes throughout the day.
Race wins went to French pairing Lili Sebesi and Albane Dubois, and the Dutch team of Annemiek Bekkering and Annette Duetz, who recorded two 1sts and a 10th.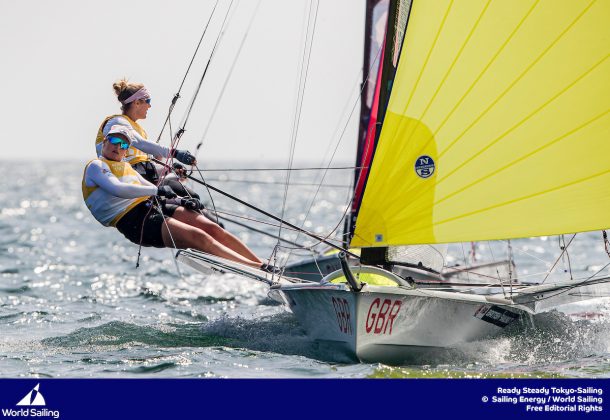 The double points medal race scheduled for 1330 local time tomorrow will see the top ten boats battle it out on Enoshima's inner racecourse. Mathematically, the top four boats can all win the regatta and the top five can podium.
The British team needs to beat Grael & Kunze to stay ahead of the Brazilians overall but must place no worse than 4th if they want to stay ahead of the Kiwis. As can often happen in high-pressure medal races, all teams will need to be on their toes and weighing up the risk versus rewards across the racecourse tomorrow if they want to walk away victorious.

How To Follow
Live tracking of the medal race will be provided by SAP Sailing.

Live Tracking: Tokyo2019.sapsailing.com
News, Results & Photos: 49er.org/event/2019-test-event

49erFX Results
1st Charlotte Dobson / Saskia Tidey (GBR) 50pts
2nd Martine Grael / Kahena Kunze (BRA) 51pts
3rd Alexander Maloney / Molly Meech (NZL) 57pts
4th Helene Næss / Marie Rønningen (NOR) 60pts
5th Tamara Echegoyen / Paula Barcelo (ESP) 68pts
49er Results
1st Peter Burling / Blair Tuke (NZL) 37pts
2nd Lukasz Pryzybytek / Pawel Kolodzinski (POL) 50pts
3rd Dylan Fletcher / Stuart Bithell (GBR) 58pts
4th Benjamin Bildstein / David Hussl (AUT) 63pts
5th Justus Schmidt / Maximillian Boehme (GER) 73pts