OUTTERIDGE AND JENSEN WIN AUS NATIONALS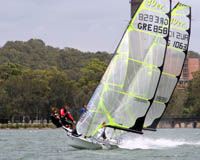 Mayhem prevailed around the marks on the final day of racing for the Zhik 49er Australian Championship. Gusty conditions provided plenty of thrills and spills as crews battled tight racing in building conditions, which eventually forced cancellation of the last race of the day. Nathan Outteridge and Iain Jensen secured their first place with three wins, New Zealand's Peter Buling and Blair Tuke maintaining their challenge in second place, while Ireland's Ryan Seaton and Matt McGovern overtook Western Australia's Will and Sam Phillips to take third place by two points.
At the close of the regatta teams will head to the international Grande 2 event Sail Sydney, and then on to Sail Melbourne, the last Grade 1 event before the next world title in the Bahamas in January.
Full results here