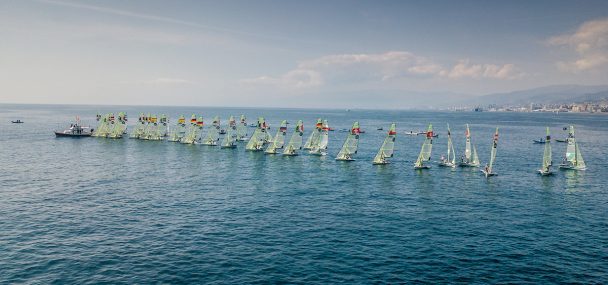 New fees added to all Olympic boats
The World Sailing Board is implementing significant new fees on sailors using Olympic equipment without a vote of council. The new Olympic contracts, which each Olympic class for 2024 must sign by August 1st, includes a new 1% fee on all equipment sales that will pull an estimated $300,000 annually from the pockets of Olympic and non-Olympic sailors.
Each sailing class currently pays fees that are set in World Sailing regulation 10.3 (c) of roughly 0.4% of the cost of a new hull, down to smaller percentages of the hull costs for more expensive boats. By adding an additional 1% fee and applying it to all Olympic equipment, not just the hulls, the fees on sailors using Olympic equipment will nearly treble.
The normal fees, called 'hull plaques' have all details of the fee schedule set out in regulation. Changes to these fees and any others must be debated by the World Sailing Council to be implemented. Instead this new fee has been set through the Olympic contract with no prior discussion with the World Sailing Council.
We, Olympic classes, believe the set objective can be reached by different ways.
The Olympic sailors already bring in $4 million USD per year via the IOC for World Sailing.
This is over 60% of World Sailing revenue and another 20% of World Sailing revenue comes more indirectly from the sailors via the sponsorships raised off their regattas. In this situation, the 1% fee will not only concern equipment bought by Olympic campaigners but will also impact all level of sailors from youth to masters and clubs. In some popular classes like the Laser where only 1% of the 50,000 sailors are Olympic campaigners, the gains made through non-Olympic campaigners paying the same fees is a real source of income for our governing body.
Classes and builders all have different level of compliance. Applying a "one size fits all" fee will discriminate against those in compliance. Refund of the surplus income to the builders, according to the WS CEO earlier correspondence, will never make it back into the sailors / MNA pockets, and may be kept by WS for future checks. A simpler way would be to charge directly the related costs to each builder, the same way Olympic classes operate. In this way, each builder would be responsible for associated costs linked to his production.
All stakeholders within Olympic sailing and especially Council should be debating the relevance of this new fee and related process.
The Olympic Classes have reached out to the World Sailing board to discuss this matter openly since the 2017 November conference in Puerto Vallarta, with no positive outcome to date.
With the contract final signing coming into play from August 1st, the Olympic classes sub-committee is presenting a submission to change the present situation or at least to create awareness to all stakeholders in order to change the process.
Please note that the issue is NOT covered by confidentiality/privacy restrictions with WS and is of public domain, as discussed.
Olympic Classes Sub-Committee
On behalf of the 2024 Olympic classes and associated builders