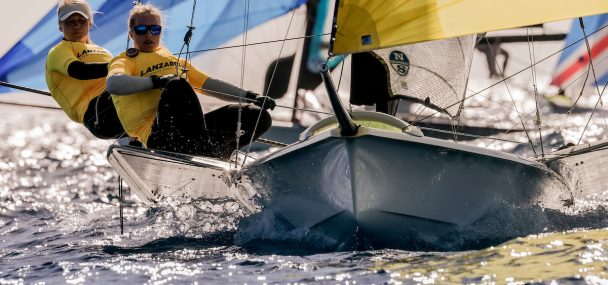 Lanzarote chosen as host for 2024 49er World Championship
The Pathway to Paris passes through Lanzarote, Canary Islands, Spain, as the World's best skiff sailors will race for the 2024 World Championship in one of the final lead-up regattas to the Olympic Games. Lanzarote has long been a fixture of the pro windsurfing and offshore sailing communities but became a hub for Olympic sailing during covid times as teams found a secure and isolated location to continue their training. What they found was a wonderful climate with all wind conditions possible and wonderful sailing waters.
The Canary Island Sailing Federation also rose to the challenge and started hosing Olympic class racing with great skill and passion for the sport. The 49er class is excited to put this wonderful test forward to the skiff community. From February 27 to March 3, 2024, top teams will race with high stakes. It is likely to be used as a selection regatta for many nations seeking to award their Olympic berth to just a single team from their nation.
Check out the racing from the 2021 Lanzarote International Regatta
For full information follow along on the website: https://49er.org/event/2024-world-championship/