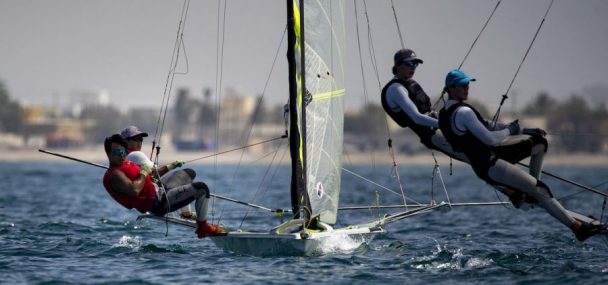 India, China, South Africa, and Tunisia win Olympic Berths in Mussanah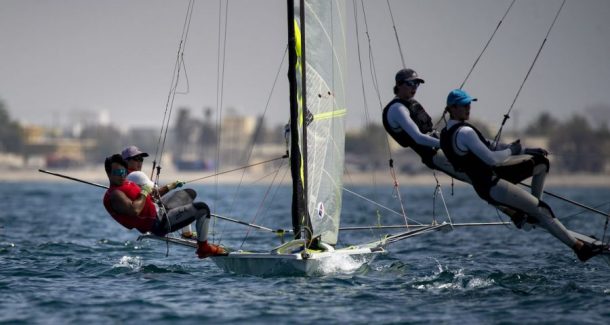 Ganapathy Chengappa with Varun Thakkar (IND) have won the Mussanah Open Championship, and with it a berth in the Tokyo Olympic games by the narrowest of margins. Just two points separated them from the chasing Akira Sakai with Russel Alysworth (HKG) who did all they could by winning the final four races of the regatta including the medal race.

For India, who haven't been to the Olympics in 49er since 2004 this represents a breakthrough moment for what has been a big effort in skiff sailing in the nation. Both the Army and Navy squads have been working hard at 49er for more than eight yeas, and to win such a close regatta will feel sweet for them.

In total, 7 different teams won races in the 49er from India, Hong Kong, Oman, China, South Africa, Korea, and China. Additionally, the Whitcraft brothers from Thailand finished fifth with a strong scoreline. It was a very competitive event and after sixteen races in a variety of conditions a great contest to see who would wind the final Olympic berth.
Benji Daniel with Alex Burger (RSA) finished fifth and earn the African berth for Tokyo. They must now convince their national selectors they should get to go to Tokyo, and if they are not added to the South African team their place will fall to the American's based on being the next best team from the Auckland 2019 Worlds.

In the 49erFX it was a well earned victory for Chen Shasha and Ye Jin (CHN) who won six races and finished second in another six races to secure a seven point victory over Molly Highfield and Sandy Choi (HKG). The Chinese squad has come on strong in the past couple of years, mostly training in a growing domestic circuit and clearly the level they are sailing at is coming on well.
For Hong Kong there must be disappointment after coming in second in both fleets. The Hong Kong teams have been pushing hard in recent years so missing out on Tokyo after coming so close will be a disappointing end to this Tokyo run.

Tunisia earns the final 49erFX berth despite finishing only six of the sixteen races.
The 49er Class would like to extend our thanks to the Oman Sail team who did a wonderful job in organizing the regatta on short notice and to a very high standard. The sailors have worked so hard to try and get to Tokyo, and deserved a fair shot at winning the Olympic berth on the water, which they got this week thanks to the hard work of our hosts.