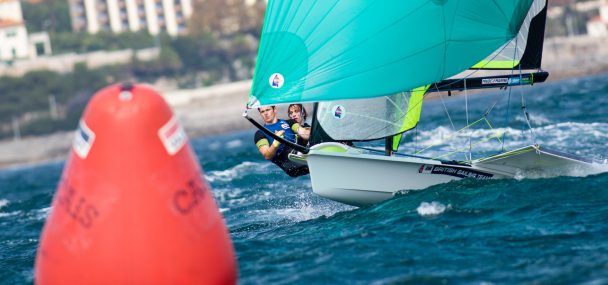 Cascais hosts 49er and 49erFX Teams qualified for the Olympic Games
Clube Naval de Cascais will organize two events, one of them, closed to 49er and 49erFX that are already guaranteed a place in Tokyo
This spring, Clube Naval de Cascais will host two competitions of the Olympic classes 49er and 49er Fx. The 1st event, from the 4th to the 9th of May, is open to all sailors, however, from the 7th to the 12th of June, only crews already qualified for Tokyo Olympic Games are able to be present.
In addition to the dates already set, there are also some big confirmations for these races. The Spanish boat of Tamara Echegoyen and Paula Barcelo, 2020 49erFx World champions, the Brazilian boat of Martine Grael and Kahena Kunze, Rio 2016 Gold, the Dutch boat helmed by Annemiek Bekkering and Annette Duetz, 49erFx World champions 2018 and 2019 and, still, the Americans Stephanie Roble and Margaret Shea, bronze in the 49erFx World Championship and a promising team from Singapore but resident in Cascais, of Kimberly Lim and Cecilia Low, are some of the vessels that have already confirmed that they will compete in Portuguese waters.
In total, in the two races, 4 continents are represented – America, Europe, Asia and Oceania – in a total of 15 nationalities will sail in the bay of Cascais.
These two events that precede the Tokyo Olympic Games and have the support of the
Turismo de Portugal, Visit Cascais, Cascais Town Hall, Cascais Marina and Vista Alegre.
In February 2007, the facilities of the High-Performance Center of Clube Naval de Cascais were inaugurated, thus giving it the ability to host high-performance athletes as well as the main world sailing events.