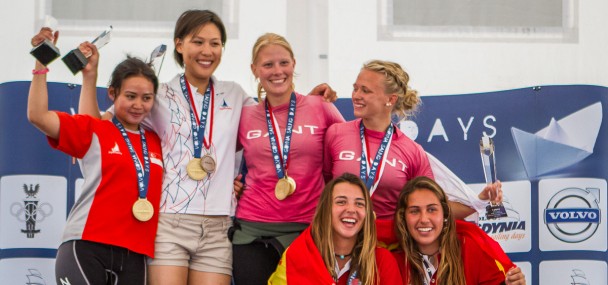 49er and 49er FX Youth World Championships – the last day of the regatta
Gold medals went to Spanish and Finnish teams.  Diego Botin and Pablo Tunado are 49er Youth World Champions and  Noora Ruskola with Camilla Cedercreutz – 49er FX Youth World Champions.
Due to a lack of wind in the morning, the last race for the 49er fleet wasn't held. The Top 10 sailors have been waiting onshore until 1 pm, when the wind showed up. Then the race committee has manged to run three short theatre style races in winds of 4-6 m/s.
The French team Kevin Fischer and Marc Mallaret had a very good day winning two races, so they moved from fourth to third place. Leading from the beginning, the Spanish team had a big advantage (38 points) over the Austrians Benjamin Bildstein and David Hussl, so their position was very stable. The Spanish passed the finishing line on fourth place twice and on seventh, so they strengthened their position as leaders and won the 49er Youth World Championships.
German team Justus Schmidt and Max Boehme sailed very well today by ending up in the first third in every race, so finally they have finished the regatta placed fourth. Polish Jacek Nowak sailing usually with Tomasz Januszewski, members of the 49er Polish national team and on the 14th place in last ISAF ranking, sailed the Youth Worlds in Gdynia with a very good German skipper Jan Hauke Erichsen, the fifth in ISAF ranking. Unfortunately they've finished on 24th place. He explained: "We didn't have time to train together, we have had only one day of training in the wind of 18 knots, so in very different conditions that we had later.  During the regatta it turned out that we have different sailing technique in light wind and different sharing of duties in the crew.  Also we are heavier than the other crews – we weigh 154 kg and the average weight is 148 kg, so that gives a significant difference at these conditions.  Due to heavy crew we had problems with speeding up after the start, so usually we tried to fix these bad starts with experience and good technique.  But I'm sure in stronger wind we will race only in a few boats fleet."
In the 49er FX class boats started racing around 3.30 pm, but some minutes after the first race had started the wind eased below 2 m/s and the race was abandoned. So the yesterday's leaderboard hasnt't changed and Finnish sailors Noora Ruskola and Camilla Cedercreutz are the 49er FX Youth World Champions.  Noora Ruskola: "The wind was too light today, but pretty much the whole regatta was OK.  Today we had only a half of the race but we were leading anyway.  We didn't do anything for fun here in Gdynia, we were only focused on sailing.  We are really happy with our result, it couldn't be better."
Visit our website: http://www.gdyniasailingdays.org/en/
and facebook: https://www.facebook.com/pages/Gdynia-Sailing-Days/491790440256?ref=hl
Results 49er
Final stage
| | | | | | | | |
| --- | --- | --- | --- | --- | --- | --- | --- |
| No | Sailno | Name | Scores after 9 | 1 | 2 | 3 | Scores |
| 1 | ESP 900 | Diego Botin, Pablo Turrado | 26 | 4 | 7 | 4 | 56 |
| 2 | AUT 192 | Benjamin Bildstein, David Hussl | 63 | 2 | 1 | 5 | 79 |
| 3 | FRA 144 | Kevin Fischer, Marc Mallaret | 73 | 1 | 6 | 1 | 89 |
| 4 | GER 55 | Justus Schmidt, Max Boehme | 81 | 3 | 2 | 3 | 97 |
| 5 | DEN 132 | Mads Emil Stephensen Lubeck, Christian Peter Stephensen Lub | 80 | 5 | 8 | 2 | 110 |
| 6 | AUS 222 | George Davies, Jack Lloyd | 63 | 10 | 5 | 9 | 111 |
| 7 | GBR 118 | Henry Lloyd Williams, Sam Batten | 93 | 6 | 3 | 8 | 127 |
| 8 | FRA 755 | Simon Bertheau, Yann Jauvin | 91 | 8 | 4 | 7 | 129 |
| 9 | GER 779 | Philipp Muller, Moritz Janich | 88 | 7 | 9 | 6 | 132 |
| 10 | GBR 494 | Tom Bucktrout, Dominick Burke | 86 | 9 | 10 | 10 | 144 |
| No | Sailno | Name | Scores | 1 | 2 | 3 | 4 | 5 | 6 | 7 | 8 | 9 |
| --- | --- | --- | --- | --- | --- | --- | --- | --- | --- | --- | --- | --- |
| 11 | GBR 321 | Tim Gratton, Chris Taylor | 96,0 | 2 | 3 | 11 | 20 | 10 | 15 | 17 | (22) | 18 |
| 12 | CHI 1216 | Benjamin Grez, Carlos Vergara | 101,0 | (bfd) | 15 | 5 | 3 | 19 | dsq | 2 | 12 | 12 |
| 13 | POL 42 | Przemysław Filipowicz, Jacek Piasecki | 102,0 | 9 | 2 | 18 | 6 | 24 | 19 | 4 | (30) | 20 |
| 14 | GBR 999 | James Peters, Ed FitzGerald | 105,0 | (bfd) | 11 | 2 | 23 | 6 | 11 | bfd | 4 | 15 |
| 15 | AUS 91 | David Gilmour, Sam Phillips | 108,0 | (bfd) | 18 | 9 | 12 | 11 | 21 | 7 | 3 | 27 |
| 16 | GBR 360 | Jack Hawkins, Christopher Thomas | 109,0 | 4 | (ret) | 7 | bfd | 18 | 6 | 12 | 24 | 5 |
| 17 | ITA 111 | Ruggero Tita, Giacomo Cavalli | 110,0 | 5 | (31) | 25 | 26 | 8 | 5 | 21 | 16 | 4 |
| 18 | ESP 800 | Victor Paya, Alvaro del Arco | 112,0 | 18 | (27) | 16 | 13 | 7 | 17 | 18 | 6 | 17 |
| 19 | GER 212 | Nils Carstensen, Jan Frigge | 112,0 | 13 | 6 | (30) | 11 | 12 | 20 | 20 | 21 | 9 |
| 20 | ESP 161 | Carlos Robles Lorente, Dani Codina Serra | 120,0 | 19 | 19 | 20 | 21 | 4 | (28) | 8 | 7 | 22 |
| 21 | ITA 140 | Andrea Savio, Alessandro Savio | 127,0 | 16 | 12 | 17 | 15 | (25) | 23 | 11 | 9 | 24 |
| 22 | GER 110 | Kim Niclas Holste, Yannik Holste | 130,0 | 6 | 24 | 26 | 17 | 22 | 8 | 1 | (29) | 26 |
| 23 | GER 1013 | Max Marcour, Sebastian Haimerl | 146,0 | 21 | 22 | 15 | 9 | 14 | 22 | 24 | (28) | 19 |
| 24 | GER 216 | Jan Hauke Erichsen, Jacek Nowak | 147,0 | (bfd) | 17 | 21 | 19 | bfd | 13 | 16 | 15 | 13 |
| 25 | POL 117 | Dominik Buksak, Grzegorz GoŸdzik | 148,0 | 14 | 26 | 12 | 14 | 27 | 16 | 14 | 25 | (31) |
| 26 | RUS 686 | Iurii Artemev/Viacheslav Bubno, Viacheslav Bubnov | 151,0 | 10 | 25 | 13 | 24 | 23 | (26) | 26 | 14 | 16 |
| 27 | FRA 655 | Erwan Fischer, Thibault Julien | 165,0 | 23 | 13 | (31) | 16 | 21 | 18 | 19 | 27 | 28 |
| 28 | GER 1200 | Jakob Meggendorfer, Andreas Spranger | 177,0 | 26 | 16 | 24 | (31) | 20 | 25 | 15 | 26 | 25 |
| 29 | POL 1 | Artur Ponieczyński, Szymon Wierzbicki | 185,0 | 25 | 21 | 28 | 22 | 28 | (ocs) | 23 | 17 | 21 |
| 30 | NED 666 | Jolbert van Dijk/Roald Verschu, Roald Verschuure | 219,0 | (bfd) | 28 | 27 | 29 | 26 | 24 | 25 | 31 | 29 |
| 31 | DEN 747 | Tobias Hemdorff, Christian Gormsen | 222,0 | 22 | 30 | 29 | 28 | (bfd) | 27 | bfd | 23 | 30 |
| 32 | FRA 182 | Lacan Sandro, Hugues Puimatto | 242,0 | 24 | 29 | 32 | 25 | (dnc) | dnc | dnc | dnc | dnc |
Results 49erFX
Scores take into account 1  discard
| No | Sailno | Name | Scores | 1 | 2 | 3 | 4 | 5 | 6 | 7 | 8 | 9 |
| --- | --- | --- | --- | --- | --- | --- | --- | --- | --- | --- | --- | --- |
| 1 | FIN 101 | Norra Ruskola, Camilla Cedercreutz | 15,0 | 4 | 1 | 3 | 1 | 1 | (5) | 1 | 3 | 1 |
| 2 | SIN 396 | Griselda Khng, Sara Tan | 23,0 | 1 | 6 | 2 | 7 | 2 | 1 | 3 | 1 | (ocs) |
| 3 | ESP 989 | Maria Cantero Izquierdo, Ana Hernandez Moreno | 40,0 | 7 | 2 | 5 | (11) | 6 | 8 | 5 | 4 | 3 |
| 4 | NOR 123 | Helene Naess, Marie Ronningen | 42,0 | 6 | 9 | (10) | 3 | 3 | 7 | 2 | 7 | 5 |
| 5 | DEN 112 | Lin Ea Cenholt, Line Just | 45,0 | 2 | 7 | 8 | 5 | 5 | 6 | 6 | 6 | (ocs) |
| 6 | ITA 143 | Lavinia Tezza, Paola Bergamaschi | 48,0 | 3 | 3 | 9 | (10) | 8 | 9 | 7 | 5 | 4 |
| 7 | AUT 911 | Laura Schofegger, Elna Lovrek | 49,0 | (ocs) | 4 | 6 | 6 | 9 | 3 | 10 | 9 | 2 |
| 8 | POL 119 | Zuzanna Rybicka, Marcelina Sliwińska | 50,0 | (ocs) | 5 | 7 | 2 | 7 | 2 | 4 | 10 | ocs |
| 9 | FIN 707 | Sinem Kurtbay, Edu Lehtinen | 54,0 | 10 | (11) | 4 | 4 | 4 | 4 | 9 | 11 | 8 |
| 10 | POL 369 | Ewa Bartosiewicz, Marta Jackowska | 59,0 | 8 | (ocs) | 1 | 9 | 10 | 11 | 11 | 2 | 7 |
| 11 | ITA 878 | Giulia Genesio, Francesca Volpi | 72,0 | 9 | 8 | (12) | 8 | 11 | 10 | 12 | 8 | 6 |
| 12 | RUS 169 | Anastasia Omelchenko, Angelina Markova | 82,0 | 5 | 10 | 11 | 12 | 12 | 12 | 8 | 12 | (ocs |