24 June 2015
The breeze kicked in for Medal Race day at Kieler Woche (Kiel Week), making for some thrilling live TV coverage of the Laser, Nacra 17, 49er and 49erFX classes.
The Olympic class racing saved the best for last, with multiple capsizes in the 49erFX making for great drama and unpredictability. After starting too early and having to return, the Netherlands duo of Annemieke Bekkering and Daniel Bramervaer gave themselves an uphill battle to secure gold. But they put the hammer down and after blasting out to the right-hand side, were already vying for the lead by the top mark. With the breeze gusting unpredictably over 20 knots, the Dutch did well save themselves from a capsize on their last gybe to the finish, but they hung on for an easy victory. Despite capsizing, Leonie Meyer and Elena Stoffers held on for 4th place in the Medal Race to sneak silver just ahead of fellow Germans, the Görge sisters, who took bronze.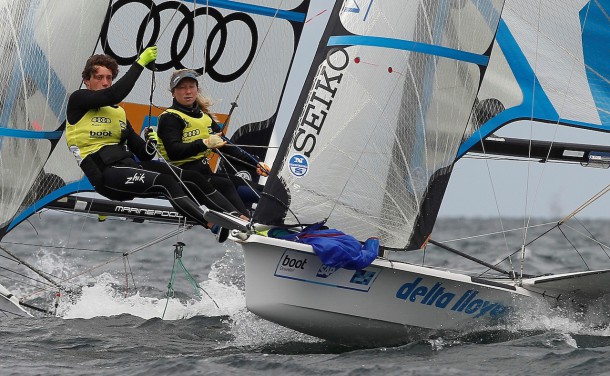 Germany did well in the other televised Medal Races, with the young up-and-comers Justus Schmidt and Max Boehme beating European Champions Erik Heil and Thomas Ploessel, who took silver ahead of Jonas Warrer, the 2008 Olympic Champion, sailing with Anders Thomsen of Denmark.  Justus and Max have made tremendous strides so far in 2015, with top finishes at Sailing World Cup Hyeres and other events.  The Germany Olympic selection was thought to be a formatlity until they have applied the pressure and are challenging Heil/Ploessel.
Tobias Schadewaldt has twice won Kiel Week at the helm of a 49er, but today joined a very select group who have managed to win in two different Olympic classes, after wrapping up Laser gold with victory in the Medal Race. Paul Kohlhoff turns 20 in two days' time, and won his first Kiel Week at the helm of a Nacra 17, crewed by another 20 year old, Carolina Werner. They move on to the Nacra 17 World Championships in Denmark two weeks from now, when they hope to secure an Olympic berth for Germany at Rio 2016.
Meanwhile, many new classes have been rolling into the Olympic Centre at Kiel today, in preparation for their racing which begins on Thursday. Among those are the Formula 18 catamaran class, with a strong entry using Kiel Week as preparation for the F18 World Championship which is set to take place on these waters next month.
Live coverage of the Formula 18s begins at 1245pm German time on Thursday. TV SCHEDULE
Thursday 25 June: F18, Hobie 16 & A-Class catamarans, https://www.youtube.com/watch?v=g7BeDL7Lfkc
Friday 26 June: Europe, Laser Radial & Laser 4.7 singlehanders
Saturday 27 June: 29er and 420 doublehanders
Sunday 28 June: RS800 and Musto Performance Skiffs
To look back through the full 3+hour TV feed and previous days of racing at Kiel Week: https://www.youtube.com/playlist?list=PL7E93CA81147D2A90
For in-depth analysis of all the races at Kiel Week, go to SAP Sailing: http://livecenter.kieler-woche.de/gwt/HomeDesktop.html?locale=en#/event/:eventId=a9d6c5d5-cac3-47f2-9b5c-506e441819a1