Robert Dickson and Sean Waddilove (IRL) were one major mistake away from a stupendous day in their bid to win the final Olympic 49er berth for Tokyo 2020. The 2018 Junior World Champions won two of the three races on the day, but scored a UFD (over the start line early) in the middle race of the day to curtail any celebration. The pair can drop that race from their scoreline, but leaves them no wiggle room heading into two days of Gold fleet and a medal race. They'd said to third place across the line in that middle race, and may yet regret that small error as the regatta heats up.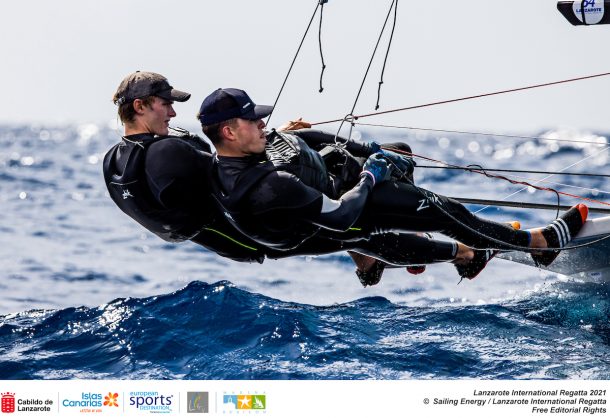 Qualifying is completed in Lanzarote for both 49er and 49erFX with Gold Fleet racing becomes the focus for Olympic qualifying.
Chasing the Irish are Yannick Lefebvre and Tom Pelsmaekers (BEL) who went to Rio 2016 and are sailing well in Lanzarote. The pair continue a solid run of better than average races and are 25 points behind the Irish. That's a fairly big gap, but gold fleet racing essentially doubles the points on offer each race, and an atainable gap to bridge. Another nine points back Farrarese and Tongi (ITA), and those three teams seeking Olympic participation that made gold fleet.
Botin and Marra (ESP) lead the fleet after winning all three races in the other fleet today, and lead a group of four spanish teams into the gold fleet. The USA also sent all four of their teams to gold fleet as they hope to be selected should one 49er spot not be accepted for Tokyo 2020.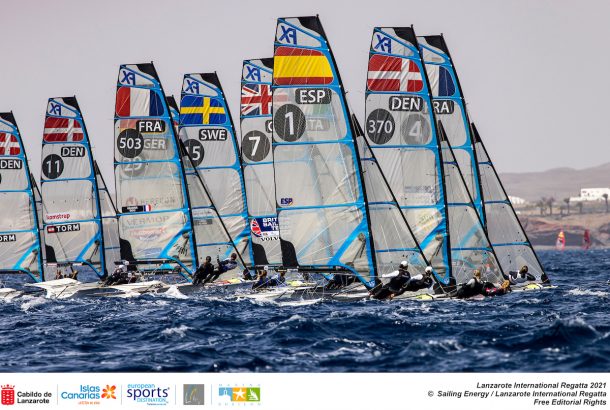 The 49erFX fleet also saw a bit of a shake out for Olympic qualifying, though there are more teams tightly packed and into gold fleet than in the 49er. Nincevic and Zjena (CRO) hold a 2 point lead over Maenhaut and Geurts (BEL) with CZE, FIN, SWE, and RUS each qualifying for gold, though more than 20 points back of the two front runners.
The top of the 49erFX fleet remains highly contested with almost all of the 49erFX superstars in attendance. Grael and Kunze (BRA) move back into the lead with a top 10 full of capable teams trying to over take them.
The Nacra 17 racing is also ongoing with all fleets concluding on March 26 with a live broadcast medal race.