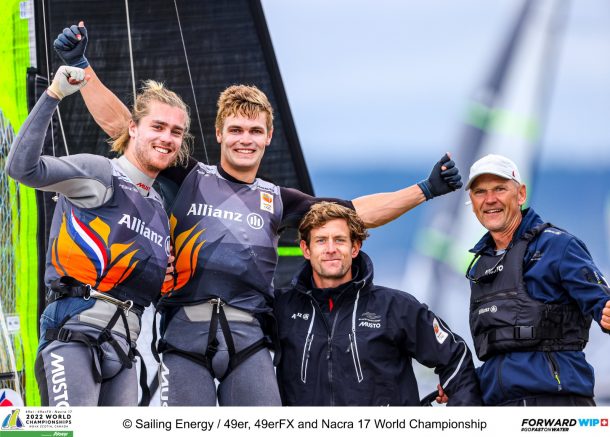 Bart Lambriex and Floris van de Werken (NED) have secured their second straight 49er world title. The Dutch pair had a strong scoreline heading into the final race, making their lead mathematically insurmountable.
Attention in Sunday afternoon's 10-boat medal race turned to the battle for silver and bronze. The outcome was uncertain until the end, but Diego Botin and Florian Trittel (ESP) did just enough to win silver by 2 points, with Croatian brothers Sime and Miho Fantela (CRO) grabbing the bronze in a tense fight with New Zealand and Poland.
After completing the Tokyo 2020 Olympic campaign, Lambriex went his separate ways with former crew Pim van Vugt to team up with van de Werken. They have since gone on to win the 2021 world title in Oman and now in Nova Scotia in 2022. The Dutch showed few weaknesses on St Margarets Bay, sailing incredibly consistently across a broad range of conditions.
Can they go on to be as dominant as Pete Burling and Blair Tuke (NZL) who retired from 49er competition after six world titles and a gold and two silver medals at three successive Olympic Regattas? Too early to tell, and there are plenty of high quality teams breathing down their necks, not least the Spanish and Croatians who scooped the other medals in Nova Scotia.
Volunteers Drive Sailing