The conditions 2019 Asian 49er and 49erFX Championship were fantastic all day, 7 to 11 knots of north easterly breeze out at Abu Dhabi. However, there were significant gusts and lulls across the course, with a few wind shifts thrown in for good measure. Akira Sakai and Russel Aylsworth managed to negotiate the course well and with a 2,5,6 and 1 retain their the lead, but just 1 point ahead of the Chinese, Ding Mingling and Liu Tan, who scored 3,4,1 and 3.
Musab Al Hadi and Waleed Al Kindi had consistent day, 4,3,4 and 2, but slipped to third place behind the Chinese but are well clear of the chasing pack and just 1 point behind the Chinese. In fourth is another Chinese team, Mingcheng Ding and Li Mokul who had finished much ahead of the fleet in the first two races of the day, but slipped finished 8 and 6 as the day progressed.
The experienced Indian team of Ganapathy and Varun, bounced up from seventh overnight to fifth position with 5,2,2 and 7, which moves the 2018 Asian Games bronze medallists to just 2 points behind the Chinese team and share a similar score with their training partners Sandip Jain and Munna Pandit.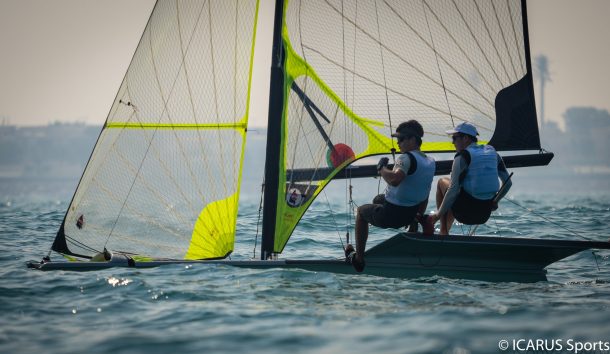 The conditions are forecast to throw up lighter winds tomorrow and could suit those teams that are more used to the softer end of the wind spectrum.
Results:
Results are provisional as of 14:24 on November 7, 2019
49er
Sailed: 8, Discards: 1, To count: 7, Entries: 15, Scoring system: Appendix A
49er FX
Sailed: 8, Discards: 1, To count: 7, Entries: 3, Scoring system: Appendix A
Rank
Nat
SailNo
HelmName
CrewName
R1
R2
R3
R4
R5
R6
R7
R8
Total
Nett
1st
CHN
2
Shang Zitong
Tong Zu
1.0
1.0
1.0
1.0
1.0
(2.0)
1.0
2.0
10.0
8.0
2nd
CHN
1
Xiaoyu Hu
Su Sha
(2.0)
2.0
2.0
2.0
2.0
1.0
2.0
1.0
14.0
12.0
3rd
CHN
288
Huijia Yu
Ye Jin
(4.0 DNC)
4.0 DNC
4.0 DNC
4.0 DNC
4.0 DNC
4.0 DNC
4.0 DNC
4.0 DNC
32.0