Going into racing today may have seemed straightforward for the fleets, but the race course proved a very different for them to crack. With a very close point battle going into the day and very tight racing, the course turned quite tricky with big shifts and variations in wind strength.
In Race 1 of the day, the Chinese Ding Mingling and Liu Tian appeared to lead from the right early, but a late left shift let the Omanis Musab/Al Kindi sneak into first at the top mark, the Chinese had to contend with a in second and overnight leaders Akira Sakai with crew Russel Aylsworth in the third. The Indian team of Ganapathy/Varun took 4th position.
That leaderboard changed after the Indian team of Ganapathy/Varun took the gun in the second race just seconds head of the Omanis Musab /Al Kindi and both the Hong Kong Team of Akira / Russel and the Chinese team of Ding /Tian finished in fifth and sixth places respectively.
The Omanis were unstoppable in the next two races and took back to back first positions to move to the pole position with a cushion of 7 points lead over the nearest rivals Akira and Russel. The Chinese team slipped to the third spot with one point separating them from the Hong Kong team.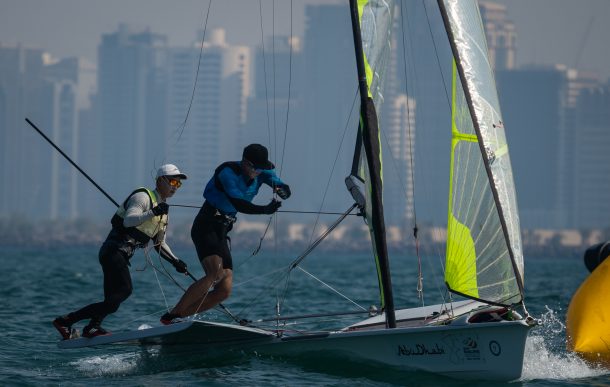 The Indian duo of Ganapathy and Varun have moved into fourth place after a seemingly good day. Varun summed up their day and the conditions, with a look to the rest of the racing : "There's a long way to go before the Continental Qualifier in March 2020, so we're just focused on our own racing at the minute. For now on it's head down and we will go for it."
Three more races are scheduled tomorrow and if the weather forecast is anything to go by it will be quite breezy and we can expect the unexpected !
Results
Results are provisional as of 17:27 on November 8, 2019
49er
Sailed: 12, Discards: 2, To count: 10, Entries: 15, Scoring system: Appendix A
49er FX
Sailed: 12, Discards: 2, To count: 10, Entries: 3, Scoring system: Appendix A
| | | | | | | | | | | | | | | | | | |
| --- | --- | --- | --- | --- | --- | --- | --- | --- | --- | --- | --- | --- | --- | --- | --- | --- | --- |
| Rank | Nat | HelmName | CrewName | R1 | R2 | R3 | R4 | R5 | R6 | R7 | R8 | R9 | R10 | R11 | R12 | Total | Nett |
| 1st | CHN | Shang Zitong | Tong Zu | 1.0 | 1.0 | 1.0 | 1.0 | 1.0 | (2.0) | 1.0 | (2.0) | 2.0 | 1.0 | 1.0 | 1.0 | 15.0 | 11.0 |
| 2nd | CHN | Xiaoyu Hu | Su Sha | (2.0) | (2.0) | 2.0 | 2.0 | 2.0 | 1.0 | 2.0 | 1.0 | 1.0 | 2.0 | 2.0 | 2.0 | 21.0 | 17.0 |
| 3rd | CHN | Huijia Yu | Ye Jin | (4.0 DNC) | (4.0 DNC) | 4.0 DNC | 4.0 DNC | 4.0 DNC | 4.0 DNC | 4.0 DNC | 4.0 DNC | 4.0 DNC | 4.0 DNC | 4.0 DNC | 4.0 DNC | 48.0 | 40.0 |