Abu Dhabi delivered beautiful conditions on Day One of the first Asian 49er and 49erFX Championships. In other words, the sunny skies and 09-knot north westerly breeze on a manageable swell was a similar version of what the competitors might expect at Abu Dhabi for the next year's Tokyo 2020 Continental qualifier scheduled here during 15 – 22 March 2020.
Akira Sakai and Russel Aylsworth (HKG) became contenders as the 2019 Asian 49er Champions. The young Hong Kong sailors, who lost out at the 2018 Asian Games, today showed how they are contenders with the Asia's best.
The duo started well in the first race, and couldn't be reeled in, taking victories in two races. In the second and fourth races of the day, they started poorly but moved up throughout the race gaining on every leg.
Among the two teams chasing them are the Musab Al Hadi and Waleed Al Kindi (OMA) and Ding Mingling and Liu Tian (CHN). Holding their leading position won't be easy, but today was a great way for a young team to make a mark.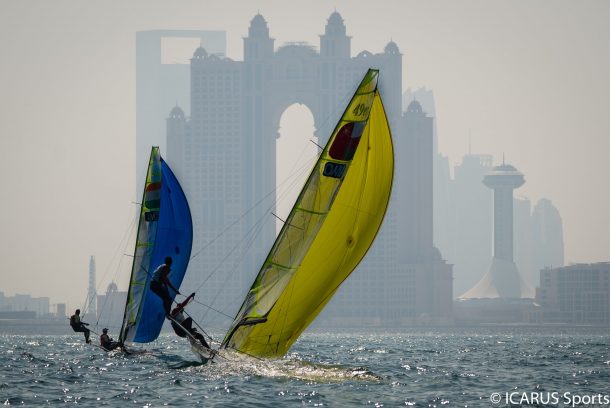 It's far too soon to suggest that it might be turning into a three way race between the Hong Kong, Oman and the Chinese teams, although they have carved out a useful 10-point buffer with the fourth placed Indian team of Sandip Jain and Munna Pandit who scored 5,4,7 and 5 from the day.
A lead of a few points can vanish in a blink of the eye, and with the breeze set to harden further as the week progresses, a different set of skills could come into play. The first Asian 49er and 49erFX Championship is shaping up to become a true all-round test of 49er racing.
Results
Results are provisional as of 15:18 on November 6, 2019
49er
Sailed: 4, Discards: 0, To count: 4, Entries: 15, Scoring system: Appendix A
49er FX
Sailed: 4, Discards: 0, To count: 4, Entries: 3, Scoring system: Appendix A