The final day of racing at the Asian 49er and 49erFX Championships 2019 demanded different skills as the early morning Southerly wind stayed on for much longer than usual. With the Abu Dhabi Presidential Palace in the backdrop, the Race Committee was quick to setup the course and racing began as scheduled at 1100 hrs.
After a sterling performance yesterday, the Omanis Musab Al Hadi and Waleed Al Kindi were assured of the Gold medal and the 49er Asian Champions title, but the battle was then set for a final day showdown between the Hong Kong, Chinese and the Indian teams.
Indian's KC Ganapathy and Varun Thakkar, who'd moved up into 4th position on the penultimate day of racing, clearly wanted to prove themselves and did so in style, winning all three races of the day to win the Silver medal.
A 4th, 8th and a 7th place today for the young Hong Kong team of Akira Sakai and Russel Aylsworth moved them into bronze position overall, as the Chinese team of Ding Mingling and Liu Tian also fumbled to finish 7th, 5th and 5th in the three races of the day.
The Omanis should be happy with their teams' performance, and the battle is set for a good fight to see who wins the 49er Olympic qualification in March 2020.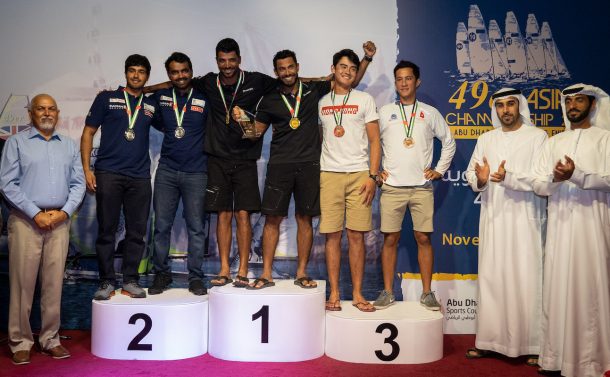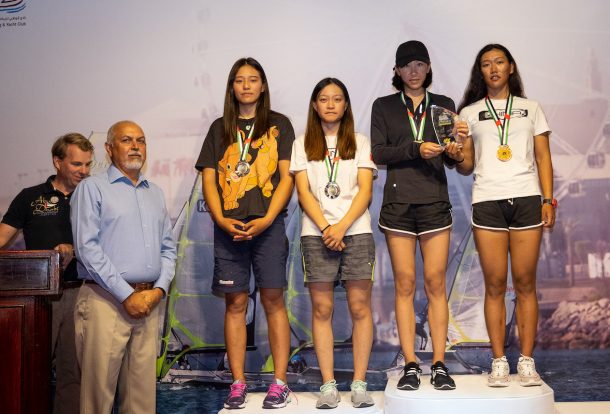 Final Results
49er
Sailed: 15, Discards: 2, To count: 13, Entries: 15, Scoring system: Appendix A
| | | | | | | | | | | | | | | | | | | | | |
| --- | --- | --- | --- | --- | --- | --- | --- | --- | --- | --- | --- | --- | --- | --- | --- | --- | --- | --- | --- | --- |
| Rank | Nat | HelmName | CrewName | R1 | R2 | R3 | R4 | R5 | R6 | R7 | R8 | R9 | R10 | R11 | R12 | R13 | R14 | R15 | Total | Nett |
| 1st | OMA | Musab Al Hadi | Waleed Al Kindi | 2.0 | 1.0 | (5.0) | 3.0 | 4.0 | 3.0 | 4.0 | 2.0 | 1.0 | 2.0 | 1.0 | 1.0 | (5.0) | 4.0 | 2.0 | 40.0 | 30.0 |
| 2nd | IND | Ganapathy Kelapanda Chengappa | Varun Thakkar | 8.0 | (9.0) | (9.0) | 1.0 | 5.0 | 2.0 | 2.0 | 7.0 | 4.0 | 1.0 | 4.0 | 3.0 | 1.0 | 1.0 | 1.0 | 58.0 | 40.0 |
| 3rd | HKG | Akira Sakai | Russell Aylsworth | 1.0 | 3.0 | 1.0 | 4.0 | 2.0 | 5.0 | 6.0 | 1.0 | 3.0 | 5.0 | 5.0 | 2.0 | 4.0 | (8.0) | (7.0) | 57.0 | 42.0 |
| 4th | CHN | Ding Mingling | Liu Tian | 3.0 | 2.0 | 4.0 | 2.0 | 3.0 | 4.0 | 1.0 | 3.0 | 2.0 | 6.0 | (16.0 OCS) | 4.0 | (7.0) | 5.0 | 5.0 | 67.0 | 44.0 |
| 5th | CHN | Mingcheng Ding | Li Maokui | 6.0 | (8.0) | 2.0 | (8.0) | 1.0 | 1.0 | 8.0 | 6.0 | 5.0 | 3.0 | 2.0 | 6.0 | 2.0 | 2.0 | 4.0 | 64.0 | 48.0 |
| 6th | IND | Sandip Jain | Munna Pandit | 5.0 | 4.0 | 7.0 | 5.0 | 9.0 | 6.0 | 3.0 | 4.0 | 6.0 | 7.0 | 8.0 | 5.0 | (10.0) | 3.0 | (10.0) | 92.0 | 72.0 |
| 7th | IND | Brijraj Verma | Pankaj Kumar | 9.0 | 5.0 | 3.0 | 7.0 | (10.0) | 8.0 | 7.0 | 10.0 | 7.0 | 9.0 | 6.0 | (16.0 OCS) | 3.0 | 7.0 | 6.0 | 113.0 | 87.0 |
| 8th | IND | Narendra Singh Rajput | Sakthivel Sekar | (10.0) | 7.0 | 6.0 | 9.0 | 8.0 | 9.0 | (10.0) | 8.0 | 8.0 | 8.0 | 3.0 | 7.0 | 6.0 | 6.0 | 3.0 | 108.0 | 88.0 |
| 9th | IND | Aanand Thakur | Vishal Thakur | 4.0 | 6.0 | (10.0) | (10.0) | 6.0 | 10.0 | 5.0 | 5.0 | 9.0 | 4.0 | 7.0 | 8.0 | 8.0 | 9.0 | 8.0 | 109.0 | 89.0 |
| 10th | OMA | Ahmed Al Hasani | Abdulrahman Al Mashari | 7.0 | 10.0 | 8.0 | 6.0 | 7.0 | 7.0 | 9.0 | 9.0 | 10.0 | 10.0 | (16.0 OCS) | (16.0 OCS) | 9.0 | 10.0 | 9.0 | 143.0 | 111.0 |
| 11th | CHN | Xin Wang | Chao Xiang | (16.0 DNC) | (16.0 DNC) | 16.0 DNC | 16.0 DNC | 16.0 DNC | 16.0 DNC | 16.0 DNC | 16.0 DNC | 16.0 DNC | 16.0 DNC | 16.0 DNC | 16.0 DNC | 16.0 DNC | 16.0 DNC | 16.0 DNC | 240.0 | 208.0 |
| 11th | CHN | Wei Hong | Tao Zhang | (16.0 DNC) | (16.0 DNC) | 16.0 DNC | 16.0 DNC | 16.0 DNC | 16.0 DNC | 16.0 DNC | 16.0 DNC | 16.0 DNC | 16.0 DNC | 16.0 DNC | 16.0 DNC | 16.0 DNC | 16.0 DNC | 16.0 DNC | 240.0 | 208.0 |
| 11th | CHN | Zaiding Wen | Zhibo Zhou | (16.0 DNC) | (16.0 DNC) | 16.0 DNC | 16.0 DNC | 16.0 DNC | 16.0 DNC | 16.0 DNC | 16.0 DNC | 16.0 DNC | 16.0 DNC | 16.0 DNC | 16.0 DNC | 16.0 DNC | 16.0 DNC | 16.0 DNC | 240.0 | 208.0 |
| 11th | CHN | Jian Xiang | Youjian Wen | (16.0 DNC) | (16.0 DNC) | 16.0 DNC | 16.0 DNC | 16.0 DNC | 16.0 DNC | 16.0 DNC | 16.0 DNC | 16.0 DNC | 16.0 DNC | 16.0 DNC | 16.0 DNC | 16.0 DNC | 16.0 DNC | 16.0 DNC | 240.0 | 208.0 |
| 11th | CHN | Yong Chen | Feng Fu | (16.0 DNC) | (16.0 DNC) | 16.0 DNC | 16.0 DNC | 16.0 DNC | 16.0 DNC | 16.0 DNC | 16.0 DNC | 16.0 DNC | 16.0 DNC | 16.0 DNC | 16.0 DNC | 16.0 DNC | 16.0 DNC | 16.0 DNC | 240.0 | 208.0 |
49er FX
Sailed: 15, Discards: 2, To count: 13, Entries: 3, Scoring system: Appendix A
| | | | | | | | | | | | | | | | | | | | | |
| --- | --- | --- | --- | --- | --- | --- | --- | --- | --- | --- | --- | --- | --- | --- | --- | --- | --- | --- | --- | --- |
| Rank | Nat | HelmName | CrewName | R1 | R2 | R3 | R4 | R5 | R6 | R7 | R8 | R9 | R10 | R11 | R12 | R13 | R14 | R15 | Total | Nett |
| 1st | CHN | Shang Zitong | Tong Zu | 1.0 | 1.0 | 1.0 | 1.0 | 1.0 | (2.0) | 1.0 | (2.0) | 2.0 | 1.0 | 1.0 | 1.0 | 1.0 | 2.0 | 1.0 | 19.0 | 15.0 |
| 2nd | CHN | Xiaoyu Hu | Su Sha | (2.0) | (2.0) | 2.0 | 2.0 | 2.0 | 1.0 | 2.0 | 1.0 | 1.0 | 2.0 | 2.0 | 2.0 | 2.0 | 1.0 | 2.0 | 26.0 | 22.0 |
| 3rd | CHN | Huijia Yu | Ye Jin | (4.0 DNC) | (4.0 DNC) | 4.0 DNC | 4.0 DNC | 4.0 DNC | 4.0 DNC | 4.0 DNC | 4.0 DNC | 4.0 DNC | 4.0 DNC | 4.0 DNC | 4.0 DNC | 4.0 DNC | 4.0 DNC | 4.0 DNC | 60.0 | 52.0 |