Det bliver starten på en ualmindelig spændende uge i Aarhus, når SAP 49er & 49erFX European Championship tirsdag kl. 13.30 skydes i gang af kulturrådmand Marc Perera Christensen.
En af de største danske medaljefavoritter til det prestigefyldte mesterskab er makkerparret Jonas Warrer og Peter Lang. Skipper Jonas Warrer vandt sammen med Martin Kirketerp guld til OL i 2008, mens Peter Lang vandt bronze til det seneste OL sammen med Allan Nørregaard.
Og ifølge 49er-landstræner Peter Hansen skal man da heller ikke være bange for at have høje forventninger til de to makkere.
Indlysende højt niveau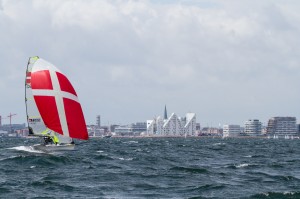 »Jonas har jo tidligere vist sit indlysende høje niveau sammen med Martin Kirketerp, men så kender han jo derudover vandet og vejret her i Aarhus. I Danmark har vi et meget omskifteligt vejr, og det er Jonas og hans nye makker, Peter Lang, gode til at agere i. Jeg forventer klart en medalje til dem,« siger Peter Hansen i et interview med Jyllands-Posten.
SAP 49er & 49erFX European Championship bliver et sejlsportsstævne, der giver tilskuerne på land en fantastisk mulighed for at følge med i de spændende sejladser. Finalesejladserne søndag bliver således afholdt i såkaldt "Theatre Style", som bringer bådene og tilskuerne tættere sammen end nogensinde før.
Banen kommer under finalesejladserne til at ligge placeret meget tæt på havnemolen, og da de nervepirrende, altafgørende sejladser foregår på meget korte baner, er der garanti for storslået drama blot et stenkast fra land.
FAKTA
SAP 49er & 49erFX European Championship foregår på Aarhus Lystbådehavn fra d. 2-7. juli.
130 hold er tilmeldt.
10 danske besætninger deltager.