After 4 days of racing at the 2014 Kieler Woche regatta little has been decided.  The title will come down to the top 10 finals on Wednesday, June 25, 2014 and thanks to SAP the racing will be broadcast live for everyone to watch.
Each fleet of 49er and 49erFX is down to 10 teams with little separation meaning anyone can win the regatta.  The fleets will race 3 races each, and each race is worth double points, so the regatta is entirely up for grabs.  So few points are on the board because of how challenging the conditions have been in Northern Germany this week.  The first 3 days of the regatta were very windy, and only a couple of races were possible on days 1 and 3, with none possible on day 2.  Then, the breeze eased, but overly so leaving a very unstable wind for day 4, making running races equally challenging.
In the 49erFX, Jena Hansen and Katja Iversen are in the lead and this could be their first major regatta win.  They do like theatre style racing, so this could be their chance to shine.  The 49erFX racing starts at 10:00 CET

In the 49er  the local team of Erik Heil and Thomas Ploessel have a reasonable lead of 10 points over Dave Evans and Ed Pows.  Erik and Tommy have not won yet in 2014, so will be hoping for a good day in the theatre to carry them through.  The 49er racing starts at 11:00 CET.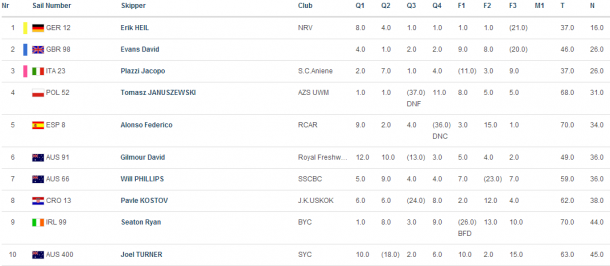 For the best on board footage from the regatta so far, check out this vid:

Here are the links to some of the racing already shown:
49er Day 3 and more 49er Day 3 in German
49erFX Day 3 and more 49erFX Day 3 in German and more 49erFX on Day 3