The 49erFX fleet, while young by most standards, has produced and nurtured some of the worlds best female sailors. We take a look at what makes the class and women involved so special.

Olympic sailing is for many the pinnacle of their sailing dreams. To stand on the top step of the podium with a gold medal around your neck is what it is all about. While that is the goal of every sailor campaigning towards the Games, with Tokyo 2020 now less than 500 days away, there is something very special occurring in the women's 49erFX fleet.
If you've ever walked around the boat park at an FX event, you'll quickly realise that this is a close knit community of athletic and inspiring women. Training, competing and succeeding is the ultimate goal, however it is obvious that these women are having more fun than just about anyone else on the Olympic circuit. Not only that, the women who make up this amazing fleet are some of the closest friends, with many forming sister-like bonds with their fellow sailors.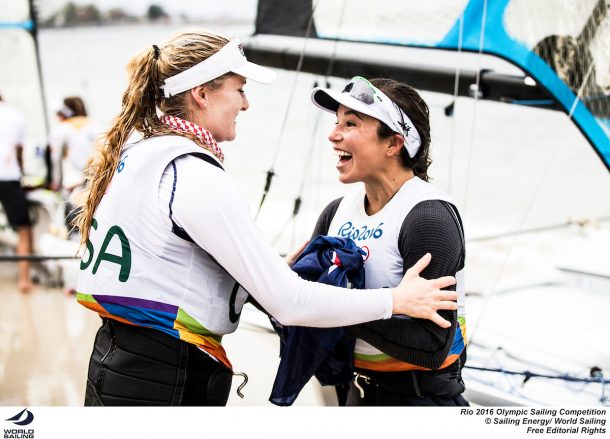 Martine Grael (BRA), Rio 2016 Gold Medallist explains: "The FX is very dynamic, fun, the training is very intense, and we all share this excitement to do the build up for the events. Many of us train together and have very strong friendship bonds. I'm not entirely sure where that comes from but we try to keep it alive because it is very special; it is so cool to be able to work with what you love.
We are also very active people. That's why you will see us trying to do other activities together like surfing, climbing, hiking and mountain biking."
Martine Grael, with her long time crew Kahena Kunze, has been competing in the 49erFX since its inception, with a World Championship record that reads 2-1-2-6-2, including a Gold Medal at their home country Brasil's Rio 2016 Olympic Games.
In the cutthroat world of Olympic sailing, where one result can make or break your campaign, you would expect no one to give an inch. The ladies in the FX fleet seem to be bucking that trend by bringing some finesse to the on water competition, something not often seen in high stakes racing. "We have a lot of respect for each other in the water and try to solve our disagreements in the best of ways," Grael says. "You will probably see us easing on somebody on the race and getting eased later on. It's a trade! 'I help you now, you help me later.' And also trying to solve protests out of the protest room I think is a [good] quality of the fleet as well. In the FX it's more about everyone trying to do their best and not beating down of the others."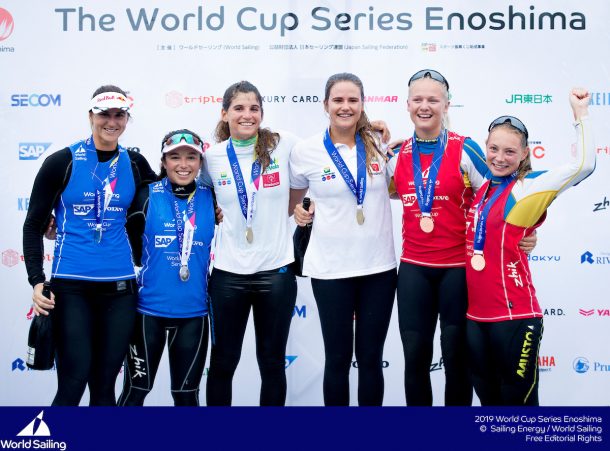 In recent years, the sailing world has seen many high profile events move toward gender balance in their fleets. In the Olympic realm, we have seen the introduction of the Nacra17 class into the Olympics paired with a mixed gender crew requirement. For the Paris Olympics in 2024, World Sailing introduced an Olympic slate which will see an even split in male and female participation and medals. And for the 2017-2018 Volvo Ocean Race, gender-based rules resulted in the first ever female crew members to win the prestigious around the world race.

While this progress is a step in the right direction, Grael believes there is still a lot of work to be done. "Olympic sailing is on the right track, although sometimes the changes are being very sudden. So there are not enough girls to fill the spots available in Olympic events and lots of competition between the guys who are losing opportunity at the Games."
In 2017-2018, four past and current 49erFX sailors took part in arguably sailings hardest challenge, the Volvo Ocean Race. Nina Curtis (AUS), Rio Silver medalist, Jena Mai Hansen (DEN), 2016 World Champion Tamara Echegoyen Dominguez (ESP), 2015 World Champion Francesa Clapich (ITA) and Grael all took part, setting the bar high for future FX sailors looking for another challenge outside of the Olympic arena.
"They are very brave, I admire them for getting in those extreme situations." remarks Carla Munte. "They inspired a lot of women, I might say that "Empowered Women Empower Women". At just 20 and 18 years of age, Carla and her sister Marta took home 5th place at the 2018 European Championships in Poland. These young women are heading up the younger generation of 49erFX sailors setting their sights on Olympic glory, starting in the 29er before making the jump into the FX class. "I think the FX is not an easy boat to sail, with strong winds it may be hard, so we all have to be strong and brave to sail on it. We [49erFX sailors] all have respect for the other teams; we are friends onshore and rivals on the water, but always with respect." For such young sailors to show an incredible level of sportsmanship and respect amongst their fellow competitors really speaks volumes for the sailors and 49erFX class as a whole.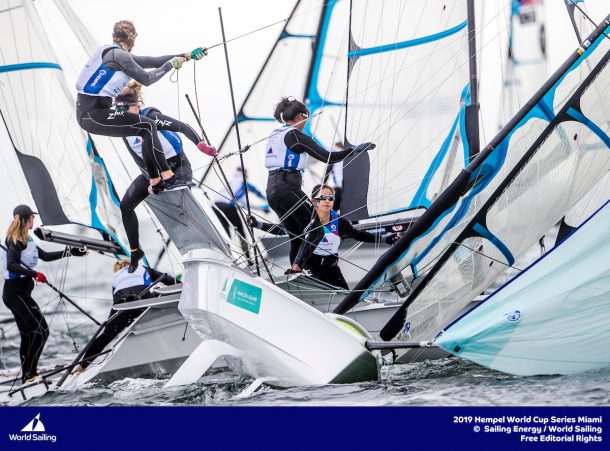 "There are lots of talented girls with a good mindset and that are hard workers. I think this is the kind of thing that could work out just about anywhere!", Grael says, when asked about future FX sailors making the move into other professional sailing avenues.
"Of course we look up to the pinnacles of our sport like The Ocean Race and the America's Cup, but there are also more grand events girls should be looking at as well."

Some of those events Grael eludes to include high profile circuits such as the insanely competitive 52 Super Series , Larry Ellison's brand new SailGP series, one design classes such as the J70's and the Maxi72 series. We are already seeing female crew members competing in these circuits, but stand by to see increasingly more women involved, with plenty of 49erFX sailors already knocking down the door.
The 49erFX Olympic fleet next lines up at the 50 Trofeo S.A.R. Princesa Sofia Iberostar, which will be held in the Bay of Palma from 29th March to 6th April 2019.