There is no question that sailing as a sport has a huge environmental footprint. We travel the world by air, sea and road, shipping boats built from exotic materials from continent to continent, all in the pursuit of personal, professional or in the 49er's case, Olympic glory.
But a handful of World and Olympic champion sailors have been amongst the movers and shakers in sport when it comes to minimising our effect on the planet.
Yago Lange has been one of the most environmentally active and influential sailors amongst the Olympic sailing world in the past year. The Argentinian helped to organise the #Sailors4TheSea beach clean ups at this year's Trofeo Princesa Sofia in Spain and Volvo Europeans in Weymouth, where over 500 sailors at three venues removed vast quantities of pollution from the Mallorca and Weymouth regatta sites.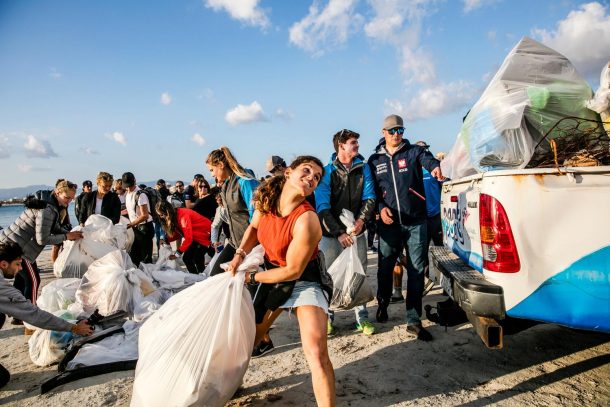 "Last year training in Buenos Aires with the Austrian team, I found a lot of trash in the river and decided to run a beach clean up. We picked up 3 tons of trash with 100 people in one and a half hours," Yago comments, when asked what moved him to action. "After watching so much trash all together and many items like plastic bottles or plastic bags that I used to consume, I told myself I should change my relationship with single use plastic."
In the past year, Lange has been the driving force behind a number of beach and harbour clean up projects, has actively created change amongst the 49er fleet and is working with organisations such as Parley.tv and 11th Hour Racing. "The impact is massive. I am a bit scared of all the things that have happened in such a short time. As well, I am very happy and proud to be part of a big group of sailors who want to protect our playground and nature."
Lange is just one of many of the world's elite sailors looking to make a difference. Earlier this week, Olympic and America's Cup champions Peter Burling and Blair Tuke announced Live Ocean, a marine conservation charity with a mission to improve the health of New Zealand's ocean space, while challenging the rest of the world to 'pick up their game'.
"The vision of it is about New Zealand being a world leader in ocean health," comments Tuke, "and we're going to do that in a number of ways but primarily science, innovation, and little projects as we build up to that bigger picture."
Earlier in the year, 470 Olympic gold medallist Hannah Mills founded the Big Plastic Pledge, a global campaign aiming to unite athletes and fans from around the world to help tackle the issue of plastic pollution.
"I witnessed first hand the devastating effects of plastic pollution on our oceans and planet," says Mills. "Every beach, marina and coastal area we visited during that 4 year period [Rio2016 Olympic cycle] was affected and damaged beyond belief. So much of it was single use plastic. It was something I couldn't ignore anymore, I had to act."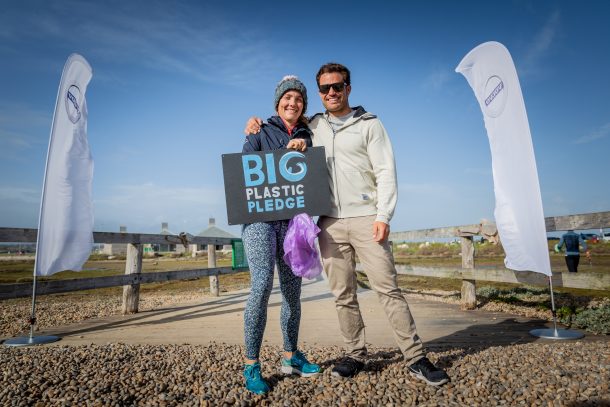 The upcoming 2019 Hyundai 49er, 49FX and Nacra17 World Championships, to be held in Auckland and hosted by the Royal Akarana Yacht Club, will host over 400 athletes in one of the most important events in the lead up to the Tokyo 2020 Olympic Games. The event has been listed by Sailors For The Sea as a Platinum Clean Regatta, one of only five in the world, and will feature multiple water refill stations, recycling and compost systems and will function completely paperless, including the entry, registration and measurement systems.
"I already see a massive change around my friends in the sailing community and the voice is coming stronger and stronger, so I hope we can all push for more sustainable events," says Lange, who wants to see sailors around the world get involved.
"A beach clean up helps to understand the problem and put a group of people together against this problem. You can then analyse the impact you have as a harbour, sailors or class in relationship with single use plastic."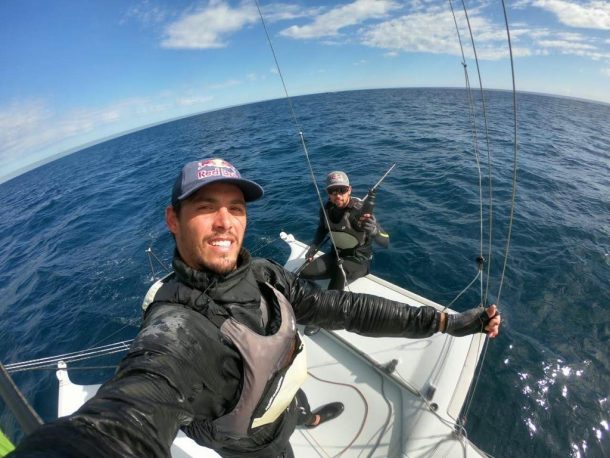 For more information, or ideas on how you can be involved, check out the organisations listed below.
Live Ocean: https://www.facebook.com/itsliveocean/
Sailors For The Sea: https://www.sailorsforthesea.org
Big Plastic Pledge: https://bigplasticpledge.com
Parley: https://www.parley.tv
11th Hour Racing: www.11thhourracing.org