17th AUGUST 2012
SAP, the world´s leading provider of enterprise software solutions, has joined forces with the International 49er Class Association to provide technical solutions for the 2012 Seiko European Championship.  SAP will work with the 49er class to deliver a first class online experience for sailors and fans, providing solutions to help annotate and explain the complexities of the sport.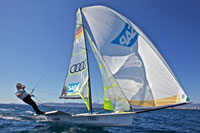 Utilizing the latest SAP 2D Race Viewer, analytics and technical expertise, SAP will help deliver a compelling and engaging online live center for the 49er European Championship on www.49er.org. The offical 49er class website will offer spectators, sailors and online fans real-time access to leader boards, race visualization and regatta updates, making it easier than ever before to follow all the race action as it happens. \ Marcus Spillane, Chief Executive Officer of the 49er class is excited about SAP coming on board "SAP continues to make a fantastic contribution to the sport of sailing around the world.  Their support of our class enables us to achieve our vision of creating a first class spectator experience and widening the appeal of our sport".
Through partnerships with Audi Sailing Team Germany, Kieler Woche, the Extreme Sailing Series, the SAP 505 World Championship and now the 49er class, SAP helps build continually evolving strategies that truly enhance the sport. Stefan Lacher Head of Technology, SAP Sponsorships, explains how SAP technology will take the 49er fan experience to a new level ""Understanding what happens out on the race course isn't always easy. To help solve this challenge and bring the excitement of sailing to the fans, we developed the ´Race Viewer´ and live leader board based on analytics from SAP. Through analyzing GPS data together with integrated wind measurements from sensors out on the race course, we can display information such as in-race ranking, average speeds, distance travelled, estimated time of arrival at the next mark rounding, gaps to leader and gains and losses per leg".