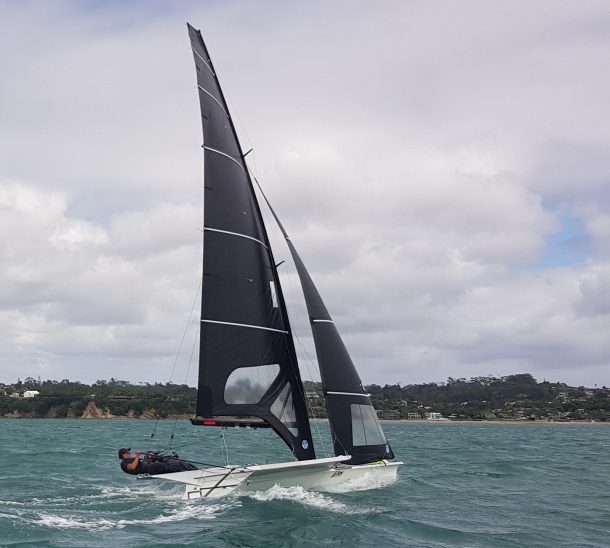 After 30 expressions of interest, 11 proposals received followed by three sail makers selected to submit sail packages, the decision has been made to use the new 49er and 49erFX North Sails 3Di main and jib sails.
"This is a very exciting development," says 49er Champion, Blair Tuke, who was one of the selectors. "It's a first for an Olympic Class to be able to select equipment that optimizes performance, consistency, longevity and have a positive environmental impact, all in one package."
The selection panel, which was made up of multiple Olympic medalist sailors and coaches, along with the 49er and 49er FX Class measurer, a builder's representative and the copyright holders, used three key criteria to drive the decision. These were: improve consistency of the finished sail, improve longevity and decrease overall cost for sailors. Feedback was also considered from rigorous trialing in Australia and New Zealand with Olympic squad 49er sailors and coaches.
North Sails 3Di sails ticked all the boxes and a unanimous decision was made by the selection panel.
The new 49er and 49erFX sails will be built using the 3Di technology which is a 3D full sized molding construction process that uses composite materials. The technology enables sails to be built to the desired shape and retain shape over time. The 3Di durability has been proven with examples of VOR teams using one main sail for 35,000 miles where formally two or three laminate sails would have been used.
These benefits also translate into other major advantages – a reduction in the overall running costs of the boat as less replacement sails are needed and a more environmentally-friendly solution as the sails last longer meaning less waste, less energy used to produce and distribute and less raw materials consumed. The sails will also offer a very stable sailing experience as sailors will learn more about the sail over time and be able to exploit the sails for longer. Modern graphics can also be applied to a large black canvas sail area on the new 49er and 49erFX sails.
The move to evaluate sails was made after a request by sailors at the 2019 and 2020 49er and 49erFX World Championships to improve sail consistency. It was also recognized that new technology in material science had evolved over since the sails were last reviewed.
Timing for the review was perfect on many levels. A sail review was due as one takes place every eight years, the review also sought to honor the EU FRAND terms and, given the spars were also under review meant the whole rig package could be considered for optimal performance.
Testing of the gennakers will continue in the UK and Holland with a decision on the supplier of gennakers likely in mid-April 2021.
We are in discussion with North regarding a build schedule and will announce the time line for availability in the coming months.
The plan is to release a small batch of advance sails to ensure all details are correct before full production begins. These will be distributed equally around the world so no region gets an advantage over others. The class will co-ordinate this initial distribution.
Sails will be sold through the usual 9er dealer network and will not be available directly from North Sails.