Hubbards, Nova Scotia, CAN – Dejected wasn't the right word for the look on Odile van Aanholt's face after she missed the Gold Fleet cut at the 2020 Melbourne Worlds. But it was certainly something a little angrier than that. Whatever the emotion, she went on to dominate that silver fleet and took that focus and won the 2021 Worlds surprisingly with a new crew and a smile on her face each day.
Today in the dusty and sunny parking lot along the clear, cool waters of Margaret's Bay, van Aanholt and Dutch Olympian Annette Duetz are planning on continuing their progression as a new team after winning the European Championship last month in Aarhus, Denmark.
Of the 37 FX teams competing along with the 49er and Nacra 17 fleets this week for the world championships, the Dutch pair can make history. Duetz (along with Echegoyan/Barcelo, ESP) have a chance to be the first sailor to win three FX worlds titles. Skipper van Aanholt could tie the Spanish and fellow Dutch sailor Annemiek Bekkering with two wins.
"Next level for us is to get better at starts," said van Aanholt, while she was tidying up her compass on there deck of her FX. She added that in Denmark they were racing real well but always playing catch up. Duetz said it comes down to communication and her skipper said routine is the key focus for this championship.
"I'm quite laid back, but that could get us into trouble," said van Aanholt. "Our routine now is to set the times for things we do before the start, checking the line, testing settings. There's a lot you can't control when you're fighting against nature. This you do have control of. You take that and it gives you confidence to race."
Stacking world titles won't be easy in this fleet with double gold medalists Grael/Kunze (BRA) here and a group of rising stars including China's Chen/Wang who won the North Americans here last week. Locals Lewin-LaFrance and Tenhove/Millen have had moments of brilliance this season with there latter cracking the top ten at the Europeans.
A daily pattern has developed in the boat park with steady tinkering each morning and regimented on-water training with fresh sea breezes and multiple nations in all the classes sharing coaching resources.
Geeking out on Conditions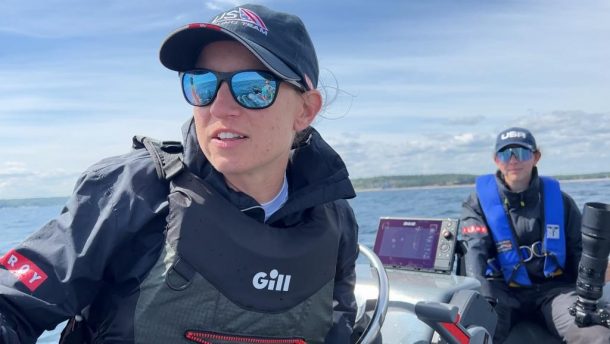 St. Margaret's Bay is the gem of the Canadian Maritimes with reliable sea breezes and a large opening to the North Atlantic. Looking forward to the first day of qualifying this Wednesday, American meteorologist Chelsea Freas is forecasting strong southerlies ahead of a warm front predicted to cross the waters Wednesday night. She said the venue is unique and could dish up some aggressive sailing.
"We're getting all kinds of local effects, geography up through the hills and these inlets," said Freas, "so a lot of wind bending around these feature and pressure differences on the different courses."
Freas' RIB boat has a carbon mast with instruments and sensors measuring temperature, atmospheric pressure, wind data and GPS location and gathers the data through a B&G interface. She will study various forecasts and combine her observations to help thee sailors prepare for each day of racing.
Three days of qualifying racing starts Wednesday leading up to next Monday's finals.
Racing at the World Championship runs from August 31 – September 5, 2022 and is best accessed via the website: https://49er.org/event/2022-world-championship/
Daily tracking, results, photos, highlights, and articles will be available from the website. Additionally, Days 3 through 6 (Sept 2-5) will have live broadcast coverage via the CBC Sports App, youtube.com/49ersailing and fb.com/49ersailing.
Here are the daily links:
2022 49er, 49erFX and Nacra 17 World Championships, Halifax — Qualifying — Day 3
September 2, 2022 @ 11:00 UTC-3
https://youtu.be/Fh4zFApLpc0 (49er) or https://youtu.be/GqLQIVgIIEY (Nacra17)

2022 49er, 49erFX and Nacra 17 World Championships, Halifax — Gold Fleets — Day 4
September 3, 2022 @ 11:00 UTC-3
https://youtu.be/PoHeOF0XvI0 (49er) or https://youtu.be/aW78tdhUqfk (Nacra17)

2022 49er, 49erFX and Nacra 17 World Championships, Halifax — Gold Fleets — Day 5
September 4, 2022 @ 11:00 UTC-3
https://youtu.be/T598V4SwIhQ (49er) or https://youtu.be/Hbvr4L0tRsE (Nacra17)

2022 49er, 49erFX and Nacra 17 World Championships, Halifax — Gold Fleets — Day 6
September 5, 2022 @ 10:00 UTC-3
https://youtu.be/PolhasjOgU4 (49er) or https://youtu.be/Z4-zTS-B3lE (Nacra17)

2022 49er, 49erFX and Nacra 17 World Championships, Halifax — Medal Races — Day 6
September 5, 2022 @ 14:00 UTC-3
https://youtu.be/pjJxn2cKZ3E (49er) or https://youtu.be/OVPNdM3XJN8 (Nacra17)