Just over a year ago, during the Rio Olympic Games, four teams were tied going into the last race! The hometown heroes, Martine Grael and Kahena Kunze (BRA) capped the ultimate dream finish in front of their home fans by winning a gold medal.
Rarely in sailing do we get to see such a tight finish among the best female sailors of their generation, and with so much on the line at a major event. We will get that chance again this week as the same four teams face off for the first time since Rio Games at the 2017 49erFX World Championship here in Porto, Portugal.
For all four teams it has been hectic summer. When the Volvo Ocean Race altered their crew rules giving female sailors a chance to race the ultimate offshore challenge, the teams came calling right away. Tamara Echegoyen (ESP), 4th in Rio and the 2016 49erFX World Champion was the first to get signed. She was already an Olympic Gold medalist (Match racing at the 2012 Olympics). With a perpetual smile and personality to match, it was no surprise to see MAPFRE, the Spanish entry, sign her for the race along with 49er Gold medalist and Americas Cup winner Blair Tuke (NZL). Under skipper, and one of the greatest 49er crews ever, Xabi Fernandez (ESP), MAPFRE are sure to be one of the fastest boats and arguably the favourite!
Martine Grael (BRA), Rio Gold and the 2014 49erFX World Champion, was trialing for the Volvo all summer. It didn't take long for her to show why she's been so highly rated as a racer, even beyond her family pedigree. With boundless energy and determination, she'll be bringing her talents offshore to a grueling new challenge with Team AkzoNobel.
Bronze medalist from Rio, Jena Hansen (DEN), and the only member of this elite group not yet to have won a World Championship also got signed with Vestas 11th Hour Racing. Having little previous offshore experience she'll be doing half the legs, and is sure to add hard downwind driving, speed and spirit to the program.
There were plenty of rumours that Rio silver medalists, Alex Maloney and Molly Meech (NZL) would join a last minute Team New Zealand effort, but at such a late stage of organization, it seems not be on the cards.
With the Volvo fleet down in Lisbon for a break, the action is just up the road in Porto where all these talented 49erFX teams are aiming to become 2017 World Champions. These four teams from Rio have not been putting in significant time this season with most teams taking a well deserved break after the Olympics coupled with the distraction of the Volvo. No doubt though, that they will be back to their competitive best come Monday. Snapping at their heels though are ambitious challengers who have been training hard in the 49erFX this season trying to capitalize on those who took a break.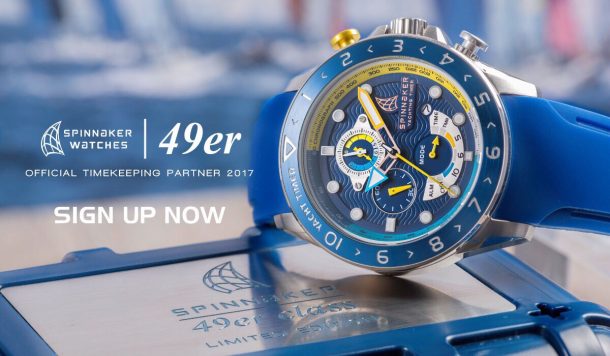 The recently crowned 2017 49erFX European Champions, Tina Lutz and Susan Beuke (GER), or their teammates and winners of the Sailing World Cup in Hyeres, Vicky Jurczok and Anika Llorenz (GER) are sure to be in the mix. The new combo and Sailing World Cup Final winners Charlotte Dobson and Saskia Tidey (GBR) could suit the usual big breeze and big seas conditions in Porto. The Dutch always have a strong squad, as do the Swedes, but potentially the most dangerous of all are three time 49erFX European Champions Ida Nielsen and Marie Olsen of Denmark, who were surely the best team not to make the Rio Olympics, and will not want to repeat that fate for Tokyo.
Join us from August 28 to September 2 to watch these female superstars do battle, and see who gets to grab the first bragging rights of the Tokyo.
Please join us every morning for the Adidas Sailing Daily Show, live on FaceBook (http://fb.com/49ersailing) from 1000UTC / 1100 local in Portugal. Please be sure to LIKE the 49er Facebook Page (49er Sailing) for the best way to be notified of new photos, videos, and live streams from the World Championship.  More centralized information including interviews, photos, results, articles and other regatta documentation is available on the Class website at https://49er.org
If you love watching live racing, the real fun begins on Thursday next, when you can watch live stream racing action from the water, complete with professional commentary, tracking, and much more.  You'll find the live notifications via our alerts if you sign up HERE LIVE VIDEO COVERAGE SCHEDULE: – August 31 & September 1 we will cover Gold Fleet racing, with 20 boats in each fleet for the 49er and 49erFX – September 2 will see us covering the Finals. Each fleet will have 3 'theatre style' races to determine the 2017 World Champions.
Live streaming on YouTube (https://www.youtube.com/49erSailing)
Our live broadcast will have 1 drone camera, 2 sideline cameras, on board cameras, and a virtual tracking environment. Combined with the best fleet racing our aim is to engage you with some spectacular, world-class sailing!
– Get to know the personalities behind the circuit and all the background to these Classes. – Hosted by sailing journalist and online personality Alan Block, we'll cover the future stars, the seasoned vets, and give you a preview of what's ahead for the day. – Live on YouTube from 1000 UTC/ 1100 Local on the dates above – Daily photo albums will be posted on the Event Website (https://49er.org/event/2017-world-championship/) and the Class Facebook page.
YouTube, Facebook, Twitter, Instagram all @49ersailing