Back to overview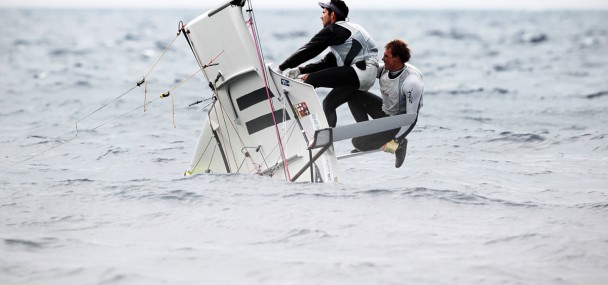 The Important Thing Is To Participate? But of Course!
Diary of a novice (or almost) – Day 6
World Championships 49er and 49er FX 2013 Marseille
Despite wanting believe the competitors statements as I've interviewed them in recent days , the atmosphere has changed today.  20 knots of wind and the final places up for grabs: the big-smile face masks fall and the competitors reveal their thirst for victory.
"The essential thing is not to win but to take part ," said Pierre de Courbetin , daddy of the modern Olympic Games. Hmm … At this stage of the competition and the weather , it is rather the other Olympic motto " Faster, Higher, Stronger " that I see on the water.  Yesterday evening, the race jury – real court Sailing – recorded 16 protests , including one which shifts the French Dyen and Christidis from 4th to 2nd place overall in the fleet "Gold" !  Same place for Sarah Steyaert and Julie Bossard, who hide their game, if they humble when I met them earlier this week and now the claws come out to defend the podium.
These are also the first to jump on the water for four critical races of the day. 10 knots at 10, then as expected the anemometer racing. I can not tell you the details (it is better explained here and here), but the general classification speaks for itself . Return to earth, I meet Lili and Violet French 3rd and 39th overall, who derig before going to stretch. " After 3 weeks of training , physically we are in the red. I have burning arms and I still have much progress to make in cardio. " Confesses Violette, 22, who trains in Marseille but eventually his business studies in Lille. The helm, Lili, a 21 years old engineering student , says: "We have a lot of physical work to do if we want to be at the top, but it is difficult to reconcile studies and high level sports .  At one point we will have to choose, that's for sure."
Olivia Price (10th overall) , a 21 year old Australian and a high level sportswomen since she was 16, has decided to enter the first year of political science, for a change topics from time to time . And also to keep an pathway, she says, for after the Olympics, she dreams of a career in journalism.  Brazilian Gabriela (45th) , however, is delighted to have finally been able to leave the offices of the TV channel she worked for until this summer to devote himself full-time 49erFX . Although this is a sacrifice, she admits: " It has nothing to do with a job that occupies your days, period.  Sailing at Olympic level also changes the way you eat, which you rest, it changes your life! "  Olivia confirms that privacy side, it is also very complicated … "We are in Marseille for a month to train, and Europe for two months . And that's how every international regatta is.  How do you want a guy follow you in this madness?"  Unless you find one that is in the same team , I asked naively (the Australian team has 8 teams in the world, 5 male ) … Olivia laughs and returns to his boat , blushing.
Since I did not write either for Closer, I did not dig this track side boys (although the idea have occurred to me , ok).  With them, however, I spoke lightly.  And what we can say is that it is far from being a trifle can make Olympic sailing!  Between the cost of the 49er (25 000 €) , the charter for each International Regatta ( New Zealand even have two boats per team : one in Europe and at home ) , the riders' equipment , housing , food, the salary of a coach ( plus possibly a physical trainer or physiotherapist ) , registration fees , equipment to replace in case of breakage … "It can quickly mount up to € 20,000 per crew for a race away from home . And you can count almost €100,000 per year for each team is a base level for the international circuit , "according to Ben Remocker former Olympian 49er became international secretary of the class. " That's why we put the  videos and keep promoting the sport for the big races , we hope to attract sponsors and alleviate some of the financial burden on these sports and often their families. "
Often all that money is not the responsibility of the riders. For best there federations and sponsors that support all or most of the costs , some even manage to make a living . But their standard of living is far from exorbinent.  Career opportunities behind in scenes and around the sport also exist. Like Dimitri Deruelle , race organizer and navigator key to it all: " It is a choice that may seem sacrificial , but it is by instinct. We tinker , we allow ourselves to gain moderately his life for love of the sport. And of course also in the spirit of competition. Everyone wants to win, otherwise no one would do the same sacrifices ! ".
The important thing is to participate as we said ?
I'll ask it tomorrow to two New Zealand teams who finish in top spot today , after a very tiring day with 25 knots of wind … About, crewing , as well as Julia and Sarah , 2nd overall 49er FX, Stéphane , Manu , Julian and Noah are guaranteed to be in the top 10 of the 49er . Tomorrow at 12 am , they will start the Medal Races for the coveted title of ….. chaaaampion the world !
A follow live at 10am on Dailymotion.
Until Tomorrow:
Flavia
Lire le journal de bord des jours précédents :
Lundi : "Journal de bord d'une novice (ou presque)"
Mardi : "Et c'est parti pour le show !"
Mercredi : "Derrière le rideau"
Jeudi : "La guerre des nerfs"
Vendredi : "La passion, tout simplement."