Back to overview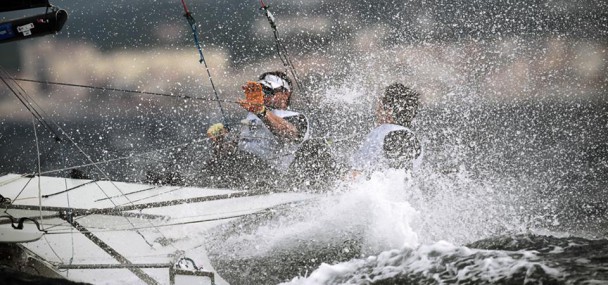 Team New Zealand Boys & Girls dominate in strong winds
Day 5  Seiko 49er & 49erFX World Championships, Marseille, France
New Zealand crews sit at the top of both leaderboards going into the final day of the Seiko 49er & 49erFX World Championships in Marseille. In the 53-boat women's FX fleet, Alex Maloney and Molly Meech took a firmer grip on the Seiko yellow jerseys after a masterful display of strong-wind boathandling in four Semi-Final races on a gusty, shifty course close to the shore.
The Kiwi girls scored 15,3,3,1, moving them further ahead of France's Sarah Steyaert and Julie Bossard. Inspired by the girls' performance, Pete Burling and Blair Tuke went out on to the same race course for four men's 49er races and racked up 2,1,9,2. This moved them into the lead of the 97-strong men's division, 12 points in front of another Kiwi crew in 2nd place, Marcus Hansen and Josh Porebski.
Good to stretch our legs today and a couple of opportunities to do better today, but all in all a good day," said Tuke. "We're just getting the boat shipshape and ready for tomorrow. We're happy with how we're going in theatre-style racing and how we're sailing. We're both really excited about the chance of winning a world championship. We haven't won a world title since our junior days so we're very motivated."
The Kiwis were good today, but the Australians were better, and they needed to be. Nathan Outteridge and Iain Jensen started the day in 18th place, a long way from the 9th place or less that would guarantee their place in the Final. As it was, a score of 1,3,3,1 rocketed them up to 6th overall. The Aussies' downwind speed also earned them the purple jerseys for Kings of the Downwind, coming in at almost a minute faster than the second boat across all of today's eight downwind legs.
"It was a massive snakes and ladders day," said Outteridge. "Every race was very different in terms of where you had to go, so there was no pattern to it, which we like." But with 25 points still to make up on the Kiwi leaders, can Outteridge really hope to make Marseille his fifth 49er World title? "I think with the format we've got I'd say anything is possible. We haven't done any of the theatre style racing, but it's three double-points races. If you get it wrong you get 60 points. Pretty easy for it to go bad.
"I think tomorrow will be lighter, will be shifty and ugly racing, and we're going to have to fight pretty hard. But at least we might have a chance of fighting back enough to get on the podium.
If Burling and Tuke look a little out of reach for the reigning World and Olympic Champions, the others look very catchable. The second Kiwi team are just 13 points ahead of Outteridge, with France's Manu Dyen and Stephane Christidis 3 points further back in 3rd overall. In the game of snakes and ladders, the previous series leaders slid down more snakes than they would have liked. Dylan Fletcher and Alain Sign have slipped to 4th overall. "A day we don't really want to remember but still one you have to learn from," said Sign. "You have to debrief from it, pick up a few points then bounce back tomorrow. Today, everything was happening pretty quickly and we weren't that great at reacting to that today. Tomorrow we've got to come back fighting and show we can win a world championship."
It was far worse for another British team, John Pink and Simon Wheeler, who started the day in 3rd. Some sub-par performances saw them drop down the rankings to the point where they were in danger of missing top 9 qualification. In the final race they surged into the lead, and although Outteridge caught them on the final beat, they were second as they gybed for the finish line. Then, a massive gust and a capsize saw them tumble to 13th in that race, and down to 11th overall. "A bit gutting," said Pink. "I think that puts us in the repechage." Tomorrow the teams from 10th to 21st overall compete in the Petit-Finals for one coveted place in the Final. So Pink might yet find redemption from that capsize. "We have it all to do again tomorrow, a mini-series to get ourselves back in the Final, and see where we go from there."
For the women, that Petit-Final might allow sailors like Australia's Olivia Price and Caitlin Elks to get back into the Final. Like Pink, they capsized in today's really tough conditions, and the Olympic silver medallist Price will be working hard to get back in for the FX Finals.
The crucial, final day of racing will be live streamed on 49er.org from 12pm local time on Sunday.