Back to overview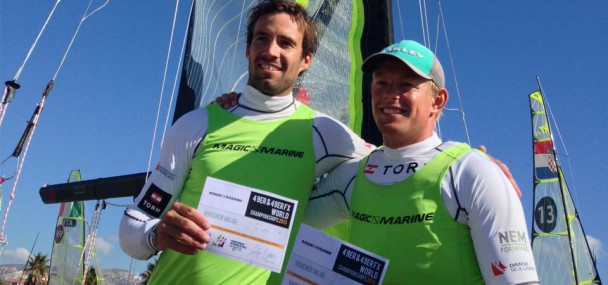 49er Worlds 2013 Day 1 Round Up
The 2013 Seiko 49er and 49erFX World Championships in Marseille now include the Magic Marine Starting Competition and the Seiko King & Queen of Downwind competitions. The fleets which are tracked each day are in with a chance to be crowned as they get off the water!
The Magic Marine Starting Competition uses the GPS Tracking Systems to analyse certain aspects of the start to ultimately decide on who performed best and hopefully highlight the importance of getting a good start!
Using the GPS systems onboard, the boats are judged on a number of key aspects,
• Distance from the line at the gun – all boats that are within 4m of the start line are awarded 1 point.
• Win the pin – the boat which successfully manages to win the pin gains 1 point
• Win the committee boat – the boat who successfully manages to win the boat end, gains one point.
• Port end flyer – should be pretty self-explanatory
• Having a lane at 1 minute – those who have successfully found a clear lane are awarded 1 point.
• Windward mark roundings – The 1st boat to round the top mark gains 5 points, 2nd gains 4 etc.
The points are totted up and the winner earns the right to wear the green bib during tomorrow's racing, as well as receiving a gift voucher from sponsors, Magic Marine.
Today's winners were the girls from Singapore, Khng & Tan (SIN 396) who performed extremely well in the tricky conditions, helping them secure the championship lead at the end of day 1. Similarly, in the 49er fleet, the Danish pair of Warrer & Lang (DEN 30) managed to secure the green jersey and two bullets, putting them in joint first.
49er Magic Marine Starting Competition 49erFX Magic Marine Starting Competition
Place Sail Number Points Place Sail Number Points
1st DEN 30 13 1st SIN 396 10
2nd POR 27 9 2nd GER 161 7
3rd SWE 131 6 2nd DEN 136 7
3rd NZL 66 6 4th GBR 121 5
5th FIN 49 5 4th POR 5
The Seiko Kings & Queens of Downwind award is based purely on the time spent sailing downwind. The individual downwind legs in both races are summated to work out who in theory sailed best downwind today.
In the 49er fleet, the Danes yet again performed extremely well, pipping Olympic Gold medallists Outteridge & Jensen (who have admittedly been out of the boat for a year!) followed by the Frozp brothers in CRO 102.
In the FX fleet, the unbelievable happened, and we had two boats sail exactly the same cumulative time downwind in today's racing, so sharing the purple bibs will be the Brits, Peters & Groves (GBR 121) and the Danish pair of Cenholt & Just (DEN 112).
49erFX Seiko Queens of Downwind 49erFX Seiko Kings of Downwind
Place Sail Number Total Time Place Sail Number Total Time
1st GBR-121 0:24:16 1st DEN-30 0:23:10
1st DEN-112 0:24:16 2nd AUS-1 0:23:32
3rd CAN – 120 0:24:28 3rd CRO-102 0:24:19