Back to overview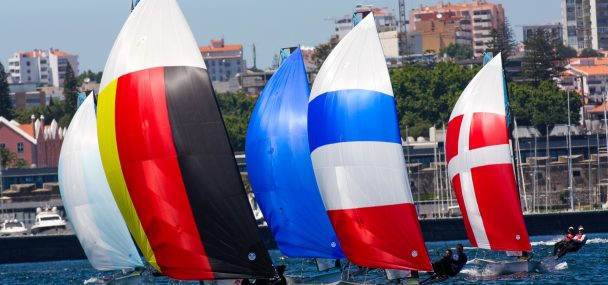 The 49erFx are back in Cascais for a Final Olympic Warm Up
After the first training event in May, the best sailors in the world in the Olympic Classe 49erFx class rejoined in Cascais for the last race before the Summer 2021 Tokyo Olympics Games. This championship will serve as a barometer for the Olympics during this summer an as it has the participation of the European Champions in 2020, Tina Lutz and Susann Buecke, with the World Champions in 2020, Tamara Echegoyen and Paula Barceló, and the Gold medalists at the 2016 Olympic Games in Rio de Janeiro, Martine Grael and Kahena Kunze.
With the first warning signal scheduled for 11:00 am, the female Olympic fleet of 21 boats, the same number of boats that will be in Tokyo within 45 days, set out to start the championship. With the wind at around 10 knots and shifting right, it can be seen that the favorable tactical options of the boats in front were always on the right side of the course throughout the first day.
At the end of three races and at the top of the overall is the duo from the United Kingdom, Charlotte Dobson and Saskia Tidey, who won the last race of the day. In second place was the Argentine duo of Victoria Travascio and Sol Branz with a bullet in the second race. With the victory in the debut race and closing the podium at the end of the first day was the Spanish team of Tamara Echegoyen and Paula Barcelo.
In total, 5 continents are represented – North America, South America, Europe, Asia and Oceania – in a total of 19 nationalities will sail in Cascais Bay. The championship takes place in Cascais from the 7th to the 12th of June 12 races are scheduled plus a Medal Race that will count double points for the final overall.
This championship was supported by Turismo de Portugal, Visit Cascais, Cascais City Council, Portuguese Sailing Federation, Cascais Marina and Vista Alegre. We also have the institutional support of the non-governmental association Sailors For The Sea – Portugal
Results after 3 raceshttps://www.cncascais.com/index.php?option=com_rib&view=item&id=1268&catid=2&Itemid=157&lang=pt#results